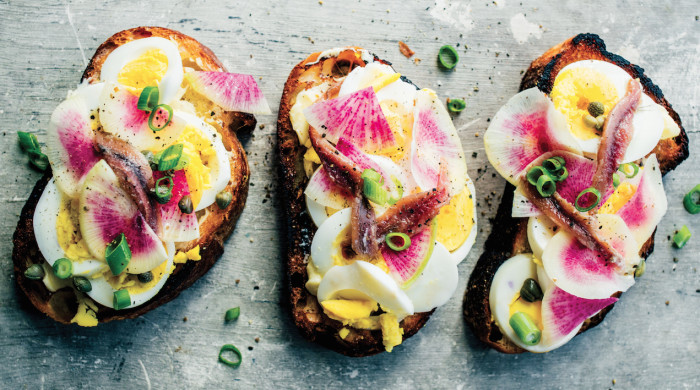 Change up your dinner game with renowned food writer and test kitchen master Melissa Clark. With recipes across the playing field, from a simple pasta-based supper to an elaborate (but not difficult) roast, there's something in the mix for everyone. Churn out stellar salads, hearty entrees, freshly baked bread and more with this versatile new volume. A simple egg crostini recipe needs nothing more than peppery radish and savory anchovy to go from snack to meal. 
Fancier than your typical mayo-slathered egg salad, these open-faced sandwiches get a pungent, saline smack from anchovies and capers and a little crunch from the radish. I love to trot out this combination as an hors d'oeuvre, piling the eggs et al onto small, thin slices of baguette. But for a light supper, late-night snack, or lunch, a crusty country loaf is a better, heartier option. In either case, it's important to use really good ingredients here since the flavor completely depends on them. Seek out farmers' market eggs, imported anchovies packed in olive oil, and good high-fat butter. Although all of this might seem overly precious, these details really matter when you're serving them practically naked. Try it and see.
Ingredients
4

large eggs, hard-cooked, peeled and sliced

fine sea salt

4

1/2-inch-thick slices

country-style bread or 8 slices baguette

2

garlic cloves, halved crosswise

Fancy salted butter, at room temperature, as needed

1

medium watermelon radish or 4 small radishes, thinly sliced

extra-virgin olive oil, as needed

4 to 6

oil-packed anchovy fillets

4

teaspoons

drained capers

fresh lemon juice, as needed

freshly ground black pepper to taste

Sliced scallion greens, for garnish (optional)
Directions
For the crostini
Sprinkle the egg slices lightly with salt and set them aside.

Toast the bread, and rub the cut sides of the garlic over the hot toasts. Let the toasts cool for a minute or two, then slather the tops thickly with butter. You want the toast to be cool enough so that the butter doesn't melt but stays creamy. Layer the egg and radish slices over the butter, and drizzle with olive oil. Top with the anchovy fillets and capers. Sprinkle with lemon juice and season with black pepper. Drizzle with additional olive oil. Garnish with sliced scallions if using.