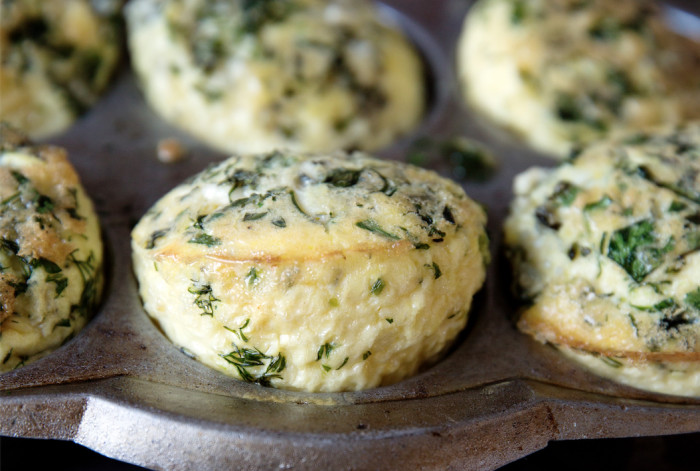 Plenty of meals and treats can be prepared in just one pan, including some unexpected recipes! Join chef and food blogger Molly Gilbert as she explores the possibilities (and minimizes the amount of dishes to do later). These herby egg and blue cheese souffles may sound like a big, messy project, but they're actually very easy and a major crowd-pleaser!
Tangy blue cheese and plenty of fresh herbs keep these light, simple soufflés on their toes, though if you're not a blue cheese person, crumbled feta or Parmesan could happily stand in. I love that these do equally well as festive brunch fare and quick, weekday breakfast — if you make a batch on Sunday and store the leftovers in the fridge, you'll have easily grabbable egg cups all week long.
Ingredients
6

teaspoons

extra-virgin olive or vegetable oil

12

large eggs

1/4

cup

milk (not skim)

kosher salt and ground black pepper

About 1

cup

crumbled blue cheese

1/4

cup

chopped fresh flat-leaf parsley

1

tablespoon

chopped fresh thyme leaves

1

tablespoon

chopped fresh dill

1/4

cup

chopped fresh chives
Directions
For the soufflés
Preheat the oven to 350°F, with a rack in the center position. Pour ½ teaspoon of the oil into each cup of a 12-cup muffin tin. Place the oiled tin in the oven to preheat for 10 minutes.

Meanwhile, in a large bowl, whisk together the eggs, milk, and a pinch each of salt and pepper.

Carefully remove the pan from the oven and evenly distribute the blue cheese and fresh herbs among the muffin cups. Pour in the egg mixture, filling each cup evenly. Return to the oven and bake until puffed and just starting to brown on top, 15 to 18 minutes.

Allow the soufflés to cool for 5 to 10 minutes (they will fall) before turning them out onto a cutting board and serving either warm or at room temperature.

The egg soufflés will keep, in an airtight container, for 4 to 5 days in the refrigerator. Microwave for 30 seconds to 1 minute each to rewarm.