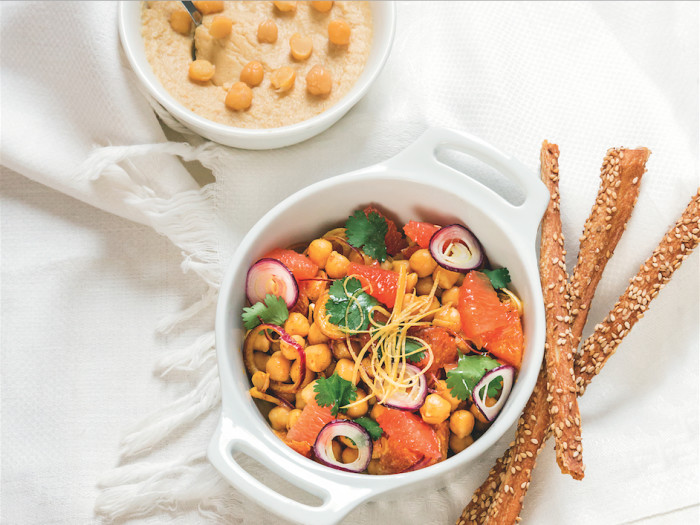 From 3-Michelin-starred chef Gérald Passedat comes Flavors From the French Mediterranean, an ode to the bounty of the lush region he calls home. Enjoy 80 of Passedat's finest recipes, all easy enough for the home cook to pull off in their own kitchen. From the traditional French to the multiethnic, shellfish to root vegetables and bright, flavor-packed desserts, there's something in this tome for every lover of French cuisine.

Reprinted with permission from Flavors From the French Mediterranean
Ingredients
1

pound 2 ounces

chickpeas

1

lemon

1

teaspoon

ground cumin

Passedat olive oil

2

grapefruits

1

red onion

1

small bunch

cilantro

1

tablespoon

sunflower seeds

2

teaspoons

sherry vinegar

1

teaspoon

Passedat Curry Fakir (curry powder)

Salt and pepper
Directions
For the salad
Soak the chickpeas overnight in cold water. Drain, place in a saucepan, and cover with fresh water. Bring to a boil and boil for 30 minutes. Drain again, reserving the cooking water. Divide the chickpeas between two bowls.

Peel the zest from the lemon, cut into julienne strips, and reserve. Juice the lemon.

Put the chickpeas from one bowl in a food processor. Add the cumin and a little of the cooking water from the chickpeas and grind to a paste. Add lemon juice, salt and pepper, and enough olive oil to process to a smooth hummus.

Divide the hummus between four individual serving bowls.

Peel the grapefruit and divide them into segments, removing all pith and membrane. Cut the segments into small pieces.

Peel the onion and chop finely.

Remove the stalks from the cilantro and reserve the leaves.

Add the grapefruit, sunflower seeds, vinegar, curry powder, cilantro leaves, and onion to the second bowl of chickpeas. Moisten with olive oil and mix all the ingredients together. Add salt and pepper to taste.

Place in a serving dish and garnish with the lemon zest julienne.