Easy Potato Tacos Recipe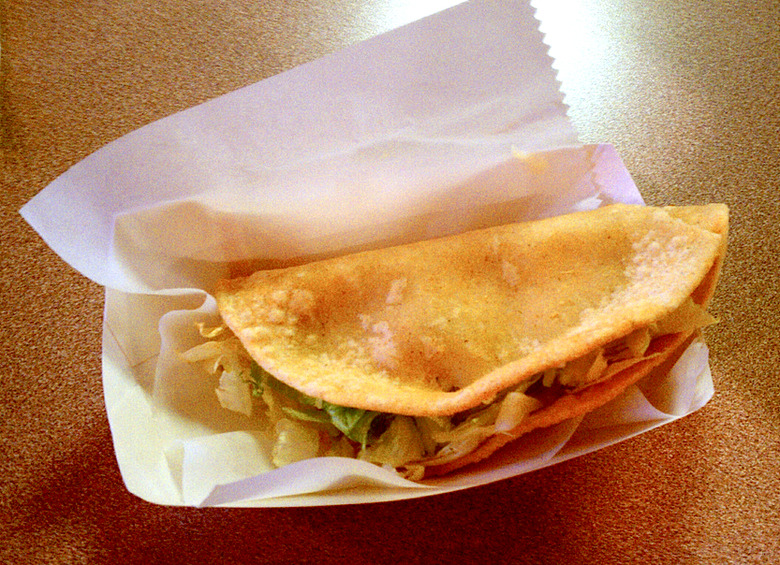 Chef Norman Van Aken travels great distances to find the perfect tortilla (read about his quests in his Word On Food column for Food Republic). What does he put inside? In this case, it's potatoes. Yes, this easy potato tacos recipe is unexpected, and unexpectedly delicious. On the Atkins Diet? This is not for you. But if you love a good vegetarian taco, you've come to the right place.
Wanna dress these potato tacos up and take 'em out on the town. Make a salsa verde cruda or top 'em off with chile con queso. Just make sure you use a decent tortilla for the shell — Chef's orders!
Easy Potato Tacos Recipe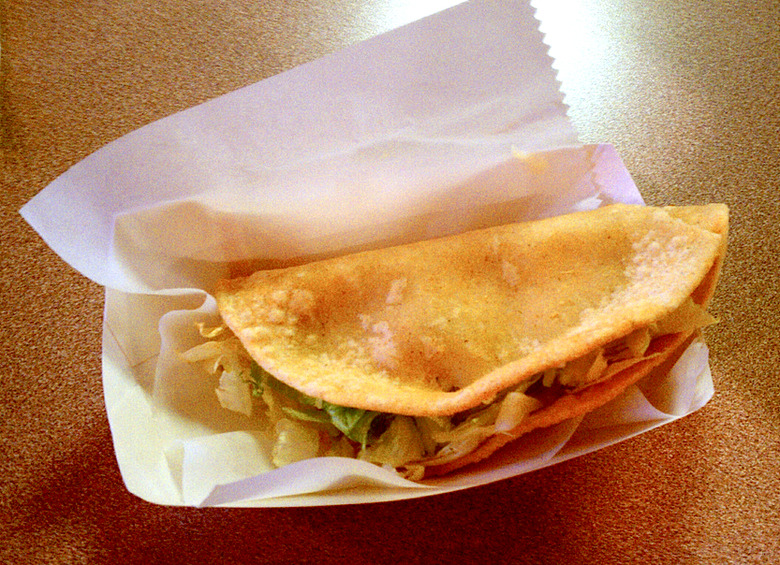 Ingredients
1 1/2 pounds red bliss potatoes
1 poblano chile
2 tablespoons olive oil
4 tablespoons butter
1 Spanish onion
1 tablespoon sugar
1 tablespoon red wine vinegar
1 jalapeno
1 tablespoon roasted garlic
1 cup Manchego cheese
1 cup cabbage
Kosher salt and freshly ground black paper to taste
8 6-inch corn tortillas
canola oil
Directions
Preheat oven to 375 degrees. Place the potatoes in a roasting pan in the oven for 1 hour, until tender when pierced with a knife. Cool until they are manageable, then peel them, discarding the skins. 
Combine 1 tablespoon olive oil and 1 tablespoon butter in a medium skillet and set over medium-high heat. Add the onion and sauté for about a minute. Add the sugar and the vinegar and continue to sauté for about 4 minutes, until the onions begin to caramelize and are completely soft.
Add the jalapeño and continue to sauté 1 more minute. Remove from the heat and reserve.
Add the remaining tablespoon of oil to a sauté pan and sauté the cabbage until it wilts, about 2 minutes. Season with salt and pepper to taste.
Mash the potatoes with the roasted garlic and remaining butter. While the potatoes are still hot, stir in the cheese, onion, poblano and the cabbage. Season with salt and pepper to taste.
Pour enough oil in a 10-inch sauté pan to a little more than cover the bottom of the pan. Get the oil hot over a medium-high heat. When it is hot place a tortilla shell in the pan and let it crisp for about 5 seconds.
With a tongs flip the tortilla over to cook the other side (about 5 more seconds). This softens the shells just enough.
Now with the tongs flip it over again, bend the tortilla into a taco shape and hold for 7 seconds. When it is crisp turn it over to crisp the other side for about 7 seconds.
Place a generous amount of potato filling in each tortilla and serve with your favorite salsa.