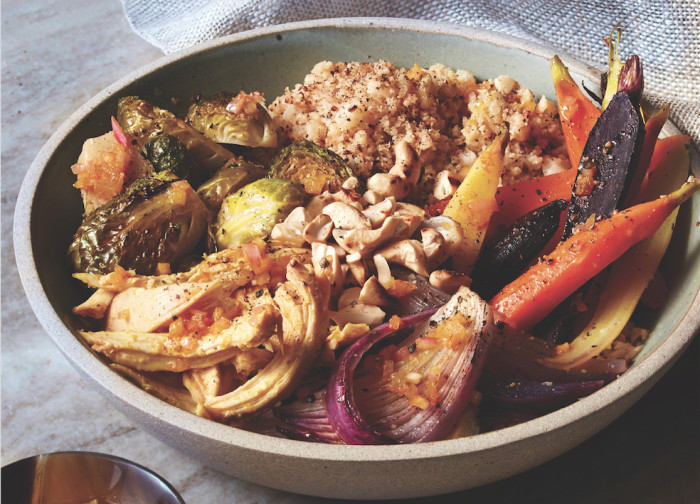 Clean and healthy cooking has never been easier, with nutrition expert Sam Talbot's new cookbook. Ditch anything artificial or processed and get ready to start from scratch. This easy cauliflower rice with chicken, vegetables and curry spice is a colorful and health-forward way to get your produce and protein in.  
If you haven't embraced the cauliflower rice trend yet, this is your chance. Cauliflower adds fiber, vitamins, and potassium, while letting you cut carbs. Plus, this curry bowl is just delicious.
Tip: You can use cauliflower rice as an easy side that goes with anything you normally would serve with regular rice. One head of cauliflower gives you about 4 cups of "rice."
Ingredients
1

pound

brussels sprouts, trimmed, halved lengthwise

1

8-ounce

package peeled baby carrots with tops, halved lengthwise

1

small red onion, halved, cut into 3/4-inch wedges

1/4

cup

olive oil

3/4

teaspoon

kosher salt

1/2

teaspoon

black pepper

1

rotisserie chicken

2

tablespoons

finely chopped jarred preserved lemon

2

tablespoons

finely chopped shallot

2

tablespoons

apple cider vinegar

1

teaspoon

coconut sugar

1

teaspoon

Madras curry powder

1

head

cauliflower (about 2 pounds), cut into florets

1/4

cup

chopped, roasted unsalted cashews
Directions
For the cauliflower rice
Preheat the oven to 425°F. Toss together the Brussels sprouts, carrots, onion, 1 tablespoon of the olive oil, 1/2 teaspoon of the salt, and 1/4 teaspoon of the black pepper in a bowl. Spread the mixture in an even layer on a rimmed baking sheet. Bake in preheated oven until the vegetables are tender and caramelized, about 25 minutes.

Remove and discard the skin from the chicken. Remove the meat, and shred to equal about 2 cups. Whisk together the preserved lemon, shallot, vinegar, coconut sugar, curry powder, and 2 tablespoons of the olive oil in a small bowl. Toss the shredded chicken with 3 tablespoons of the dressing.

Pulse the florets in a food processor until the cauliflower is finely chopped and resembles uncooked rice or couscous. Heat the remaining 1 tablespoon olive oil in a large nonstick skillet over medium-high; add the cauliflower and remaining 1/4 teaspoon each of salt and pepper, and cook, stirring once or twice, until just beginning to brown, about 8 minutes. Divide the cauliflower evenly among 4 bowls; top with the caramelized vegetables and chicken, and drizzle with the remaining dressing. Sprinkle with the cashews.