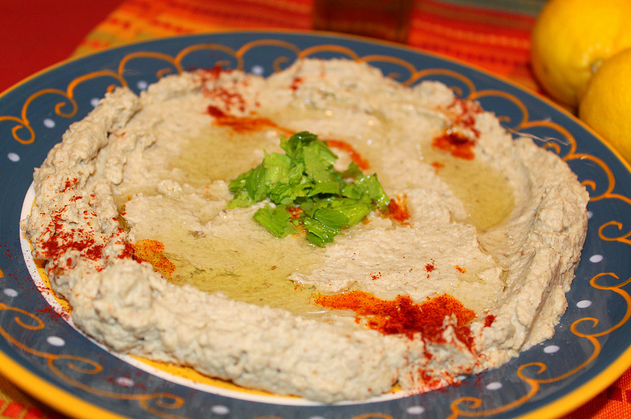 Baba ganoush and hummus are pretty much like brothers who could agree on everything except chicks. Well, chickpeas. If you switch out hummus' chickpeas with eggplant, the result is a silky, tangy spread you'll be enjoying by the spoonful. Like hummus and tzatziki, baba ghanoush works as a dip, spread and even just straight up as a healthy side.
Much like a lot of other Middle Eastern specialities, the origins are contested, but one thing worth noting is the funky name. Baba, what? Well, baba means father in Arabic, and ganoush translates to flirtatious. So yes, the flirtatious father.
The dish is especially popular in France — it was brought over by the large Arab immigrant population. In French, baba ganoush is called caviar d'aubergine, or eggplant caviar, although it obviously has nothing to do fish eggs. Taking a humble vegetable and slapping on a fancy schmancy title, how French!
Ingredients
2

large

eggplants

2

tablespoons

extra virgin olive oil, plus more to garnish

1

tablespoon

Greek yogurt

1

clove

garlic, roughly chopped

juice of

half a lemon

1

teaspoon

salt

parsley and cayenne pepper, to garnish
Directions
Halve the eggplants and rub them with a tablespoon of olive oil.
Broil the eggplants in the oven until soft and mushy. Be sure to turn them as needed so that they cook all over and don't burn.
Remove the eggplants from the broiler and put them directly onto the exposed flame on a stovetop. Keep your eye on the eggplant. A couple of minutes will do for a nice smoky char.
Allow to cool for a couple of minutes. Once cool enough to handle, cut open the eggplant and scoop out the flesh, while trying to get rid of as many seeds as you can. Don't worry if you end up with some seeds in the flesh.
Add the eggplant to a food processor or blender, and combine with the rest of the ingredients. Blend until almost smooth with a little bit of chunkiness.
Serve cool and garnish with parsley, olive oil and cayenne pepper.