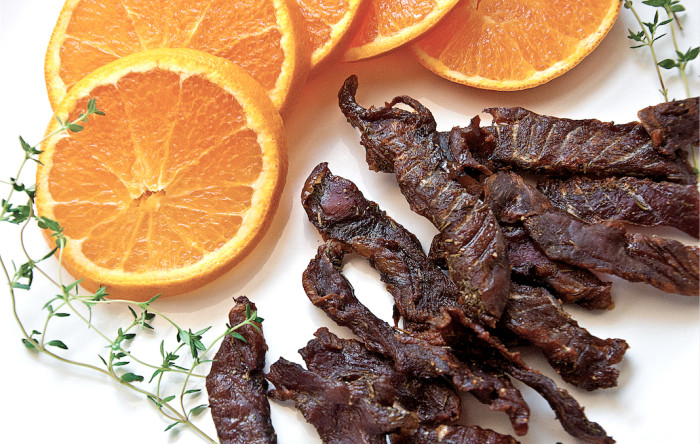 Food writer and blogger Pamela Braun's new jerky-centric book is anything but dry. Get it? Cause it's jerky? Anyway, pick up a copy of this step-by-step, totally comprehensive snack bible and get dehydrated! Well, not you yourself, but lots of various foodstuffs. Thinly sliced orange-marinated duck jerky, for instance. 
If you like duck à l'orange but not the fancy restaurants you have to visit to get it, then this jerky is for you. I like to think of this as fancy-schmancy goes redneck. It's got just the right amount of orange flavor to enhance but not overwhelm the duck, and a great herbal flavor from the thyme.
Ingredients
1/4

cup

frozen orange juice concentrate

1/4

cup

soy sauce

2

tablespoons

sugar

2

tablespoons

red wine vinegar

2

teaspoons

kosher salt

1/2

teaspoon

ground black pepper

1/2

teaspoon

dried thyme

1

pound

boneless, skinless duck breast strips
Directions
For the jerky
In a 1-gallon resealable plastic freezer bag, thoroughly mix together all the ingredients, except the duck, and allow the mixture to rest for 10 minutes.

Add the meat strips to the marinade and mix them around so they get completely coated with the marinade. Remove as much air as possible from the bag, seal, and place it in the refrigerator for 8 to 24 hours.

During the marinating time, remove the bag from the refrigerator and work the duck around so the marinade is fully incorporated into it.

Remove the strips from the marinade and arrange in a single layer in your choice of dryer. Dry as directed and enjoy! Store the remainder of the jerky in an airtight container for up to a week.