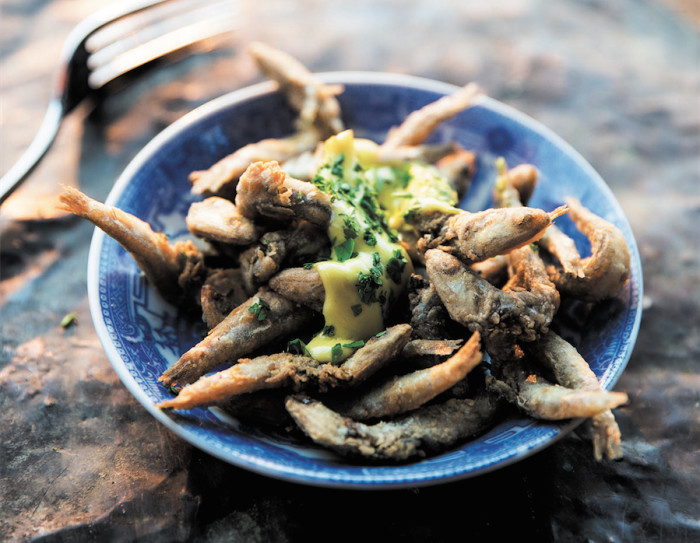 Anya Fernald is cofounder and CEO of the Belcampo Meat Co., the world's largest sustainable meat company. Inspired by the Italian peasant cuisine known as cucina povera, Fernald's new collection of recipes, Home Cooked, is as simple, hearty and delicious as it gets, from rich soups and flavorful stocks to creamy polenta, rib-sticking pasta and a vibrant array of appetizers, vegetables and sides. These tiny fish fries may be nature's perfect appetizer. Grab some lemon wedges and get dredging!

This is my riff on an Italian street-food favorite: paper cones of small, salty fried fish served with a dollop of creamy aioli and a wedge of lemon. For me, this is the highest and best use for small fish like smelt and anchovies because the fish don't need to be gutted, beheaded or scaled, and because tiny crispy fish are really good to eat. This is a great party food — for a fun presentation, serve the fried fish in cones made from newspaper.
Ingredients
1

pound (about 20)

whole small fish, such as smelt or anchovies

1

cup

all-purpose flour

1

tablespoon

fine sea salt

canola oil, for frying

lemon wedges, for serving
Aioli
1

egg yolk

1

small clove garlic, minced

1/4

teaspoon

kosher salt

3/4

cup

extra-virgin olive oil or a 50-50 mixture of olive and canola oil

1

tablespoon

warm water

fresh lemon juice, to taste

freshly ground black pepper
Directions
For the aioli
Set a medium mixing bowl on a kitchen towel (this will prevent the bowl from moving as you whisk). Whisk together the egg yolk, garlic, and salt. Whisking constantly, slowly drizzle the oil into the yolk mixture, drop by drop at first, until the mixture begins to thicken, then in a slow, steady stream until all of the oil has been incorporated and the mixture is very thick. Whisk in the warm water to thin the aioli, then season to taste with additional salt, the lemon juice, and black pepper. Serve right away or cover tightly and refrigerate; the aioli will keep for up to 3 days in the refrigerator.
For the fish fry
Rinse the fish in cold water and drain on paper towels. In a shallow baking dish (such as a pie plate), combine the flour and salt.

Preheat the oven to 200°F and line a baking sheet with paper towels. Add a 2-inch depth of canola oil to a high-sided heavy pot and set over high heat. Dredge the fish in the flour, turning to coat on all sides. When the oil registers 365°F on a deep-frying thermometer, add some of the fish and fry until they curl and turn deep golden brown, about 4 minutes. Remove from the oil with a spider or slotted spoon and transfer to the prepared baking sheet to drain, then put the sheet in the oven to keep warm while you fry the remaining fish, allowing the oil to return to 365°F between each batch.

When all of the fish have been fried, transfer to newspaper cones or a platter and season to taste with additional salt. Serve with lemon wedges and a bowl of aioli.