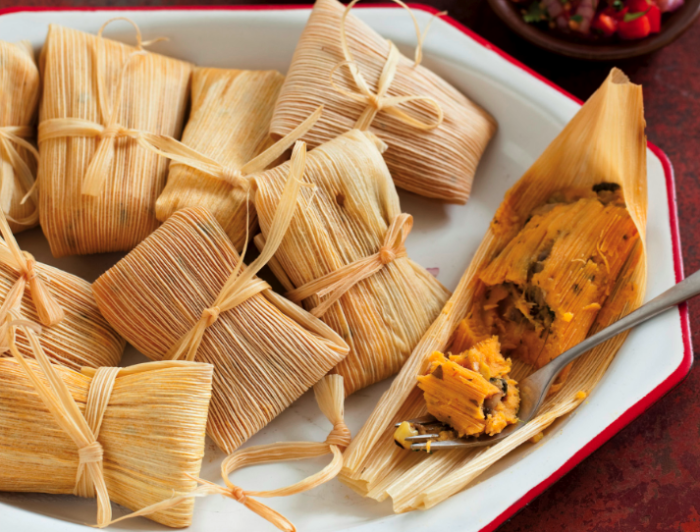 When I made the switch to a plant-based diet, I thought tamales were out of my life forever, since they're traditionally made with lard. But I had a vegan tamale at Tamara's Tamales on the Westside of Los Angeles that rocked my world and sent me to my kitchen to create my own version. Dios mio means "my god" en español, as in "oh my god," which you'll undoubtedly be exclaiming when you taste these, partially because of the awesome flavor combo, and partially because of the heat that sneaks up after a few bites. For a fantastic meal, serve the tamales with Spanish rice, black beans, guacamole and salsa — preferably pico de gallo or salsa verde. For extra zing, serve them with Sriracha-mango guacamole.
Reprinted with permission from The Veggie Lover's Sriracha Cookbook by Randy Clemens. Copyright © 2013 by Randy Clemens. Published by Ten Speed Press, a division of Random House, Inc.
Related: Randy Clemens Knows More About Sriracha Than, Well, Anybody
Ingredients
Masa dough
4

cups

masa harina

2

teaspoons

baking powder

1

teaspoon

fine sea salt

1

head

roasted garlic

1/4

cup

minced fresh cilantro

4

cups

vegetable stock

1/2

cup

Sriracha

1/4

cup

extra virgin olive oil
Filling
2

tablespoons

extra virgin olive oil

1

red onion, diced

8

ounces

cremini or button mushrooms, thinly sliced

1

green bell pepper, diced

1

small zucchini, diced

3

cloves

garlic, minced

2

tablespoons

ground cumin

kernels from

2 ears fresh sweet corn, roasted

1

bunch

spinach, stemmed, or 1 (10-ounce) package frozen spinach, thawed and drained

Salt and freshly ground black pepper

2

(6-ounce) packages

corn husks, soaked in warm water for at least 1 hour
Directions
For the dough:
Combine the masa harina, baking powder and salt in a large bowl (or the bowl of a stand mixer fitted with the paddle attachment) and mix well. Add the roasted garlic, cilantro, stock, Sriracha and oil and whip with a handheld electric mixer or stand mixer until soft and fluffy, 
3 to 5 minutes. Cover and set aside.
To make the filling, heat the oil in a large Dutch oven or pot over medium-high heat. Add the onion, mushrooms, bell pepper and zucchini and sauté until softened, 
5 to 7 minutes. Add the garlic, cumin and corn and sauté just until the garlic is fragrant, about 30 seconds. Add the spinach and sauté until completely wilted and its moisture has evaporated, about 5 minutes. Season with salt and pepper to taste. Let cool to room temperature.
For assembly:
Remove the corn husks from their soaking water. Lay a large corn husk or two overlapping small husks on a work surface. Spread 2 tablespoons of dough down the center, leaving a 1/2-inch border on each side and a 3-inch border on the top and bottom. Top with a generous tablespoonful of the filling, followed by another tablespoon of the masa. Fold up the sides of the husk and pull the top and bottom in to fully encase the filling. Seal the tamale using by tying either kitchen twine or strips of corn husk around it. This needn't be excessively tight, as the tamales will expand during cooking.
Loosely pack the tamales in a large steamer basket and steam them until 
they expand and feel firm to the touch, about 1 hour, checking the water level 
periodically and adding more if needed. Serve immediately.