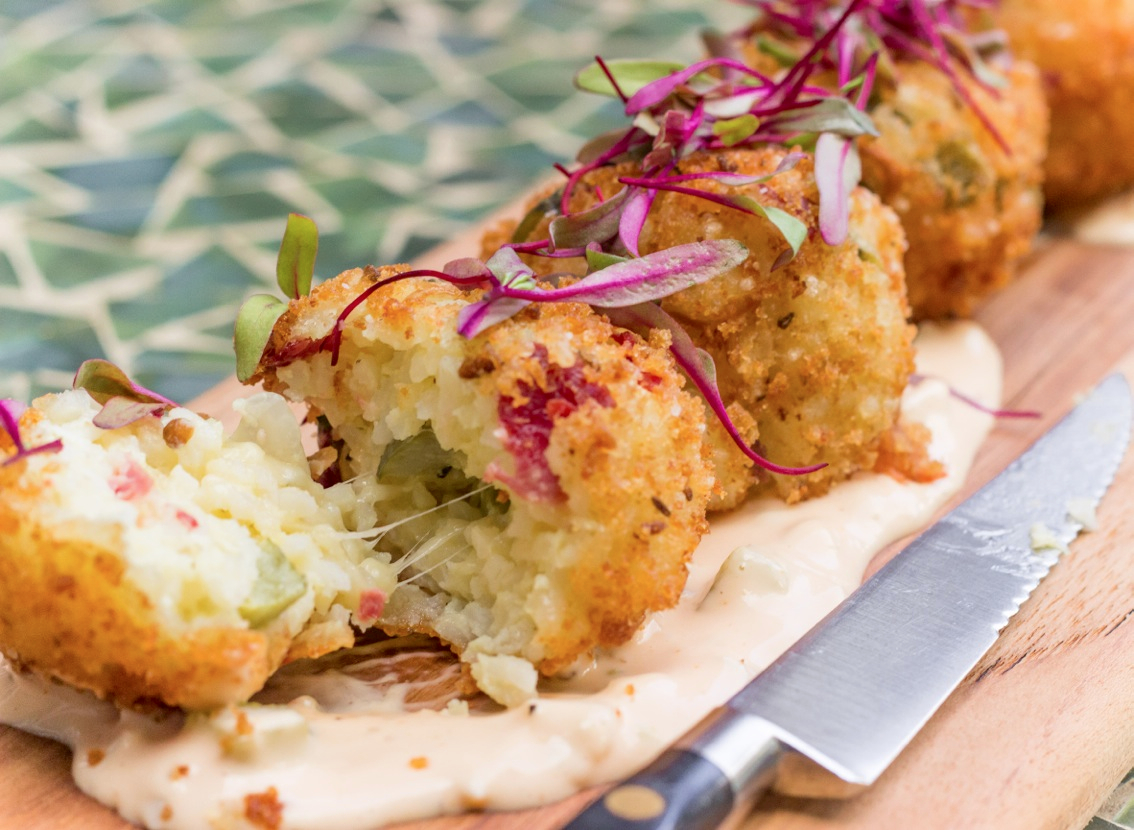 The Reuben sandwich is one of life's great culinary treasures, and for good reason. Piled sky-high with more corned beef than one should consume, it's impossible not to consumed by all the Swiss, pickles and sauerkraut in the most pleasurable of ways. For a fun new spin, we take all those delicious components, including breadcrumbs made from rye bread, and fry them into Italian rice balls called arancini, complete with Russian dressing for dipping on the side. Serve 'em for your next party, or keep them all to yourself, we won't tell.
Ingredients
Arancini
8

slices

rye bread

2

cups

cooked leftover rice (risotto from Arborio rice is traditional, but any kind of rice will do the trick)

1/4

pound

corned beef, cut into small dice

1/2

cup

Parmesan cheese, grated

3

eggs

1/4

cup

prepared sauerkraut

2

tablespoons

cornichons or pickles, chopped

1/4

pound

Swiss cheese, diced

canola or vegetable oil, for frying

Salt and pepper, to taste
Russian Dressing
3/4

cup

mayonnaise

1/4

cup

ketchup

2

tablespoons

cornichons or pickles, chopped

1/2

onion, finely diced

1

teaspoon

Dijon mustard

Salt and pepper, to taste
Directions
For the arancini:
Preheat the oven to 400°F.
Tear the bread into large pieces and lay on a baking sheet.
Toast until crispy, 8-10 minutes.
Cool, then pulse in a food processer until coarsely chopped.
In a large bowl, combine the rice, corned beef, Parmesan, eggs, sauerkraut, cornichons, salt and pepper.
Tear off a small piece of the mixture; if it holds its shape, you are good to go. If it falls apart, add a couple of tablespoons of flour until it just comes together.
Shape the mixture into small rounds, a little larger than a golf ball.
Add one piece of the Swiss cheese to the center of the rice and enclose to seal it in.
Repeat until all of the rice has been shaped, placing them on a baking sheet as you go.
Coat each arancini with the bread crumbs. This can be done in advance and refrigerated for up to two days.
Pour enough oil in a large pot to measure about 1 inch and heat until it reaches 375°F.
Carefully drop in the arancini, frying a couple at a time, until golden brown on all sides, about 3-5 minutes total.
Season with salt as they come out of the fryer and serve with the Russian dressing.
For the Russian dressing:
Combine all ingredients in a large bowl. This can be made two days ahead of time.
Find more arancini on Food Republic: