Dead Easy: Pork Ribs With Palm Caramel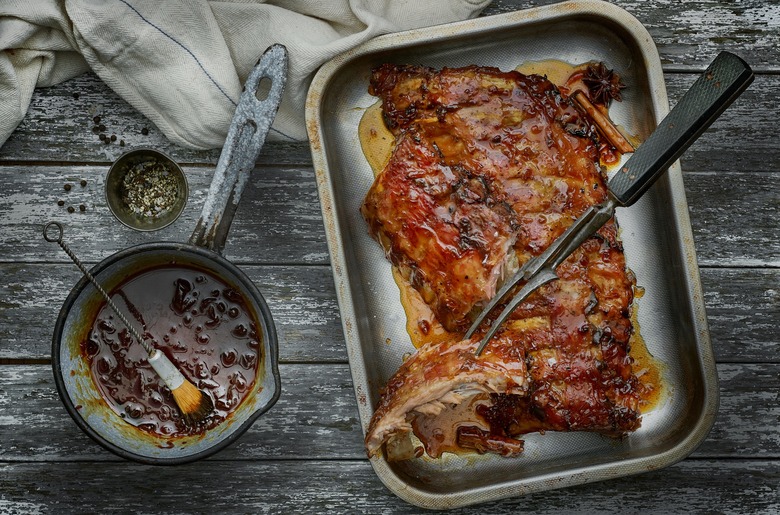 We may receive a commission on purchases made from links.
Brendan Collins is executive chef of Birch, Larry's, and the Corner Door in Los Angeles and just published a spectacular volume of so-called "dude food" that's so much more than burgers, bacon and beer. Prepare for large volumes of meat, simple and delicious vegetable preparations, and superb composed entrées, like these ribs with a quick and easy sweet-savory caramel glaze. 
Chinese five-spice powder is one of my all-time favorite seasonings, and I encourage you to get very friendly with it. It takes its name not from the number of ingredients, but the way this single spice mix hits on all five principal tastes (sweet, salty, sour, bitter, and umami). The flavor is warm and sweet, and I find that it acts like a bridge between salt and the heat of chiles, giving these ribs a really round, warm deliciousness. It's a wonderful, versatile seasoning to add to pork, beef, or duck. Chinese five-spice powder also lends meat a handsome reddish tone — like that nice red bark that you get when you put meat in a smoker — which is a big improvement over the unappetizing gray tinge that ribs can take on when they're cooked in the oven.
Dead Easy: Pork Ribs With Palm Caramel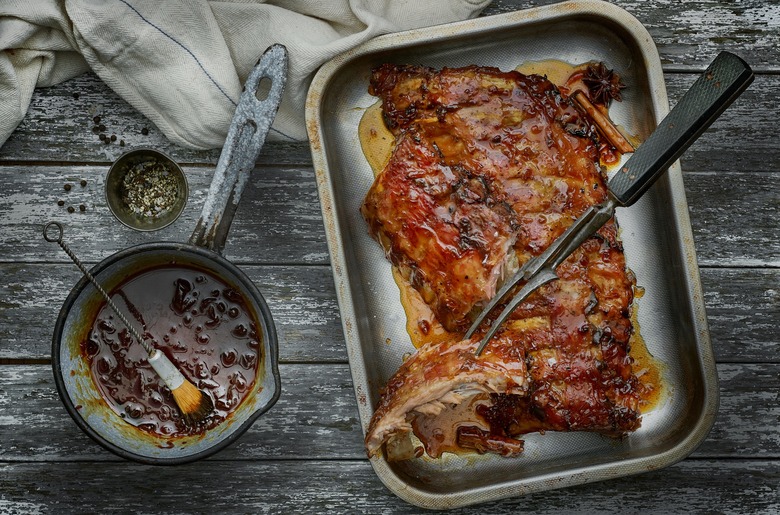 Ingredients
2 racks St. Louis–style pork ribs
Kosher salt and freshly ground black pepper
2 teaspoons Chinese five-spice powder
1 cup Palm Sugar Caramel
2 cups palm sugar
1 tablespoon fresh lemon juice
2 cups thinly sliced shallots (from 4 to 6 large shallots)
1 dried hot red chile, such as chile de árbol
3 star anise
1 cinnamon stick
2 teaspoons freshly ground black pepper
1/2 cup Asian fish sauce
Directions
:::caramel:::
In a heavy-bottomed medium saucepan set over medium heat, combine the palm sugar, lemon juice, and 1/4 cup water and bring the mixture to a boil. Using a wet pastry brush, wash down any sugar crystals that have stuck to the side of the pan. Reduce the heat to medium-low and let the mixture simmer undisturbed until it begins to reach a medium amber color, about 20 minutes (watch the pot carefully, because caramel can go from pale to burned in a matter of seconds).
Remove the saucepan from the heat and stir in the shallots, chile, star anise, cinnamon, and black pepper. Carefully whisk in the fish sauce and another 1/4 cup water — the caramel will seize up and spit. Return the pan to medium heat and stir it until the caramel is smooth and dissolved.
Pour it into a heatproof bowl and let it cool completely. Remove the chile, star anise, and cinnamon stick and use while warm.
:::ribs:::
Preheat the oven to 225°F.
Season your ribs on both sides very simply with salt and pepper and dust with the Chinese five-spice powder.
Place the ribs meat-side down in a pair of aluminum or glass baking dishes. Cover the dishes with tinfoil and roast the meat for 4 hours.
Drain off the drippings. Flip the ribs over using two spatulas (and an extra pair of hands, if you have them) so the meat side is now up. Be gentle, as they may be so tender they start falling apart. Paint a layer of palm sugar caramel on the ribs and return them to the oven uncovered for an additional 20 to 30 minutes. Serve straight out of the oven.