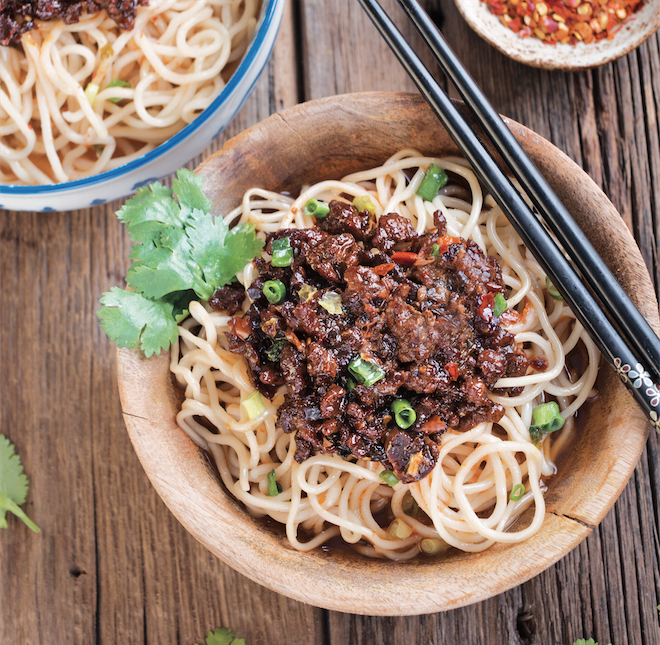 You love your slow cooker and we love ours! It's one of the most versatile tools in the kitchen, and will never fall out of favor, so we're big fans of blogger Kelly Kwok's new cookbook. While you may think of beef stews and other long braises when it comes to this device, consider Asian food. Not every Asian dish is slow cooker-friendly, but the ones that are can certainly benefit from "set it and forget it!" Here's how to make slow cooker dan dan noodles, a beloved Sichuan comfort food. 
Dan dan noodles is a classic Chinese Sichuan dish with a rich and spicy meat sauce served over soft egg noodles. For this version, I left out the preserved vegetables and scaled down the spice level slightly. If you are a spice fiend, feel free to up the chili oil.
Ingredients
1/4

cup

water

3

tablespoons

dark soy sauce

2

tablespoons

chili oil or red chili garlic paste, to taste

1

tablespoon

Chinese black rice vinegar or balsamic vinegar

1

tablespoon

Chinese rice wine or dry sherry

1

tablespoon

tahini or peanut butter

2

teaspoons

sesame oil

1

teaspoon

sugar

1/2

teaspoon

ground Sichuan pepper

1/4

teaspoon

red pepper chili flakes, to taste

1/4

teaspoon

five spice powder

2

teaspoons

cooking oil

1/2

pound

ground pork

2

garlic cloves, minced

1

teaspoon

minced fresh ginger

1/2

pound

fresh or dried egg noodles, rice noodles or spaghetti noodles

2

green onions, thinly sliced, for garnish

1/4

cup

dry-roasted peanuts, chopped, for garnish
Directions
For the noodles
In a medium bowl, whisk together the water, soy sauce, chili oil, vinegar, wine, tahini, sesame oil, sugar, Sichuan pepper, chili flakes and five-spice powder until combined and set aside.

Heat the oil in a skillet over medium heat, add the pork and cook until brown, about 6 to 8 minutes, crumbling into small pieces. Add the garlic and ginger and cook until fragrant, about 1 to 2 minutes. Dump everything into the slow cooker and pour the sauce over the top. Cook on low for 3 to 4 hours or on high for 1 to 2 hours.

Meanwhile, prepare the noodles according to package instructions, then drain and divide into separate bowls. Layer with the meat mixture and top with additional sauce. Sprinkle with green onions and peanuts, if desired.