Dale Talde's Short Rib Kare-Kare Recipe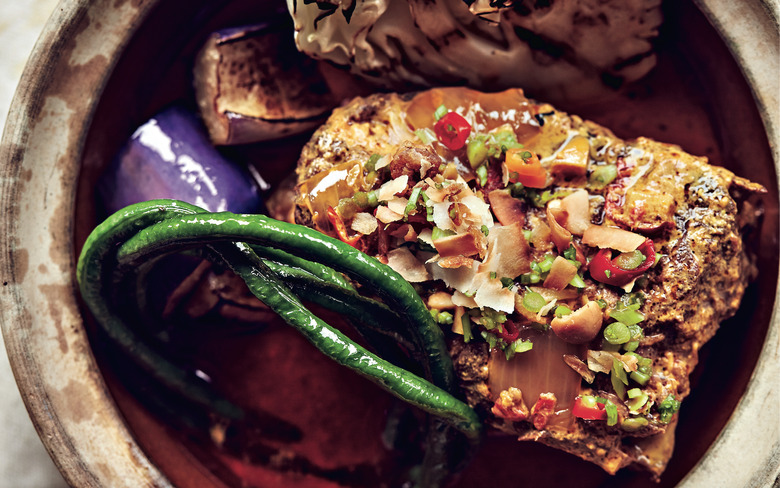 We may receive a commission on purchases made from links.
Don't call Brooklyn chef Dale Talde's food "Asian-fusions," because it's not. It's Asian-American, an homage to growing up Filipino (and proud) in a land of nuggets, breakfast sandwiches and diner feasts. In his new cookbook, Talde takes a classic, twists it up and flips it on its ass, frankly, but this short rib recipe's a family classic.
Welcome to Filipino Christmas. There are screaming babies on your left, cases of Miller High Life on your right and approximately 4,000 people in the living room of whatever aunt, cousin or sort-of cousin was willing to host that year. When I was a kid, I'd wait all year for this. It was my opportunity to eat my aunt Catalina's kare-kare.
Not that the other food wasn't dope, too. There was Mom's wonton soup and her Christmas ham, lacquered with caramelized sugar and pineapple juice. Someone always brought arroz valenciana, a Filipino version of paella, yellow from turmeric rather than saffron and made with sticky rice, Chinese sausage, shrimp and peas. I ate like a beast but always saved room for several servings of kare-kare, a classic Filipino stew rich with peanuts and funky from shrimp paste. Aunt Catalina reserved the stew for Christmastime, because it took a long time to make. She used oxtail and innards. I rock short ribs. The stew's so rich that you might need some charred cabbage, eggplant and long beans to go with it.
Dale Talde's Short Rib Kare-Kare Recipe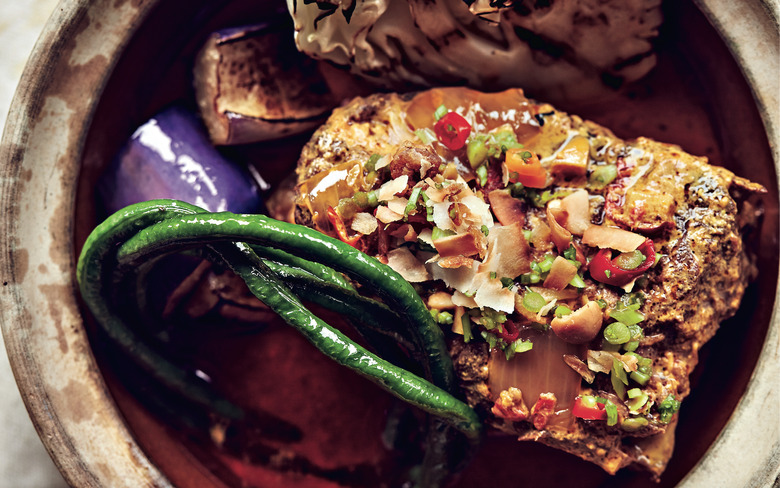 Ingredients
3 tablespoons vegetable oil
1 teaspoon annatto seeds (aka achiote seeds; available at Latin markets)
1/2 teaspoon turmeric powder
1 medium Spanish onion (1/2 pound)
1 (2-ounce) knob peeled ginger (about 4 by 1 1/2 inches)
2 medium garlic cloves
2 fresh red Thai chilies
1/3 to 1/2 cup Shrimp Paste Soffrito, or well-stirred barrio Fiesta brand spicy ginisang bagoong
2 tablespoons granulated sugar
1 medium tomato (about 1/2 pound)
4 cups well-shaken coconut milk
1/4 cup distilled white vinegar
5 pounds boneless beef short ribs (excess fat trimmed) or chuck roast
5 tablespoons smooth peanut butter
2 1/4 ounces belacan (a quarter of an 8.8-ounce brick)
1/2 cup vegetable oil
3 tablespoons annatto seeds
1 pound tomatoes
1 medium Spanish onion (about 3/4 pound)
10 medium garlic cloves
1 (1-ounce) knob peeled ginger (about 2 by 1/2 inches)
10 fresh red Thai chilies
2 1/2 teaspoons turmeric powder
1/2 cup distilled white vinegar
3 tablespoons granulated sugar
Garlic-chili vinegar
Thinly sliced cilantro stems
unsweetened coconut flakes
Directions
:::soffrito:::
Preheat the oven to 400°F. Put the belacan on two layers of aluminum foil and fold to make a package. Put it on the oven rack and bake, turning it over once, just until it smells really, really nasty but before your neighbors call the police, about 5 minutes. Set the package aside.
Combine the oil and annatto seeds in a large skillet, set it over medium heat, and wait for the seeds to sizzle slightly, about 5 minutes. Strain the bright-red oil, discarding the seeds.
Return the oil to the pan, set it over medium heat, and add the tomatoes, onion, garlic, ginger, chilies, and turmeric. Cook, stirring occasionally, until the onions are very soft, 15 to 20 minutes. Stir in the toasted belacan and cook for 5 minutes more to infuse the mixture with its flavor. Let the mixture cool to warm.
Puree the mixture in a blender with the vinegar and sugar until very smooth.
Store the soffrito in an airtight container in the fridge for up to 1 month or in the freezer for up to 6 months.
:::short ribs:::
Preheat the oven to 350°F.
Combine the oil, annatto seeds, and turmeric in a large Dutch oven or ovenproof pot, set it over medium-high heat, and cook, stirring occasionally, until the oil is a reddish color, about 1 minute. Add the onion, ginger, garlic, and chiles and cook, stirring occasionally, until the onions are brown at the edges, about 5 minutes. Stir in the shrimp paste and sugar and cook, stirring, for about 3 minutes more. Use your hands to add the tomato, squeezing the pieces to release their juice. Cook, stirring occasionally and scraping the pot to release stuff that's stuck to it, until the tomatoes begin to fall apart, 5 to 7 minutes.
Stir in the coconut milk and vinegar, and let it come to a boil. Add the beef in a more or less even layer, tightly cover the pot, and cook in the oven until the beef is very tender but not falling apart (more like pot roast than pulled pork), about 3 hours.
Use a slotted spoon to transfer the beef to a plate and strain the liquid into a large bowl, discarding the solids. Return the liquid to the pot, set it over very low heat, whisk in the peanut butter until it's fully combined, and return the beef to the liquid. Season with salt (or even better, more shrimp paste) to taste, turn the heat to medium, bring the liquid to a simmer, stir well, then turn off the heat.
You can eat it right away — topped with the garlic-chili vinegar, cilantro stems, and toasted coconut flakes — but it's even better a few days after you cook it.
Let the beef cool in the liquid, cover, and store it in the fridge. Gently reheat it when you're ready to eat.