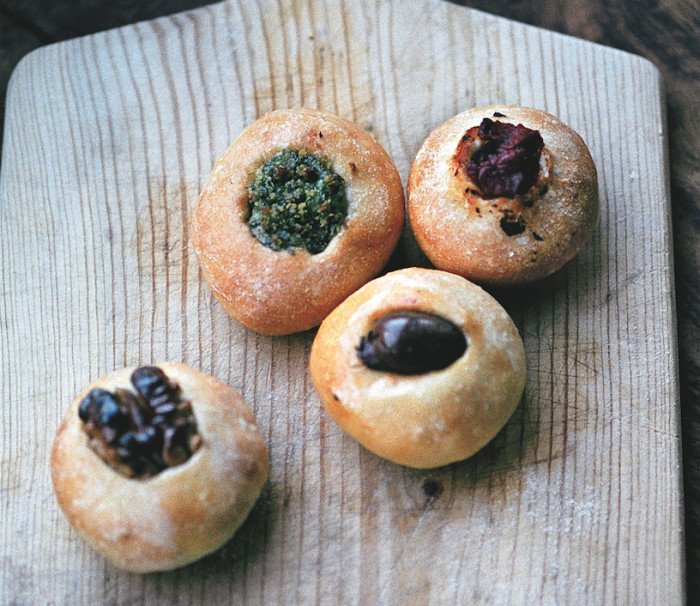 We love award-winning chef and cookbook author Richard Bertinet's new collection of recipes, Dough. Divided by chapters into white, olive, brown, rye, and sweetened breads, it's a baker's bible with more than a few fun twists — like this handy guide on how to make bread shots.

These are tiny pieces of dough, which make unusual little canapés to pass around with drinks. You simply roll out the pieces into little balls — try to do it as tightly as possible — then press your finger, or the end of a wooden spoon handle, into the center to make a well, so that you can put in a filling such as cheese, pesto or even a walnut half or olive. When you leave the balls to rise, the dough will rise up around the filling.

Par-baking in advance: Bake the shots for 4 minutes, leave to cool and store in a plastic bag in the fridge. When you are ready to serve, put them back in the oven (again at 425°F) for a few minutes until they color.
Ingredients
White Dough (rested for 1 hour)
1 1/2

teaspoons

fresh yeast (preferably) or 1/4-ounce envelope active dry yeast

About 3 3/4 - 3 7/8

cups

white bread flour

2

teaspoons

fine-grain salt

12 1/2

ounces

water (or 13 fluid ounces in a glass measuring cup, but weighing is more accurate)
Bread Shots
flour for dusting

A little olive oil for greasing plus extra-virgin olive oil for finishing

pesto

tomato paste

Olive paste

Cheese: Choose a strong-flavored mature hard cheese, cut into 1/2-inch cubes

walnut halves

Good-quality, whole, pitted olives
Directions
For the dough
Rub the yeast into the flour using your fingertips as if making a crumble. Add the salt and water. Hold the bowl with one hand and mix the ingredients around with the other (or use the rounded end of your scraper) for 2-3 minutes until the dough starts to form.

Work the dough until it looks silky and feels smooth. Let rest for 1 hour.
For the shots
With the help of the rounded end of your plastic scraper, turn the rested dough out onto a clean counter and, with the flat edge, divide it first into 5 x 6-ounce pieces, roll each piece into a log, cut each log in half, then cut each half into three, to make 30 pieces. Roll each piece into a tight, smooth ball.

Place the balls onto a flat-edged baking tray that has been lightly greased with oil (make sure there is space between them or they will touch as they rise), and let them rest for 15 minutes. Dip the handle of a wooden spoon or your index finger into the flour and then push it into the center of the first ball. Put a little of your chosen filling into the well you have made. Repeat with the remaining balls.

Let the balls rise for 45 minutes on a baking tray, covered with a lint-free dish towel.

Put the tray into the preheated oven and mist the inside with a water spray. Turn down the heat to 425°F and bake for 8-10 minutes until they are light golden brown.

Remove and let cool a little so that they are just warm before serving. Brush with a little olive oil to give a nice sheen and an extra layer of flavor.