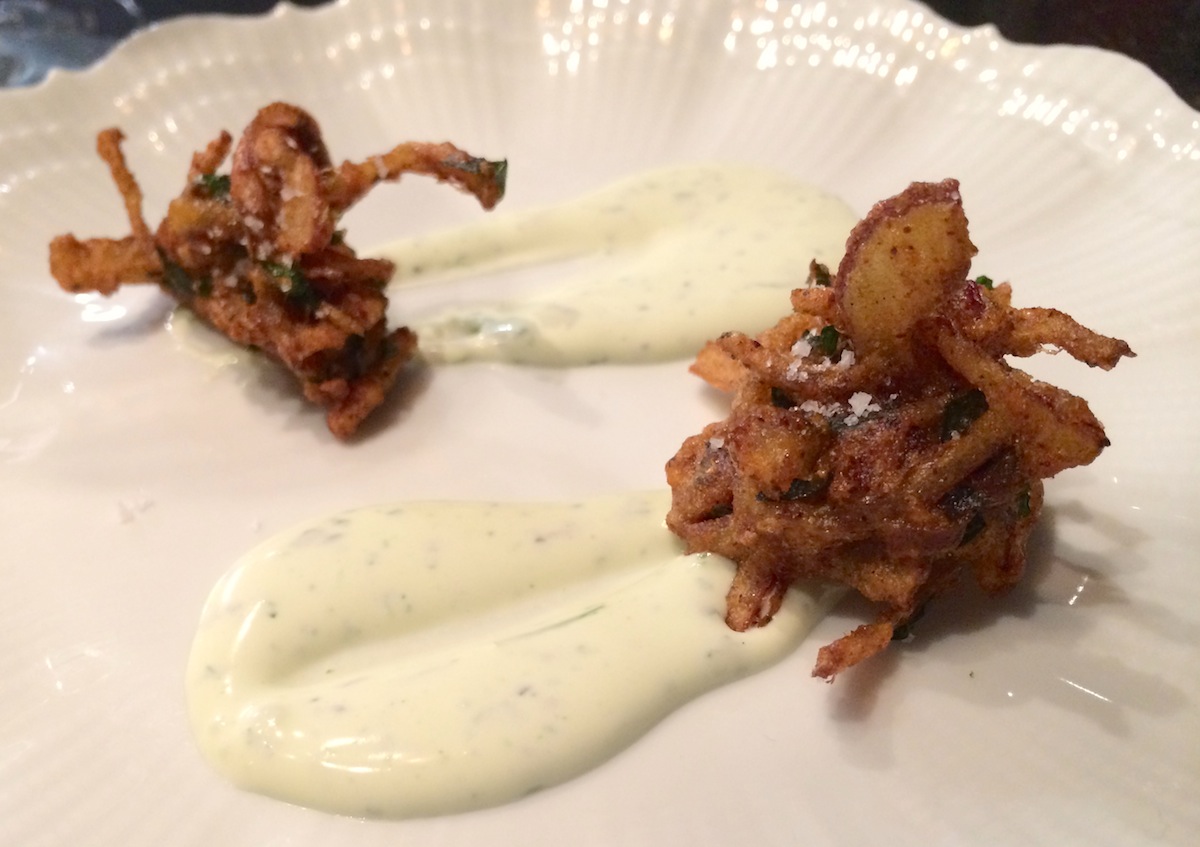 Most celebrity chefs start by making their names as chefs, then branch out into the realm TV stars. Not Curtis Stone. While he spent time earlier in his career in some truly impressive kitchens, he really became a household name after getting some quality time on-camera with shows like TLC's Take Home Chef, Today on NBC and Bravo's chef superstar spin-off Top Chef Masters. Now that he's at the top of the TV chef mountain, he's decided to open his very first "tiny little restaurant" and guess what? It's really, really good, especially when fun Indian snacks pop up unexpectedly on the menu, like this crispy spiced onion bhaji. Says Stone:
"I'm an Aussie, I've lived in America, I lived in London, I worked for French chefs, so it's a little bit of all of that stuff. We have an onion bhaji on the menu. To have an Indian snack is really different in this kind of environment. We haven't got strict barriers around it that say 'if it's Chinese, we can't do it.' If it's amazing, we will do it."
Ingredients
Onion bhaji
2

teaspoons

fennel seeds, whole, toasted

2

teaspoons

mustard seeds, whole, toasted

2/3

ounces

peeled ginger, finely grated

2/3

ounce

peeled turmeric, finely grated

2/3

ounce

peeled garlic (approximately 5 cloves), ends trimmed, finely grated

14

ounces

red onion, peeled, thinly sliced

3 1/2

ounces

white rice flour

3 1/2

ounces

potato starch

2

pinches

salt

3

teaspoons

chili powder

2

tablespoons

fresh cilantro, chopped

3 1/2

ounces

water
Crème fraîche
1

cup

creme fraiche

1/2

bunch

fresh mint, leaves only

1/2

bunch

fresh cilantro, leaves only

1/2

serrano chili, deseeded

zest of

1 lime

juice of

1/2 lime

salt to taste
Directions
For the crème fraîche:
Add all ingredients to a food processor and mix until smooth. Reserve in the refrigerator until ready for service.
For the onion bhaji:
Place a small sauté pan over medium heat and toast the fennel and mustard seeds until fragrant. Transfer the seeds to a mortar and pestle and crush until a coarse powder.
In a medium bowl, add the spice mixture, onions, white rice flour, potato starch, salt, chili powder and fresh cilantro. Working in increments, add water as needed until the mixture is wet but not soaked and the contents hold together.
In a large pot or deep fryer, heat oil to 375 degrees F. Using a spoon, add one scoop of the onion mixture and allow to cook until golden brown, approximately 1 minute. Meanwhile, line a plate or baking sheet with paper towels.
Remove fritter from oil and place on the paper towel allowing the excess oil to be absorbed.
For serving:
On a serving plate, add a spoonful of the crème fraiche mixture and, using the back of the spoon, smear the mixture into a line across the center of the plate. Add fried onion bhajis on top and serve immediately while hot!
Try out these Indian recipes on Food Republic: