In Season: Curried Pumpkin Pie With Brûléed Sugar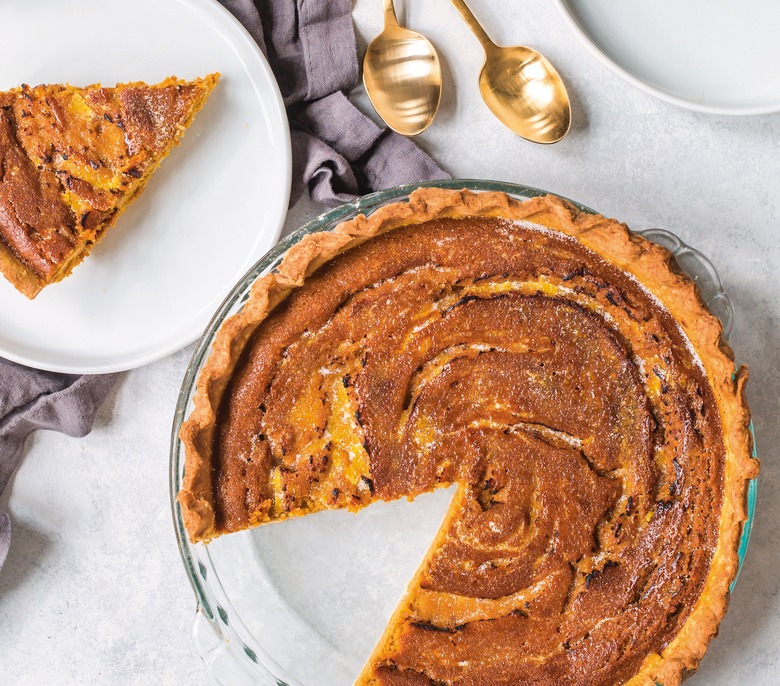 We may receive a commission on purchases made from links.
Jane Soudah, winner of the Spring Baking Championship, has a new collections of recipes out that will surprise, delight and satisfy you. Sweet tooth acting up? Dive into a world of innovative cakes, cookies, muffins, quickbreads and more advanced pastries. With the holiday season upon us, it's time to refresh your dessert game. Ever had curried pumpkin pie? 
As crazy as it might sound, I am not a huge fan of pumpkin pie — or I wasn't until I developed this recipe. Indian curry powders can contain a variety of different spices, but most are a mixture of cumin, turmeric, coriander, chili pepper, cardamom, ginger, cloves, nutmeg, cinnamon and black pepper — all spices that complement and elevate the flavor of pumpkin. After the pie is baked and cooled, it is topped with sugar that is caramelized with a kitchen torch; the sugar provides a sweet crunch before reaching the creamy pumpkin custard.
In Season: Curried Pumpkin Pie With Brûléed Sugar
With the holiday season upon us, it's time to refresh your dessert game. Ever had curried pumpkin pie? No time like the present.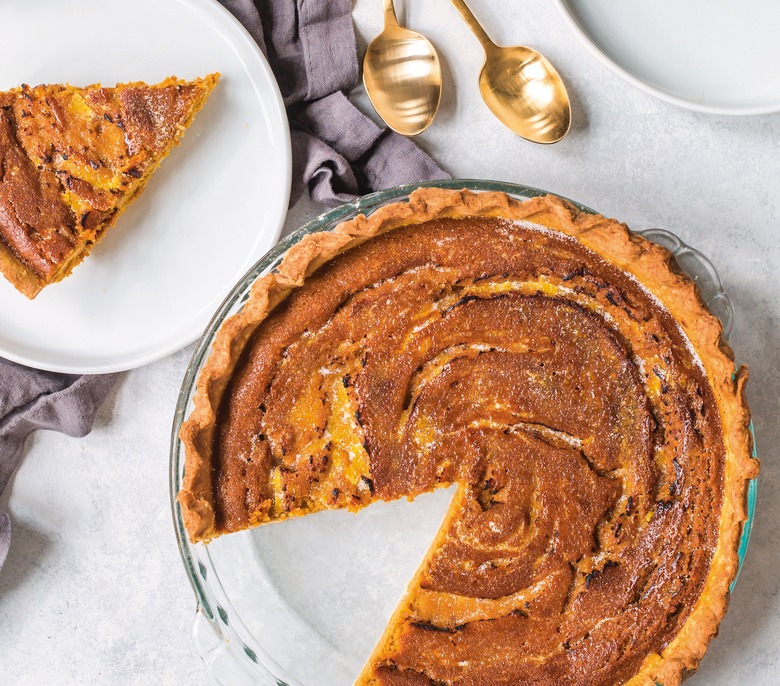 Ingredients
1 1/4 cups all-purpose flour
1 tablespoon sugar
1/2 teaspoon kosher salt
1/2 cup cold butter
3-4 tablespoons ice cold water
1 teaspoon apple cider vinegar
4 tablespoons superfine sugar
3 large eggs
1/2 cup dark brown sugar
1 1/2 cups canned pumpkin puree
1 1/2 cups heavy cream
1 teaspoon vanilla extract
1/2 teaspoon kosher salt
1 1/2 teaspoons curry powder
1/4 teaspoon ground turmeric
1/2 teaspoon ground cinnamon
1/4 teaspoon ground ginger
1/4 cup butter
Directions
Combine the flour, sugar and salt in the bowl of a food processor. Pulse 5 to 8 times to combine the dry ingredients. Add the cold butter, pulsing until the mixture resembles coarse crumbs. Add the water and apple cider vinegar to the flour-butter mixture. Pulse until moist clumps form; the mixture will not form a ball of dough.
Turn the dough onto a lightly floured surface and press into a disk. Roll out the dough on a lightly floured surface into a 13-inch round. Place into a 9 ½ -inch deep-dish pie pan and decoratively crimp edges of the pie. Refrigerate for 30 minutes.
Preheat the oven to 350°F. In a large bowl, whisk together the eggs. Add the brown sugar, pumpkin, heavy cream, vanilla, salt, curry powder, turmeric, cinnamon and ginger. Whisk until well combined. Stir in the melted and cooled butter; it may clump a little after adding, but it will melt into the filling during baking. Place the unbaked pie crust on a parchment-lined baking sheet and pour the filling into the crust.
Bake for 40 to 45 minutes until the edges of the pie are set and the center has a slight jiggle. Cool to room temperature and then refrigerate for at least 2 hours to overnight.
When ready to serve the pie, sprinkle the superfine sugar over the top of the pie. Use a kitchen blowtorch to evenly melt and caramelize the sugar. Allow the caramelized sugar to cool and harden for approximately 5 minutes before serving.