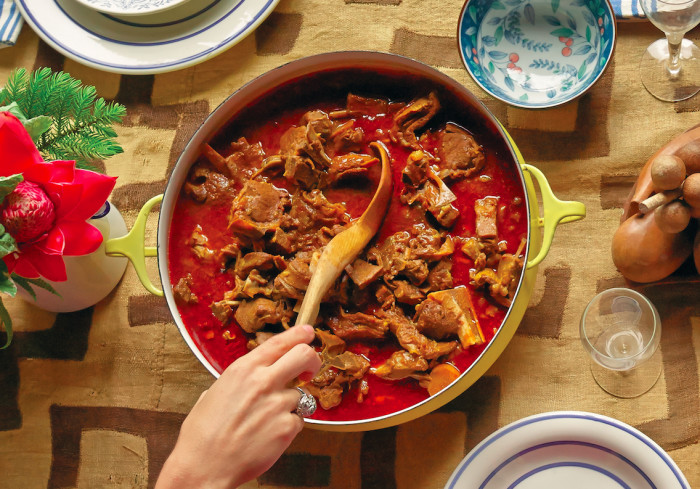 Puerto Rico has a rich culinary history influenced by France, Spain, Africa and Taíno Native American. If you're ready to cook and eat like a local, renowned San Juan chef Jose Santaella's new book, Cocina Tropical, is packed with vibrant and diverse dishes from around the country. From salt cod fritters to suckling pig, Cocina Tropical is a one-stop shop for the best cuisine Puerto Rico has to offer. When slow-cooking season hits, braise a pot of island-style curried goat stew.
Ingredients
Santaella Curry Powder
2

tablespoons

freshly ground fennel seeds

2

tablespoons

freshly ground cinnamon

1

tablespoon

freshly ground cumin

1

tablespoon

freshly ground mustard seeds

1

tablespoon

freshly ground coriander seeds

1

tablespoon

ground turmeric

1

tablespoon

freshly ground cardamom
Goat Stew
20

pounds

bone-in goat meat, cut into 2-inch chunks

2

tablespoons

kosher salt

1

tablespoon

freshly ground black pepper

1/2

cup

peanut oil

4

tablespoons

red curry paste

2

tablespoons

green curry paste

1/4

cup

Santaella curry powder

5

cups

yellow onions, diced

2

cups

canned tomato paste

1

(750-ml) bottle

Cabernet Sauvignon wine

1

head

garlic, cloves peeled and mashed to a paste in a mortar

5

large

carrots, peeled and chopped

4

cups

coconut milk, canned or fresh

4

cups

beef broth

5

cups

arroz blanco, cooked

2

tablespoons

extra virgin olive oil

2

limes

1

lemon
Directions
For the Santaella curry powder:
Mix all of the ingredients thoroughly in a bowl and store in an airtight container in a cool, dry place. Recipe yields about 1/2 cup.
For the curried goat stew:
Season the goat with the salt and pepper.
In a large pot, heat the oil over high heat.
Add the goat meat and sear, stirring continuously, until browned on all sides.
Add the red and green curry pastes and the curry powder and sauté for 1 minute.
Stir in the onions, tomato paste, wine, garlic, carrots, coconut milk and broth.
Reduce the heat to medium, cover and cook for 1 1/2 hours, or until the meat is tender.
Uncover, stir for 30 seconds, then reduce the heat to low and cook uncovered to allow the mixture to thicken, about 20 minutes more.
To make the citrus rice, remove the zest from the lemon and limes.
Finely chop the zests.
Squeeze 1 teaspoon of juice each from a lemon and a lime.
Mix the zests, juices and olive oil into the rice while it is still hot. Serve alongside the stew.
Find more stews on Food Republic: