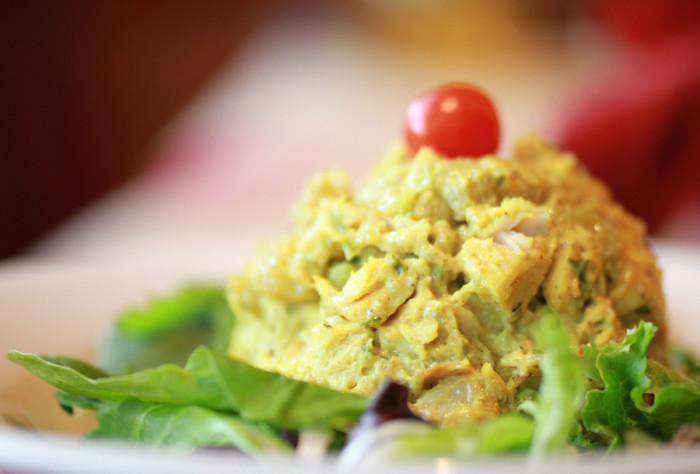 Sometimes subbing in Greek yogurt for mayo is a bad thing. I don't think a BLT would appreciate having its signature condiment replaced. Othertimes it creates a new superfood dish without the extra fat and calories mayonnaise or sour cream, and twice the flavor. Thick, tangy Greek yogurt compliments leftover cooked chicken much more nicely than simply slathering it with fat.
This curried chicken salad with Greek yogurt is a great example of classic dishes that can be enhanced in the protein and flavor departments by a dollop or two of the magic ingredient. You won't miss the mayo, we promise. You may, however, develop a new love of chicken salad.
Ingredients
1/2

cup

low-fat Greek yogurt

1

tablespoon

curry powder

1/4

teaspoon

Cayenne powder

2

cups

cooked chicken, white or dark meat, coarsely chopped

2

stalks

celery, finely diced

1/2

cup

red grapes, halved

3

tablespoons

fresh parsley, finely chopped

Salt and pepper, to taste
Directions
In a large bowl, whisk together the Greek yogurt, curry powder and cayenne until smooth.
Add the chicken, celery, grapes and parsley and fold until well-coated.
Taste for salt and pepper and let sit covered in the refrigerator for 30 minutes before serving.
More on chicken salad at Food Republic: