Crunchy Pig Skin Popcorn Recipe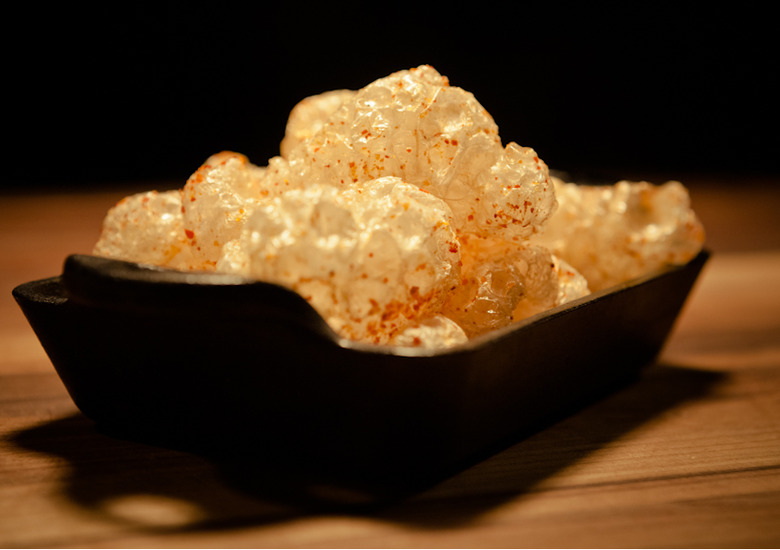 Photo by Tuan Lee
St. Louis chef and restaurateur Gerard Craft shares this crunchy pig skin popcorn recipe. It may require calling around to local butchers to see if they carry pig skin, or calling in advance to request it.
We had always had different versions and techniques of making pig cracklins at Niche. When we opened Taste, we wanted to make a version of the pork-centric dish as a snack to accompany an awesome cocktail.
In testing, we realized that when the pork skin was chopped really small it almost had a popcorn-like result. Topped with the salty-sweet seasoning, it's addictive and one of the most popular items on the Taste menu. It's also perfect for any party or tailgating snack.
Crunchy Pig Skin Popcorn Recipe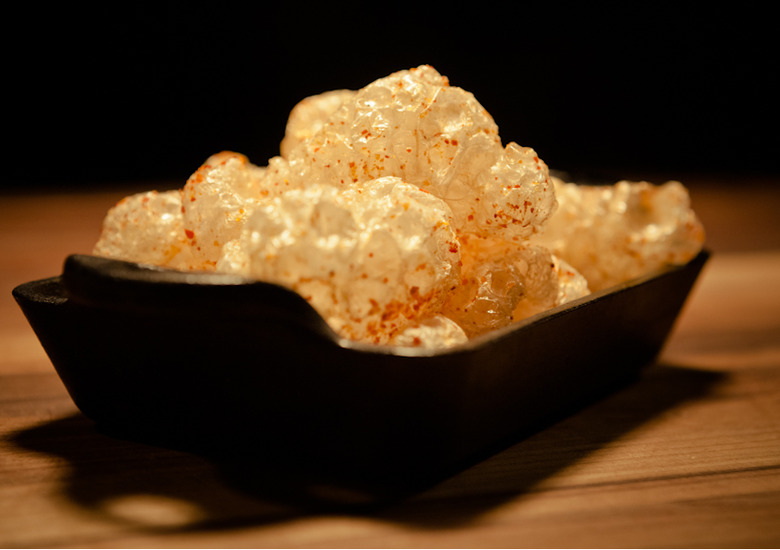 Ingredients
2 pounds pork skin with a thin layer of fat
2 tablespoons kosher salt
4 tablespoons sugar
2 teaspoons cayenne
1 tablespoon smoked parprika
Directions
Place pig skin in stockpot, cover with water and bring to a boil.
Boil skin for 2 hours, until very soft and able to tear apart easily.
Turn pot off and let cool for half an hour.
Remove skin from warm water and lie out onto cooling racks, skin side down, and place in refrigerator for 2 hours.
Once chilled, remove skin from rack and begin to scrape off as much fat as possible.  (This is important, the more fat you remove the crispier your popcorn will get.)
Once you have removed all of the fat, dice the skin into ¼-inch cubes and allow to dry out on a sheet tray overnight or until completely dry.
The skin will feel rock hard and inedible, that's how to know it's ready.
Once skin is completely dry, drop into a 375F deep fryer and allow to puff. It'll take about 20 seconds.
Remove what is now the popcorn from the fryer, season with spice mix and serve.