Crunchy Lamb And Phyllo Cigars Recipe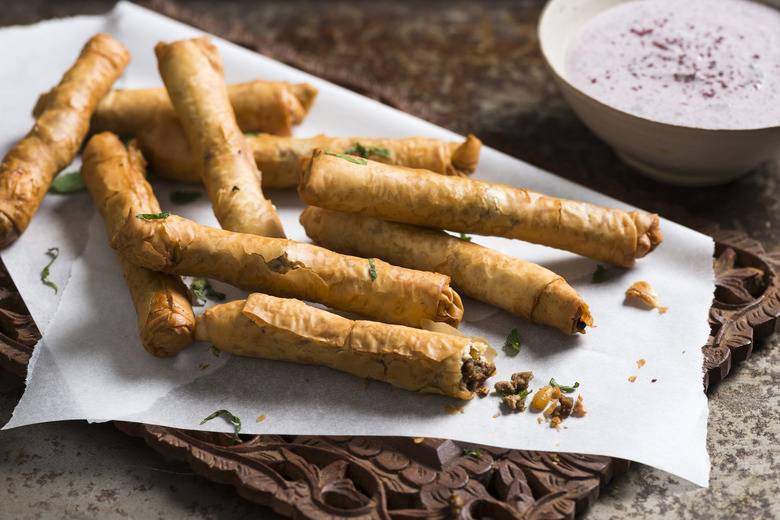 We may receive a commission on purchases made from links.
This recipe is part of Crispianity: a column devoted to all foods crispy and crunchy, two of the most underappreciated attributes of a great dish. Author Adeena Sussman is a food writer and recipe developer, pairing here with a friend, photographer Evan Sung. Sussman's most recent cookbook, coauthored with Lee Brian Schrager, is Fried and True: More Than 50 Recipes for America's Best Fried Chicken and Sides.
The combination of crispy food and cold beer is hard to beat, but consider getting your salty, crunchy fix from a slightly more exotic source: the Israeli kitchen. Moroccan cigars, or sigariyot, as they're called in Israel, are a staple at mizrahi (North African) eateries and beyond. When done right, they're world-beatingly good; the combination of crispy shell and tender, flavorful filling is irresistible, and not as hard to pull off as you'd imagine. In Israel you can buy a special frozen dough — something in between a wonton wrapper and puff pastry — in the supermarket freezer.
Stateside the way to go is filo (or phyllo), which fries up fresh, crisp and golden. The filling has that great combination of warm spices and heat, which complement the ground lamb perfectly (beef works perfectly fine if that's all you've got). Sumac, the star ingredient in the yogurt dipping sauce, is a tart element that many Westerners are discovering for the first time but that's been a staple in the Middle East since Biblical times.
Crunchy Lamb And Phyllo Cigars Recipe
Servings
4
to 6 as an appetizer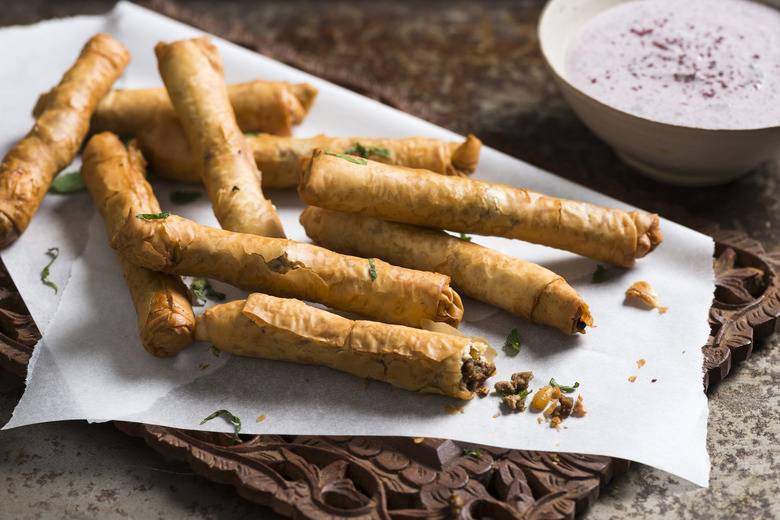 Ingredients
1 cup plain Greek yogurt
2 tablespoons milk
1 tablespoon fresh lemon juice
1 tablespoon freshly sliced mint
1 tablespoon dried sumac
1/2 teaspoon salt
1 tablespoon olive oil
1 medium onion
2 cloves garlic
1 teaspoon salt
1/2 teaspoon freshly ground black pepper
3/4 teaspoon ground cinnamon
3/4 teaspoon ground cumin
3/4 teaspoon ground coriander
1/2 teaspoon ground nutmeg
1/4 teaspoon cayenne pepper
1 pound ground lamb (or beef)
1 1/2 tablespoons tomato paste
3 tablespoons pine nuts
2 tablespoons fresh parsley or cilantro
1 16-ounce package 14 x 18 sheets of phyllo dough
1 egg
Oil for deep-frying
Directions
In a small bowl combine the yogurt, milk, lemon juice, mint, sumac, and salt.
Cover and refrigerate until ready to use.
Heat the tablespoon of olive oil in a large skillet over medium-high heat. Add the onion and cook, stirring, until golden, 7-8 minutes.
Add the salt, pepper, garlic, cinnamon, cumin, coriander, nutmeg and cayenne and cook, stirring, 1 additional minute. Add the lamb and sauté, breaking up the meat as it cooks, until browned, 4-5 minutes.
Add the tomato paste and stir to incorporate. Remove from heat, drain and discard the excess liquid, stir in the pine nuts and parsley and allow to cool slightly.
Fill a large pot halfway with oil and heat to 350°F. Remove the phyllo from package and unroll, keeping the stack covered with a damp cloth or towel until ready to use. Place a phyllo sheet on a clean surface and immediately spray or brush with olive oil until covered. Place another sheet on top of it and repeat with more oil.
Using a sharp knife or pizza wheel, cut the stack lengthwise down the middle into 2 equal-sized strips, then cut each strip horizontally into three equal-sized rectangles, yielding 6 rectangles.
Brush three edges of each rectangle with the egg. Arrange 1 tablespoon of the lamb mixture in a straight line 1 inch away from the unbrushed edge of the rectangle, leaving ½ inch on each side.
Roll the dough over the filling and continue to roll, stop midway through, fold the two sides inward and continue rolling until the tube is closed tight. Brush with oil or cover with a towel to prevent drying. Continue with the remaining phyllo and lamb.
Working in batches, gently drop the cigars into the oil and fry, turning occasionally, until uniformly golden on all sides, 6-7 minutes.
Drain on paper towels and serve with the sumac-yogurt dip.
Asparagus Frico
It's Kimchi Grilled Cheese! Here's A Recipe And How-To-Make-It Video.
Crispy Shrimp Gyoza