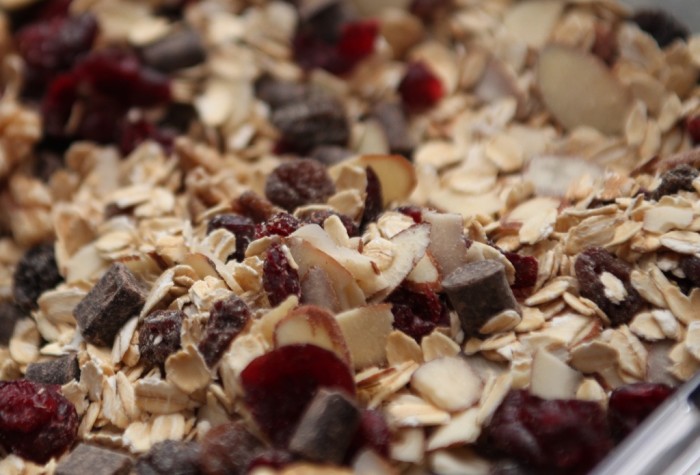 We all know granola is great for breakfast and as a snack on the go, but we love this one for dessert. Sprinkle on pies, Greek yogurt, cobblers and ice cream. Your typical hot fudge sundae gets a little bravado when you hit it with a handful of this granola, and you get the satisfaction of enjoying every bite.
The 7/20: If you have these items in your arsenal, recipes categorized by 7/20 can be made with 7 or fewer additional ingredients in only 20 minutes of active cooking time.
Ingredients
2

cups

rolled oats

1

cup

light brown sugar

1 1/2

cup

slivered almonds

2

teaspoons

ground cinnamon

1/4

cup

vegetable oil

1/2

cup

coconut flakes

1

teaspoon

salt

1/2

cup

dried cherries

3/4

cup

dark chocolate, chopped
Directions
Preheat the oven to 250°F.
Combine the oats, brown sugar, almonds, cinnamon, oil, coconut, and salt in a large bowl and mix until well combined.
Spread the mixture in a single layer on a baking sheet lined with parchment paper. Place the pan in the oven and bake for 1 hour, stirring every 15 minutes.
Remove from the oven and let cool. Transfer to a large bowl and toss with the cherries, and chocolate.