Crunch Time: Mac And Cheese Hash Browns Recipe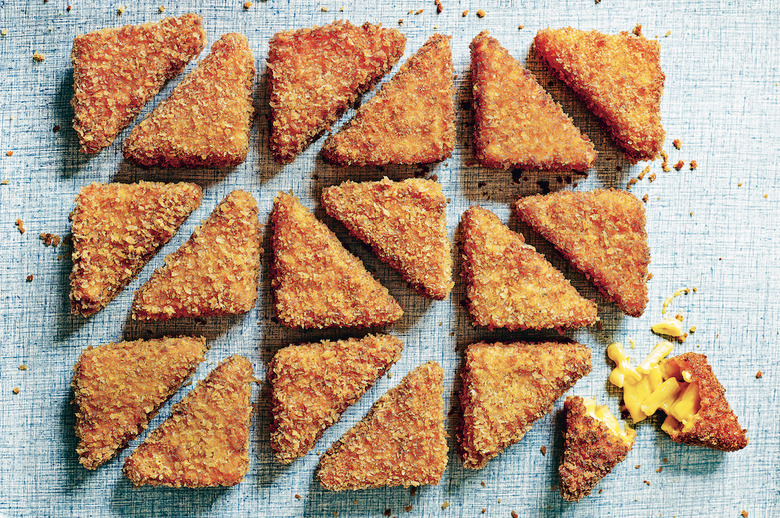 We may receive a commission on purchases made from links.
American diner food in Britain? Absolutely! (With all apologies to classic pub grub, that is.) Chef Tom Byng opened the first Byron in London, serving the kind of burgers that seemed absent from the city's dining scene. After partnering with chef Fred Smith, who was churning out superb patties for hungry crowds, a signature burger was born. Now with dozens of locations around the UK, the Byron boys have released a cookbook packed with the recipes that made them famous. Mac and cheese hash browns may sound too American to succeed across the pond, but there you have it.
Crunch Time: Mac And Cheese Hash Browns Recipe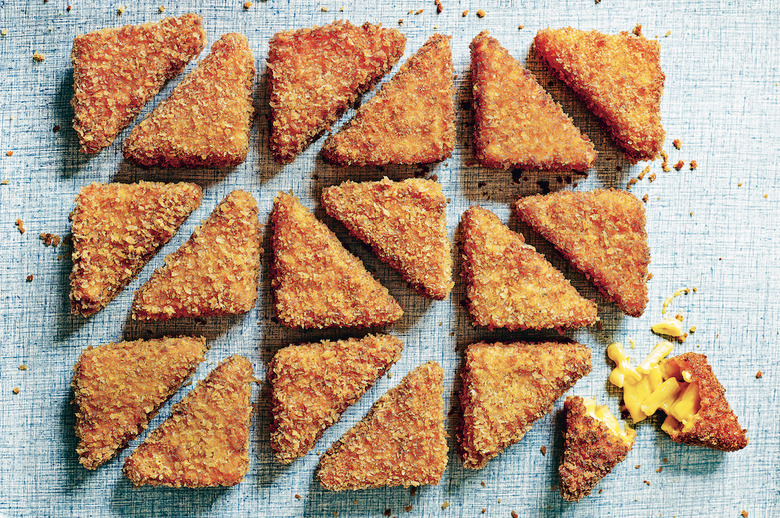 Ingredients
2 3/4 cups macaroni
vegetable oil
3/4 cup all-purpose flour
2 medium eggs
4 2/3 cups panko or dried white breadcrumbs
A dash whole milk
sea salt
1 3/4 cups heavy cream
24 slices American cheese (1 pound in total)
1 1/2 packed cups grated cheddar cheese
2 3/4 cups finely grated Parmesan cheese
Directions
Cook the macaroni in salted, boiling water for 1 minute less than recommended on the manufacturer's instructions.
For the cheese sauce, heat the cream in a medium-large saucepan until steaming. Add the American cheese, cheddar and Parmesan and whisk with a fork or balloon whisk over a low heat until the cheese has melted and the sauce is smooth. Do not let the mixture bubble.
Drain the macaroni, then stir into the warm cheese sauce and cook gently over a medium-low heat for a further minute. Remove from the heat.
Line a lipped baking sheet with nonstick parchment paper, and pour the mac and cheese onto it. Spread it to the edges and top with another layer of parchment paper. Refrigerate until cooled and set (about 2 hours).
When you are ready to start cooking, heat a deep-fat fryer to 350˚F (180˚C), or pour enough oil into a large, deep saucepan to come one-third of the way up the sides. Heat the oil over a medium heat until it reaches 350˚F (180˚C). A cooking thermometer is useful but not essential. (A cube of white bread will brown in 40 seconds if the oil is at the right temperature.)
Remove the mac and cheese from the fridge and cut into triangles about 2½ inches tall on the longest side, and 1½ inches long on the 2 shorter sides.
Put the flour, eggs and bread crumbs in 3 separate, wide, shallow bowls. Add a dash of milk to the beaten eggs and mix.
Dip each macaroni triangle into the flour until evenly coated, and then shake off any excess. Next, dip each triangle into the egg, allowing any excess egg to drip off. Finally, turn each triangle in the bread crumbs until completely coated. Transfer the macaroni triangles to a large plate or tray.
Cook the triangles, in batches, in the hot oil for 2–2½ minutes until golden on the outside and gooey in the middle (be careful checking for gooeyness — the melted cheese will be hot!).
Carefully remove the macaroni triangles with a slotted spoon or "spider" and drain in a single layer on paper towels. Serve immediately.