Crunch Into This Tuna Sashimi Tostada!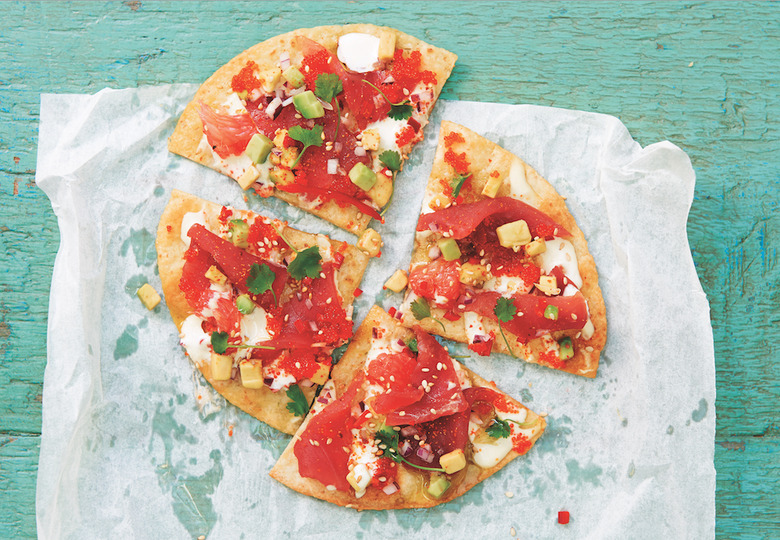 We may receive a commission on purchases made from links.
Brazil and Peru are two countries with vibrant, multinational food cultures, and Nikkei cuisine is no exception. A product of the Japanese diaspora, the Nikkei are ethnic Japanese who have lived in Latin America for generations. Their influence on Peruvian and Brazilian cooking resulted in a new kind of Asian food that is distinctly East Asian with South American twists, depending on the ingredients available over the years. Nikkei dishes have gained popularity in recent years, thanks to those like classically trained, Brazilian-born Japanese-Italian chef Luiz Hara, who continues to popularize this vibrant hybrid cuisine in London and just released a book of recipes. This crispy tostada hosts a wealth of traditional and modern Japanese ingredients.
A tostada is a crispy tortilla with various toppings. I had some great tostadas in Mexico's Yucatan Peninsula a few years ago, where they were served most often with shredded chicken, refried beans, avocado, lettuce and soured cream. I loved them so much I could not wait to experiment when I got home and put my Nikkei stamp on them. I use sashimi tuna in this version, but salmon or other sushi-grade fish would also work well. This Nikkei tostada can be served as a colorful canapé, or as an all-in-one lunch dish. It should have vibrant flavours, be full of color and have a deliciously crunchy texture. The wasabi lemon cream is also an important touch, adding a refreshing acidity and a kick of heat. This tuna sashimi tostada has become a popular canape at my Japanese and Nikkei supper clubs in London.
Crunch Into This Tuna Sashimi Tostada!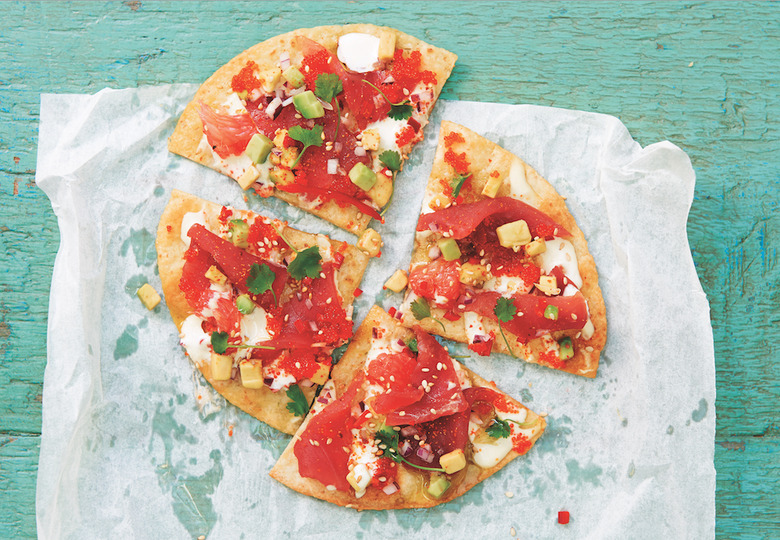 Ingredients
2 tablespoons Coriander oil
1/2 portion of Wasabi lemon cream
2 x 7 3/4 inch diameter wheat flour tortillas
2 tablespoons olive oil
A sprinkle of Maldon sea salt flakes
1/2 pink grapefruit
5 1/2 ounces sushi-grade tuna
1/2 small avocado
2 tablespoons finely diced red onions
4 teaspoons tobiko eggs
1/2 red chili
A few baby coriander (cilantro) leaves
1/2 cup coriander (cilantro) stalks and leaves
1 1/2 cups sunflower oil
5 tablespoons Japanese-style mayonnaise
5 tablespoons sour cream
1 tablespoon wasabi paste
A few drops of lemon juice
A pinch of salt
Directions
:::coriander oil:::
Wash the coriander (cilantro), pat dry on tea towels (dish towels) and then roughly chop. Heat the chopped coriander (cilantro) and the sunflower oil in a small pan over a very gentle heat; warm the oil through until it's lukewarm and the coriander (cilantro) is wilted, for about 3 minutes. Take off the heat, place the pan in a bowl of ice water to cool it down quickly and so retain the vibrant green color of the coriander (cilantro).
Once cool, blend the oil and coriander (cilantro) in a food processor until smooth. Transfer the coriander (cilantro) and oil mixture to a bowl, cover it and let it infuse in the fridge for 2 hours, or anything up to 48 hours.
Strain the mixture through a fine sieve (strainer) or a paper coffee filter into a sterilized jar and store in the fridge, where the oil will keep for up to four weeks. Cook's note: This oil can also be made with chervil, chives, basil, parsley or dill following the same instructions as for coriander (cilantro) oil, above.
:::wasabi lemon cream:::
In a bowl, whisk all the ingredients together until well combined. Check the seasoning and add more salt, wasabi paste (if you like it a tad spicier) or lemon juice. The wasabi cream should taste spicy, but not overly so, with a refreshing acidity from the lemon. Once made, this cream lasts a week in the fridge. Cook's note: Whenever possible, use ready-made wasabi paste sold in small tubes as opposed to wasabi powder, which has to be made into a paste. The latter leaves a faint bitter aftertaste when mixed with other ingredients. If you do not want to make your own Japanese-style mayoneizu, then you can buy ready-made Japanese mayonnaise; the most popular brands are Kewpie and Kenko. Japanese mayonnaise is tangier and more flavorful than Western-style mayo.
:::tostada:::
Make the coriander oil and wasabi lemon cream. Keep them in the fridge until needed.
Preheat the oven to 200°C/400°F/gas mark 6, and line a baking tray (baking sheet) with nonstick baking parchment.
Prick the soft tortillas to stop them from bubbling up during baking. Brush the tortillas on both sides with olive oil, sprinkle a little sea salt over them, cut each tortilla into equal quarters, cover with a tray (to help flatten the tortillas as they cook) and bake for 2-3 minutes until lightly colored. Turn over and bake again. Remove from the oven and transfer to a wire rack; they will crisp up further as they cool down.
Meanwhile, prepare the other ingredients. You'll need to extract the pink grapefruit flesh gently from its segments to make 1- to 2-centimeter triangular pieces. Set aside.
When you are just about ready to serve the tostadas, cut the tuna using a very sharp knife into thin slices 2 inches wide and 1/8 inch thick. If the tuna piece you have is more like a steak size and the slices you cut are not quite the measurements given, don't worry. The tuna slices will be placed alongside all of the other ingredients over the tostada, so their size is not critical for the preparation of this dish.
Place the crispy tortilla quarters on a serving plate, close together as if the tortilla was still whole. Spoon half of the wasabi lemon cream over the tortillas. Place the thin slices of tuna over the tortilla pieces and cream. Spoon the remaining wasabi lemon cream over and around the tuna. Now scatter the pieces of grapefruit, the cubes of avocado, the finely diced red onions, the tobiko eggs and red chili over the surface of the tortilla. Drizzle the coriander oil over the white cream, scatter a few small leaves of coriander (cilantro) and a slice of red chili in the middle of the plate.
Finish off with a sprinkle of toasted sesame seeds, a dusting of shichimi pepper and some Maldon sea salt flakes and serve.