Crunch Into This Falafel Crouton Salad Recipe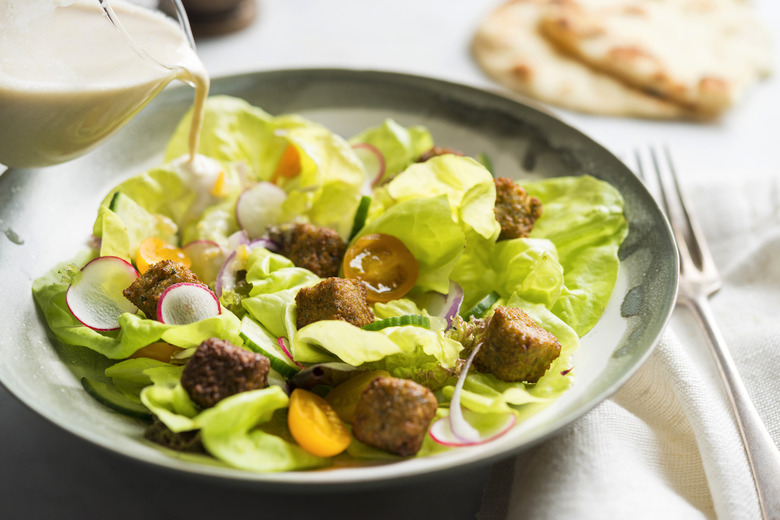 Photo: Evan Sung, Stylist: Kaitlyn DuRoss
We may receive a commission on purchases made from links.
This recipe is part of Crispianity: a column devoted to all foods crispy and crunchy, two of the most underappreciated attributes of a great dish. Author Adeena Sussman is a food writer and recipe developer, pairing here with a friend, photographer Evan Sung. Sussman's most recent cookbook, coauthored with Lee Brian Schrager, is Fried and True: More Than 50 Recipes for America's Best Fried Chicken and Sides.
Making falafel from scratch isn't complicated; it just requires some planning: Soak the chickpeas in advance, pulse with seasonings and a few binders, shape and fry. To my mind, few freshly fried crispy things are as delicious. You can even make the batter a day before you fry it; I tried it and was surprised at how well it held up in the fridge.
Sometimes I'm in the mood for the falafel itself but not the pita pocket that houses it. The bread can fill you up, limiting enjoyment of the crispy goodness within. This salad eliminates the pita and turns the falafel into crunchy "croutons" topped with a dressing made rich with tahini and tangy with bits of preserved lemon. Think of it as falafel without the baggage, the moral of the story being: Don't knock it until you fry it.
Crunch Into This Falafel Crouton Salad Recipe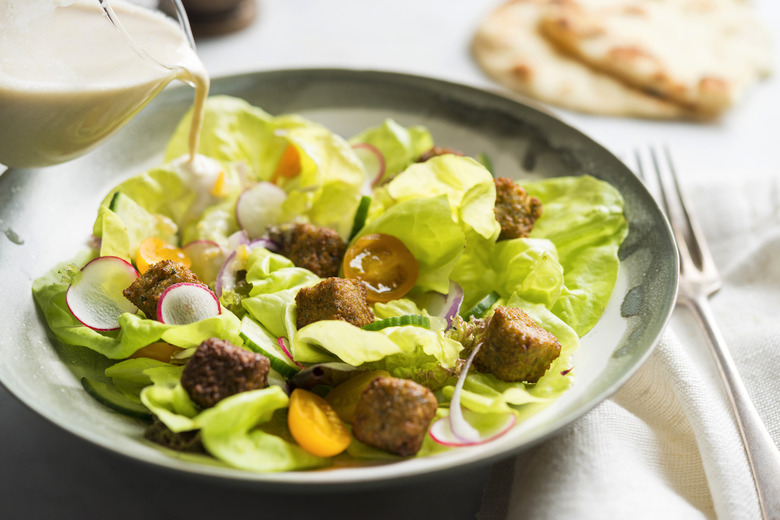 Ingredients
1 cup dried chickpeas
1 small onion
2 tablespoons fresh parsley
2 tablespoons fresh cilantro
1 teaspoon salt
3 cloves garlic
1 teaspoon cumin
1 teaspoon baking powder
2 tablespoons flour
1/4 cup fresh bread crumbs (from 1 slice fresh bread)
Vegetable oil for frying
3/4 cup cold water
1/4 cup pure tahini paste
1/2 preserved lemon
1 tablespoon olive oil
1 small clove garlic
1/8 teaspoon cayenne pepper
2 heads butter lettuce
1/2 small red onion
2 cups cherry tomatoes
4 Persian cucumbers
4 radishes
Salt and pepper
Directions
Combine all of the ingredients in a food processor until very fine, pulsing and scraping down the sides of the bowl occasionally if necessary, 30 seconds to 1 minute.
Let the falafel mixture rest in the refrigerator for at least 1 hour and up to 24 hours.
Combine all of the ingredients in the small bowl of a food processor and process until smooth, about 30 seconds.
Reserve the dressing for serving.
In a large, shallow salad bowl or platter, arrange the lettuce, onion, tomatoes, cucumbers, and radishes.
Fill a 4-quart saucepan halfway with oil and heat to 350°F. Using wet hands, form the falafel batter into one-inch squares. Working in batches, fry until golden, 2-3 minutes. Drain the falafel on paper towels.
Arrange the falafel on top of the salad and drizzle with the dressing. Season with salt and pepper to taste.
Meet The Fawaffle: A Waffled Falafel And Hummus Recipe
Falafel-Stuff Eggplant Recipe
Best Basic Falafel Recipe