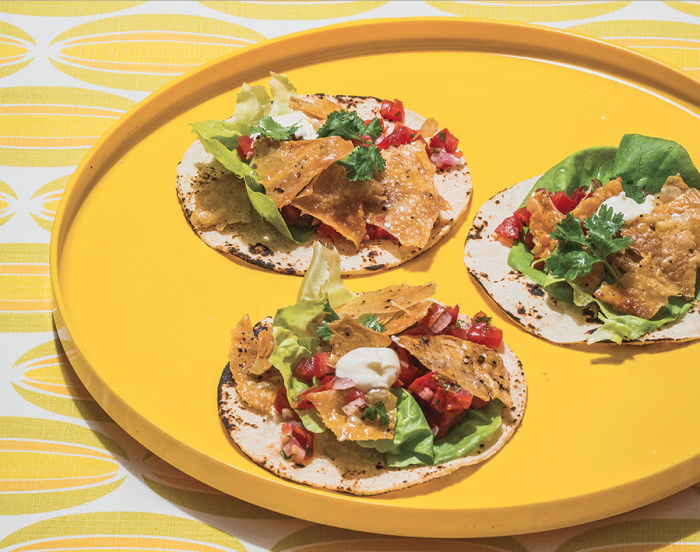 Short Stack Editions are tiny tomes with recipes that focus on one ingredient. Their first compilation cookbook is a vibrant collection with an impressive author roster of great chefs, and we couldn't be more excited to cook our way through. Prepare yourself for some brand-new dishes from familiar names, and get crackin' on these crunchy chicken skin tacos. 

Chicken skins are a cook's reward. As the first responder to the beep of an oven timer, the cook gets the privilege of pulling a tile of golden chicken skin from the side of the bird to snack on while going about the business of carving. Sara Jenkins (Vol. 14: Prosciutto di Parma) has taken our guilty pleasure and maxed it out like a Las Vegas light bulb in this recipe, and we're forever thankful. To procure the chicken skin, you'll need about 3 chickens; better yet, make friends with the guy behind the meat counter and hit him up for the invaluable dermis.
Ingredients
1

pound

chicken skins (from about 2 to 3 chickens), cut into 3-inch pieces

Salt and freshly ground black pepper

1

serrano chile, seeded and finely chopped

1

large shallot, finely chopped (about 1/4 cup)

1/4

cup

fresh lime juice, plus lime wedges for serving

1/4

cup

chopped cilantro, plus a few sprigs for garnish

1 1/2

cups

finely chopped ripe heirloom tomatoes (about 1 large tomato)

12 to 16

small corn tortillas

1

head

little gem lettuce, washed, dried and broken down into individual leaves

1/4

cup

creme fraiche
Directions
For the tacos
Preheat the oven to 375°F (190°C) and line a large rimmed baking sheet with parchment paper. Spread the chicken skins on the prepared baking sheet and season lightly with salt and pepper; they might crowd a bit but will shrink during baking. Top with another sheet of parchment paper and another rimmed baking sheet to weigh the skin down. Bake for about 40 minutes, until the skins have shrunk significantly and are starting to crisp. Remove the top baking sheet and parchment and separate any overlapping pieces. Continue baking until the skins are browned and crisp, about 10 minutes longer. Transfer the skins to a wire rack until ready to use.

Place the chile and shallot in a bowl and sprinkle with salt and lime juice. Let the mixture wilt for 10 minutes or so, then add the chopped cilantro and tomatoes.

Toast the tortillas on both sides in a cast-iron pan or directly over a gas burner and stack them together wrapped in a clean dishtowel.

When all the tortillas are toasted, assemble the tacos with a leaf of lettuce, a spoonful of the tomato salsa and a teaspoon of the crème fraîche. Crumble the crispy chicken skin in shards over the top. Garnish with the cilantro sprigs and lime wedges. Eat immediately.