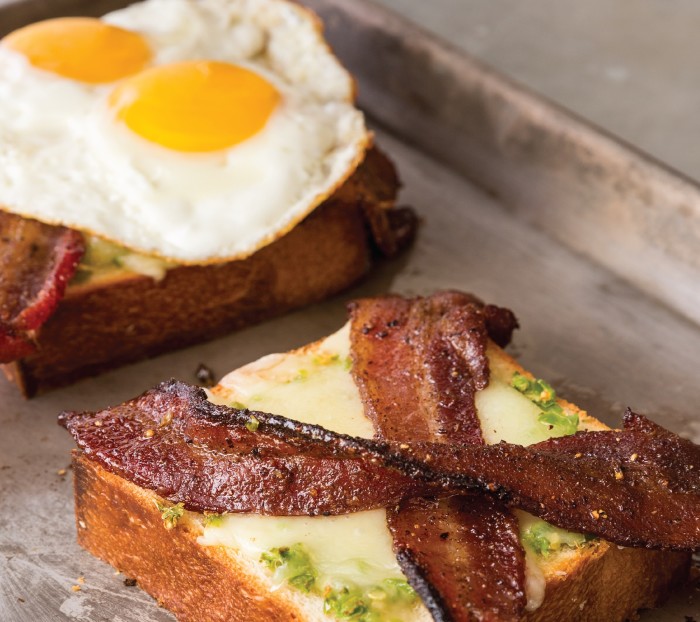 Preeti Mistry helms the kitchen at Oakland, CA's Juhu Beach Club. The modern Indian restaurant models its menu on the popular cuisine of Mumbai. Whether you go for the city's famous fine dining, even more famous street vendors or a delightful combination of both, there's no wrong choice to make. Try a croque memsahib, a spicy Indian spin on the French classic. 
Oakland has a strong brunch game. That's where my Indian-inspired croque, based on the classic French dish croque madame, comes into play. I knew my brunch menu needed to feature eggs and bread in a compelling way. The Hindi word memsahib was a title of respect given to white women or women of high social standing during Britain's colonial rule of India. As a child, I generally heard the term being used in a tongue-in-cheek way among Indians: piling on the respect in an ironic fashion. Naming rights aside, this recipe hits all the best brunch notes: spicy, cheesy, carb-y, eggy, bacon-y joy on a plate.
Ingredients
6

slices

white bread (we use Pullman loaf)

1/4

cup

serrano chiles, minced

3

cups

monterey jack cheese, grated

12

strips

Chai-Spiced Bacon

2

tablespoons

neutral oil

1

dozen eggs

1

cup

Tamarind Ketchup
Chai-Spiced Bacon
1

cup

light brown sugar, packed

2

tablespoons

Chai Masala

12

slices

Smoked Bacon
Chai Masala (makes 1 cup)
1/2

cup

green cardamom pods

1/4

cup

cloves

5

2-inch cinnamon sticks

1/4

cup

black peppercorns
Tamarind Ketchup (makes 2 cups)
1/2

tablespoon

tamarind paste

3

garlic cloves

1

lemon, juiced

1

teaspoon

Indian red chili powder

2

cups

ketchup
Tamarind Paste (makes 1 quart)
Directions
For the tamarind paste
Place the tamarind blocks in a medium saucepan with 4 cups of water. Make sure the water covers the blocks fully. Bring the water to a boil and simmer for about 15 to 20 minutes on low heat, until the tamarind blocks begin to break down and soften; use a spoon to aid this process. Strain the mixture into a sieve and press with a spoon to extract the pulp, leaving the seeds behind. Alternatively, place the mixture in a food mill and hand crank to create the paste. Store the tamarind paste in an air­tight container in the refrigerator for 1 week; for longer storage, transfer to the freezer for up to 3 months.
For the tamarind ketchup
In a blender combine all the ingredients, except the ketchup, with 1/4 cup of water. Blend until puréed. Fold this mixture thoroughly into the ketchup. Serve.
For the chai masala
Preheat the oven to 350° F. Measure out all the spices onto a sheet pan. Place the pan in the oven for 5 to 7 minutes until the spices begin to slightly smoke and turn a little brown. Remove the pan from the oven and set aside to cool. When the spices are fully cooled, grind them in a spice grinder in batches, until all spices are completely ground. Mix them well and keep in an airtight container for up to 4 weeks.
For the bacon
Combine the sugar and chai masala in a medium bowl. Toss each strip of bacon in the mixture to coat, and then lay them on a sheet pan. Cook the bacon in a 350°F oven for about 10 minutes — until the bacon is browned and rendered of excess fat. Drain each slice on paper towels, and then serve.
For the croque memsahib
Heat a broiler to high. Place the slices of bread on a sheet pan and top each slice with 1 teaspoon of the chile. Then cover each slice with grated cheese. Lay two bacon slices on top of the cheese in an X, and place the sheet pan under the broiler for about 3 to 5 minutes, until the cheese is fully melted.

Heat a nonstick skillet on medium with 1/2 tablespoon of oil. Fry the eggs in batches—sunny-side up—to desired doneness. Add more oil as needed between the egg batches. Top each cheese-covered toast with two fried eggs. Serve with the tamarind ketchup.