Crispy Tapioca Cheese Fritters Recipe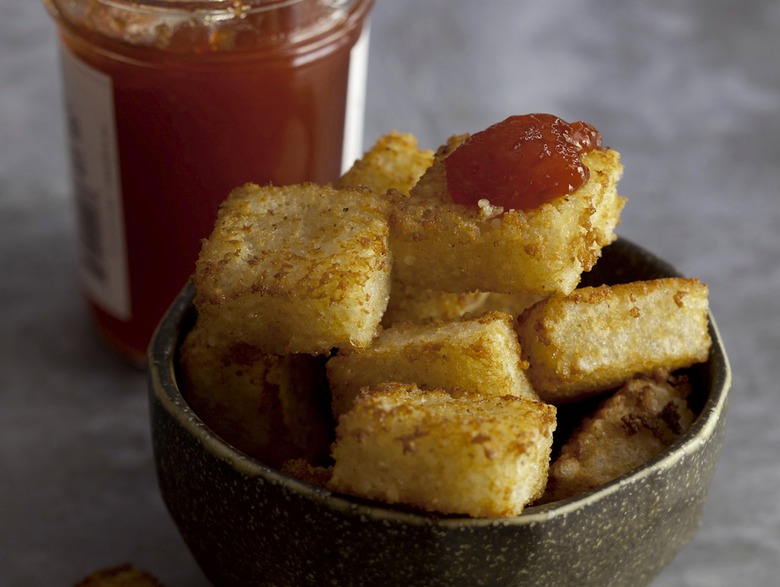 Cheesy and crispy, what's not to love? (Photo: Kate Sears.
We may receive a commission on purchases made from links.
Don't let the World Cup sneak up on you without a few recipes from My Rio de Janiero, by renowned cook and author Leticia Moreinos Schwartz. A follow-up to her first book, The Brazilian Kitchen, My Rio de Janiero explores the city's diverse cuisine by neighborhood. These crispy, cheesy fritters are a must-try in your own kitchen, too.
Zuka is a very versatile restaurant: whatever purpose — business lunch, romantic date, dinner with friends — it fits the occasion. The menu sprinkles exotic Brazilian ingredients with dishes that are internationally familiar. I was interviewing Chef Ludmilla Soeiro for my blog when I first tried these crunchy tapioca fritters. I couldn't get over how remarkably delicious they were and couldn't wait to try the recipe at home. I made them with Parmesan, cured and grated Minas cheese, Brazilian coalho cheese and Greek haloumi. My favorite is Parmesan, but they all produce a great fritter. Ludmilla told me that she learned this recipe from Chef Rodrigo Oliveira, based in São Paulo — proving that good recipes travel fast.
Crispy Tapioca Cheese Fritters Recipe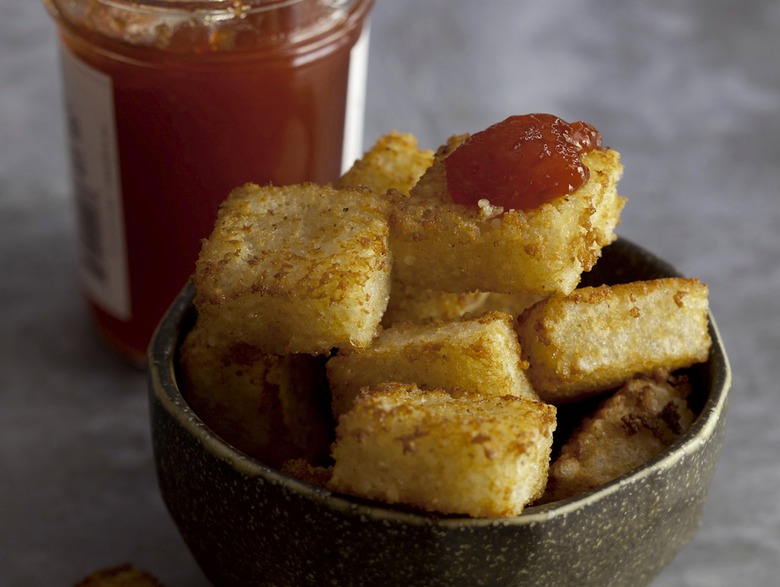 Ingredients
1 1/3 cups finely grated Parmesan
1/2 cup plus 1 tablespoon small tapioca pearls
1 cup whole milk
Kosher salt and freshly ground black pepper
freshly grated nutmeg
pinch of paprika
2 cups vegetable oil for frying
Directions
Line a small baking dish with plastic wrap, leaving an overhang on all sides. Be sure it's deep enough to hold the batter.
In a medium bowl, combine the cheese and tapioca.
In a small saucepan, bring the milk to a boil.
Pour the hot milk over the tapioca and mix with a rubber spatula; the tapioca will immediately start to release starch and the dough will become thick and pasty.
Season with salt, pepper, nutmeg and paprika.
Pour into the prepared baking dish and spread evenly. Immediately cover with plastic wrap to prevent a skin from forming.
Let cool at room temperature for at least 1 hour, then refrigerate for at least 2 hours or up to 5 days.
Pour the vegetable oil into a heavy-bottomed saucepan and heat to 350°F, as measured by a deep-fat thermometer.
Unmold the tapioca dough onto a cutting board.
Using a long knife, trim the edges and cut the dough into neat 1-inch cubes.
Fry the tapioca cubes in batches, adding only as many as will fit without touching.
Turn occasionally with a long slotted spoon, preventing them from sticking together, until evenly browned on all sides, about 3 minutes.
Transfer to a baking sheet lined with paper towels.
Continue working in batches until all the fritters are fried. Serve immediately.
Brazilian Crab And Black-Eyed Pea Acarajé Recipe
Feijoada Fritters With Collard Greens Recipe
Garlic And Cilantro Soup With Poached Eggs And Croutons Recipe