Crispy Squid With Beetroot Sauce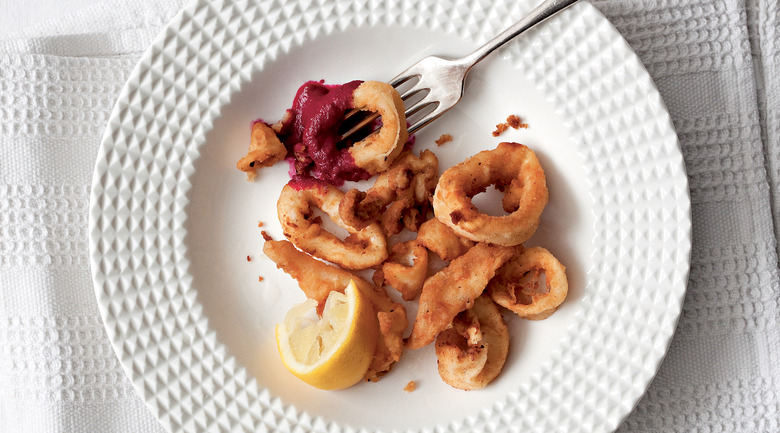 We may receive a commission on purchases made from links.
Writer and journalist Rebecca Seal travels where the food is excellent, and she sticks around long enough to tell the story right. A follow-up to her previous cookbook on the cuisine of Istanbul (written with her photographer husband, Steven Joyce), The Islands of Greece takes you on a boat to a great meal. These pies are packed with healthy greens and bright flavors. 
Rather than the usual calamari with garlic mayonnaise, this combines earthy beetroot with saffron and lemon in a bright pink sauce.
Crispy Squid With Beetroot Sauce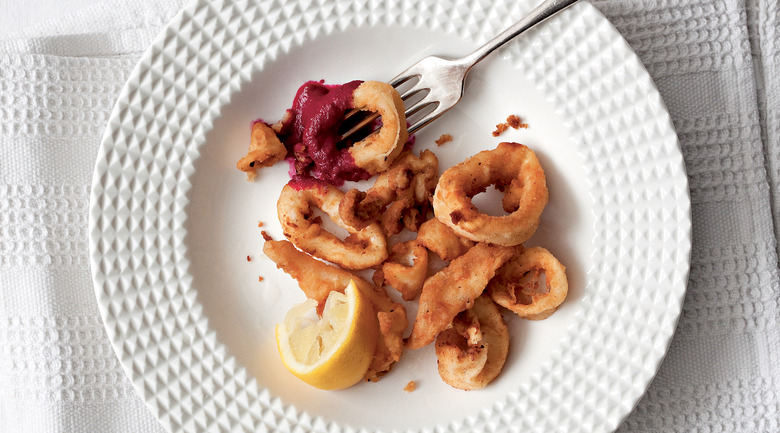 Ingredients
3 1/2 ounces raw red beets
Pinch of saffron threads
1 tablespoon Greek yogurt
Salt and freshly ground black pepper
1 tablespoon lemon juice
3 1/2 ounces squid bodies and tentacles
Generous 1/2 cup all-purpose flour
1/2 teaspoon baking powder
Salt and freshly ground black pepper
vegetable oil
lemon wedges
Directions
Preheat the oven to 400°F. Wrap the beetroots in foil and place in the oven for 1 hour, or until tender to the point of a knife. Remove from the foil and allow to cool. When cool enough to touch, rub off the skins with your thumbs.
Place the saffron in a cup and add 5 tablespoons of hot water. Leave to steep for 10 minutes. Strain, reserving the liquid, and blend it with the cooked beets and yogurt, using a food processor or hand-held blender. Taste the sauce and add a little salt and lemon juice, to taste.
Meanwhile, slice the squid into rings and the tentacles into manageable pieces. Mix the flour, baking powder and some salt and pepper together and place it all in a sandwich bag. Add the squid to the bag and – holding the opening shut – give it a good shake. Let the squid sit in the flour for a couple of minutes.
Remove the squid from the bag, shaking off excess flour. Heat 1¼ inches of vegetable oil in a large saucepan to 350°F on a pan thermometer, or until a cube of bread browns in the oil in 30 seconds.
Carefully drop the squid into the oil and fry quickly until golden brown, after just 30 seconds or so (otherwise it will be chewy). Remove with a slotted spoon and drain on paper towels. Serve the squid straightaway, with wedges of lemon to squeeze over and the beetroot sauce.