Crispy-Skin Grilled Duck Confit Recipe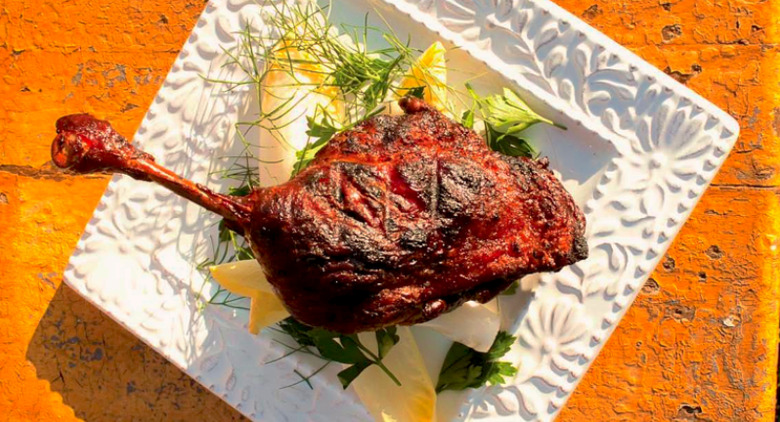 We may receive a commission on purchases made from links.
Chef Barton Seaver is Director of the Healthy and Sustainable Food Program at Harvard's School of Public Health, and a damn good cookbook author. His new book, Where There's Smoke, is on our list of spring must-reads. First up, grilled duck confit. You heard it here first.
Traditionally, duck was turned into confit as a way to preserve it; the salted and slowly cooked legs covered in a thick layer of their own fat would keep for many months. Like many dishes born of rural efficiency, confit is now rarely found outside of high-end restaurants. If you haven't ever tried duck confit, you need to — it is incredible in a way you can't even imagine.
Though I provide a from-scratch recipe, the good news is that you can buy already prepared confit that is very good; my favorite is that made by D'Artagnan. Whether you make or buy your confit, the fatty legs and meltingly tender meat are greatly enhanced once you crisp the skin over a smoky fire and serve the dish with a salad of crisp endive and aromatic herbs.
Crispy-Skin Grilled Duck Confit Recipe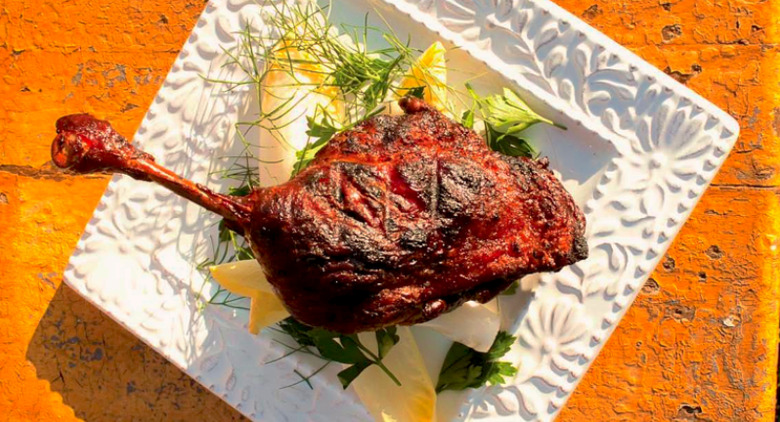 Ingredients
6 fresh duck legs
3 tablespoons kosher salt
1 tablespoon brown sugar
leaves from 3 sprigs fresh thyme
freshly ground black pepper
5 cups canola oil or rendered duck fat
6 heads Belgian endive
leaves from 1/2 bunch fresh flat-leaf parsley
1 cup fennel or dill fronds
juice of 1 lemon
Directions
Wash the duck legs under cold running water and pat them dry. Combine the salt, brown sugar, thyme and 3 or 4 turns of pepper. Sprinkle about 1 tablespoon of the salt mix in a large baking dish and lay the legs, skin side up, in the dish. Cover the legs with the remaining salt mix. Cover and refrigerate for 2 days.
Brush off the remaining cure mix and transfer the legs to a pan just big enough to hold them snugly. Cover the duck with the oil, put a lid on the pan and cook over low to medium heat (you want to maintain a very low temperature, just enough to cause gentle and infrequent bubbling) until the meat is falling-off-the-bone tender, about 3 hours. Let cool to room temperature, then refrigerate overnight. If you are planning on storing the confit for an extended period, remove the legs and separate the fat from any cooking liquid that has collected in the bottom of the pan. Completely cover the legs with the fat, and they will keep in the refrigerator for a couple of months.
When you're ready to grill, remove the duck legs from the fat (or from the package, if you're using store-bought) and wipe them clean of any excess fat. Place the legs on the grill away from the coals of a small fire and cover. (This will heat the legs through and melt away any remaining fat, which will prevent a grease fire when you sear them later directly over the coals.) I really like to use citrus wood to season the fire when making this recipe, but any fruitwood is fine.
When the legs are heated all the way through, about 15 minutes, move them directly over the coals and cook until the skin is darkly caramelized and crispy, about 3 minutes. If the fire begins to flare, remove the duck immediately, wipe away any fat from the legs, and try cooking them adjacent to the fire for a longer time.
To serve, mix the endive, parsley and fennel with the lemon juice and toss to combine. This salad needs no fat or salt (the duck has enough of both, I promise). Divide the salad among the plates and lay one leg on top. Serve immediately.
Duck Breasts With Apples And Caraway Recipe
Smoked Duck Breast Recipe
Canard À L'Orangina Recipe