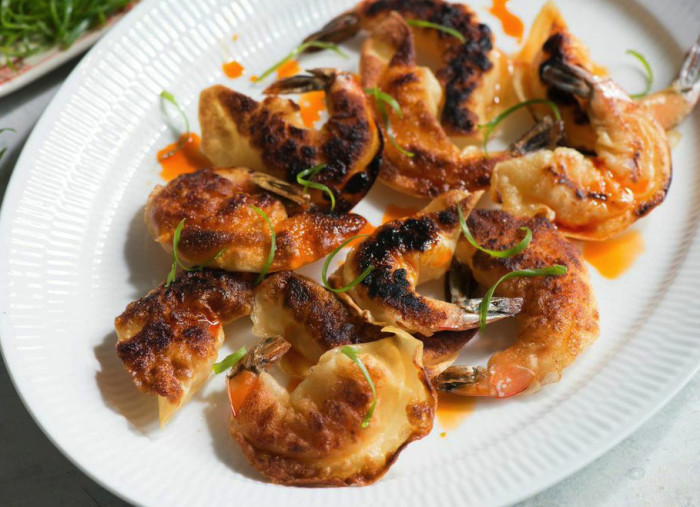 This recipe is part of Crispianity: a column devoted to all foods crispy and crunchy, two of the most underappreciated attributes of a great dish. Author Adeena Sussman is a food writer and recipe developer, pairing here with her friend, photographer Evan Sung. Sussman's most recent cookbook, co-authored with Lee Brian Schrager, is Fried and True: More Than 50 Recipes for America's Best Fried Chicken and Sides.
Pot stickers, gyoza, pan-fried dumplings. Call them what you will, but once you discover how simple they are to make at home, you may join me among the ranks of the addicted. My favorites come from hole-in-the-wall New York ramen joint Minca, where the shrimp version arrives with the tails sticking out of the crisped-up shells, ready to be picked up and demolished in just one or two bites. The secret lies in the method, which starts with a surprisingly small amount of oil and finishes with a cloud of water vapor: steam-frying that results in a gorgeously burnished, deeply browned underside that regularly haunts my dreams.
I experimented with regular shrimp, but found that even with medium (36-40 count) shrimp, their curved bodies couldn't be accommodated by a standard 4-inch gyoza wrapper. Then I realized that Minca used tiger prawn tails, whose up-and down shape helps the wrappers rest snugly around them. Five minutes in the skillet and you're ready to embellish flavor and eat. You might be tempted to go all complicated with a dipping sauce, but I'm happy shaking soy sauce and hot sesame oil to my liking – and by my liking I mean a lot.
The great thing about these is you can prepare the gyoza, freeze them in a single layer on baking sheets, transfer them to Ziploc bags, and ferry them straight from the freezer to the skillet any time the urge for something crispy strikes. Which, in my case, is pretty much all the time.
Ingredients
12

tiger prawns (about 4 inches long by 1 inch wide), cleaned with tails on

Salt and pepper

12

(4-inch)

gyoza wrappers (the ones that come in stacks of jillions, either at your local Asian food store, Whole Foods or Trader Joe's) or more, either for a crowd or freezing

canola oil

water

hot sesame oil

soy sauce

sesame seeds

scallions, thinly sliced
Directions
Find a smallish (6- or 7-inch) nonstick skillet with a tight-fitting lid (please make sure you locate the lid before you start; you don't want to be running around the kitchen with gyoza frying in hot oil). Now you're ready to start.
Season prawn tails with salt and pepper.
Place 1 prawn slightly off center on one of the gyoza wrappers, leaving 1 inch at the top and making sure the tail extends beyond the edge of the wrapper.
Moisten the edges with water, either with your fingers (preferred – one less thing to wash) or a pastry brush (you sticklers know who you are).
Fold wrapper over, sealing tightly with your fingers.
Repeat with remaining gyoza, covering prepared gyoza with a kitchen towel to prevent them from drying out.
Heat 1 tablespoon oil in the skillet until very hot and almost (but not) smoking.
Arrange 6 gyoza in a concentric circle in the skillet (they can be touching).
Fry for 1-2 minutes, then add 1 1/2 - 2 tablespoons water, cover, and continue to cook until the water is evaporated and the undersides of the gyoza are crisped and deeply browned, 2-3 minutes.
Uncover, flip (you can practice doing it pancake-style, or fink out and use tongs), and crisp 1 additional minute, just so the second side doesn't seem neglected and pale.
Repeat with remaining prawns and wrappers.
Transfer to a plate, shake on some soy sauce and sesame oil, garnish with sesame seeds and scallions, and serve or eat right away.
Find more crispy dumplings on Food Republic: