Crispy Prosciutto Bites Recipe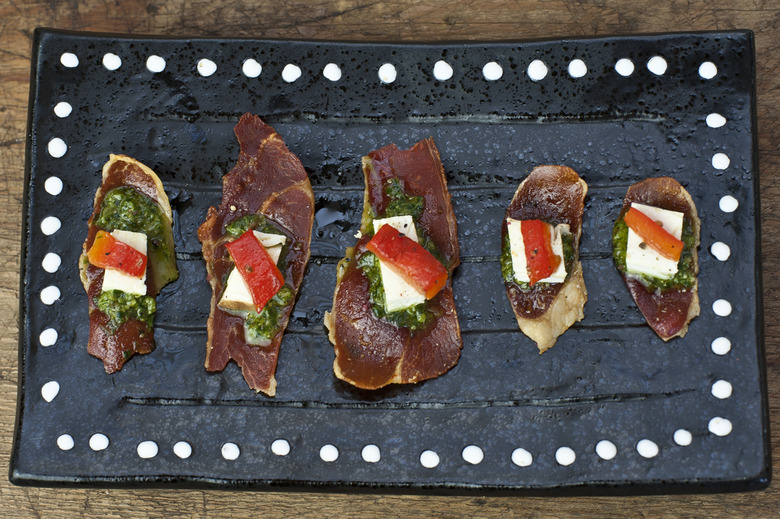 I'd like to point out the increase of party fare served on or with crackers around this time of year. Why? Because I'm a contrarian. The more cracker-based cuisine I encounter, the less excited I get. Rather than get all Martha and make my own, whether or not they feature Maytag blue cheese and caraway seeds, I've hammered out a far easier and more logical route to appetizer glory: pig.
Placing your starter of choice on a meaty shard of oven-crisped prosciutto will delight everyone from glutard to body-builder (and irritate every vegetarian and vegan to boot). Using dense, ashy smoked mozzarella rather than its fresh counterpart ensures a nice, crispy chip. And using our fool-proof homemade pesto recipe and how-to guide on roasting perfect red peppers ensures that you know how to make pesto and roast red peppers.
Crispy Prosciutto Bites Recipe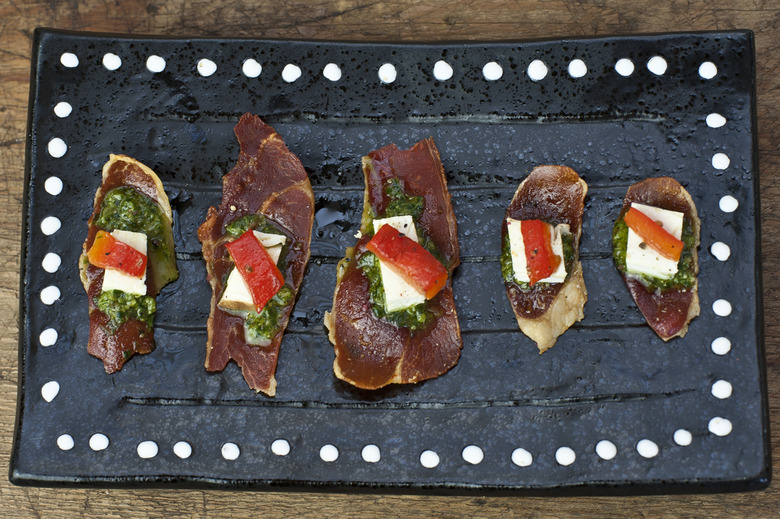 Ingredients
12 slices prosciutto
1 cup pesto
6 ounces smoked mozzarella
1 roasted red pepper
Directions
Preheat oven to 375F. 
Line a baking sheet with foil, then lay prosciutto slices down flat, overlapping slightly if necessary. 
Bake for 15-20 minutes, or until dark red and very crispy-looking. Remove from oven and allow to cool entirely. 
Break prosciutto slices into uneven-sized shards (about 3 pieces from each slice), large enough to hold the toppings.
Arrange prosciutto chips on a serving platter, then carefully add about 1/4 teaspoon of pesto, a small slice of mozzarella and a piece of red pepper to each one (see photo), garnish with a grind of black pepper and serve.