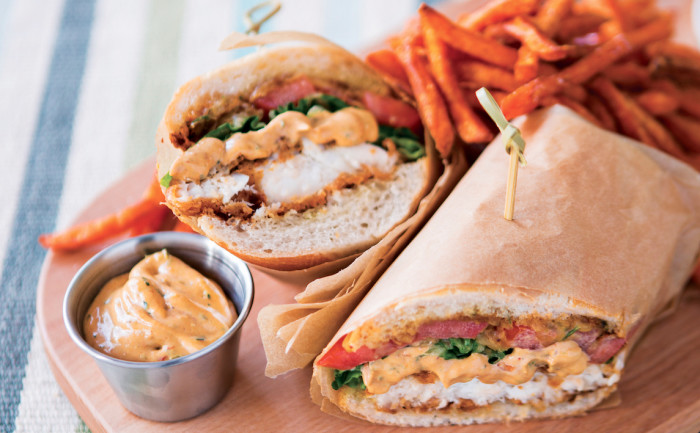 Renowned chef, restaurateur and master of the Caribbean's "cuisine of the sun," Cindy Hutson has a new book out that you'll want to read cover to cover if you've ever loved a fried grouper sandwich. With recipes from her travels, fishing expeditions, restaurants and other places where you'll find some of the best spicy chicken on the planet, From the Tip of My Tongue is a fresh look at island cuisine from one of its champions. 
It's not too often that I eat fried foods without feeling guilty, but this is too good not to eat. When grouper season is open, I like to use black grouper because it is a nicely firm yet flaky fish. The light, crisp breading here also has lots of flavor. Fresh aioli blended with chili peppers gives this sandwich the ideal, balanced heat. Toast the bun, slather it with my recipe for chipotle aioli and take my advice — don't feel guilty at all.
For a little extra depth, Anchor New Zealand cheddar (if you can find it) is fantastic for melting or warming on this sandwich. If you can't find that, I suggest a cheese with a similarly high fat content.
Ingredients
4

tablespoons

sesame oil

1/4

cup

teriyaki sauce

2

tablespoons

lemon pepper

2 1/2

pounds

fresh grouper fillets, bloodlines removed

3/4

cup

garbanzo bean flour

1/2

cup

all-purpose flour

1/4

cup

panko

2

tablespoons

garlic powder

2

tablespoons

onion powder

1/4

teaspoon

cayenne pepper

6

tablespoons

butter

1

small yellow onion, sliced on the rib

1

cup

vegetable oil

2

6-inch

baguettes

Chipotle aioli (or you can just blend mayonnaise with canned chipotles)

2

iceberg or romaine lettuce leaves

4

slices

vine-ripe tomato
Directions
For the sandwich
In a large bowl, place sesame oil, teriyaki and lemon pepper and whisk well.

Add fish, making sure to coat all sides with the marinade.

Refrigerate for about 1 hour or overnight.

In another bowl, mix flours, panko, garlic powder, onion powder and cayenne. Set aside.

In a large skillet, melt butter and sauté onion over medium-high heat.

Once golden brown and caramelized, remove onions from heat.

Remove the marinated fish fillets from the refrigerator and let any excess marinade drip off into the bowl.

Place fillets in the dry flour mixture and coat evenly.

In a Fry Daddy or large skillet, heat vegetable oil to 300°F and slowly drop the floured fish into the hot oil.

Fry until crispy and golden brown.

Place on paper towels to drain excess oil.

Slice baguettes and spread them with aioli.

Then add fish and top with caramelized onions, lettuce and tomatoes.

Slice into halves and serve.