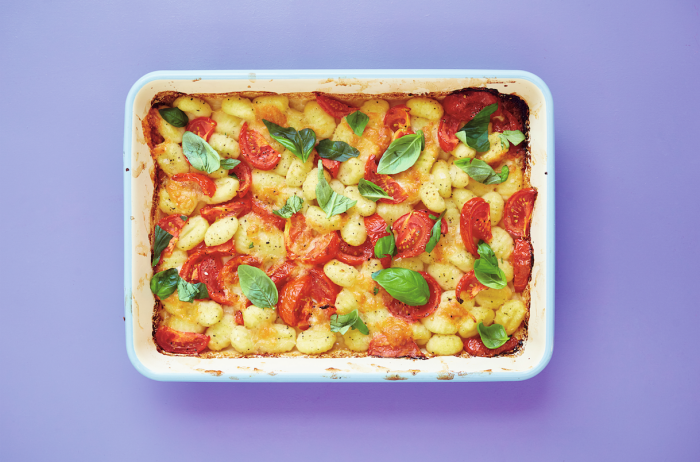 A quick and easy weeknight meal need not be boring. With some strategic pantry stocking and the new collection of recipes from recipe developer Rukmini Iyer, you can revitalize your repertoire in style. This crispy baked gnocchi is a simple way to breathe new life into ready-made or frozen homemade gnocchi. 
This baked, unashamedly carb-loaded version of an insalata caprese is one of the quickest and easiest dinners in this book. Crispy gnocchi is a revelation — like the best roast potatoes you've ever had, but faster. Liz Taylor would have approved.
Ingredients
1

pound

potato gnocchi

2

tablespoons

olive oil

3/4

pound

vine-ripened tomatoes, cut into eighths

5

ounces

fresh mozzarella, cut into bite-sized chunks

Leaves of 1 large bunch of fresh basil

sea salt and freshly ground black pepper

1/3

cup

pine nuts
Directions
For the gnocchi
Preheat your oven to 425°F [220°C].

Place the gnocchi in a large bowl and cover with boiling water. Leave to cook for 2 minutes, then drain well.

Add the cooked gnocchi to a roasting pan or large baking dish along with the olive oil and mix well to evenly coat. Tuck in the tomatoes, mozzarella, and half of the basil. Season with sea salt and freshly ground black pepper, then transfer to the oven and bake for 20 minutes.

Scatter the pine nuts over the gnocchi and bake for a further 5 minutes.

Tear the rest of the basil leaves, scatter them over the gnocchi, and serve immediately.