Crispianity: Watch Us Make Crispy Orange Beef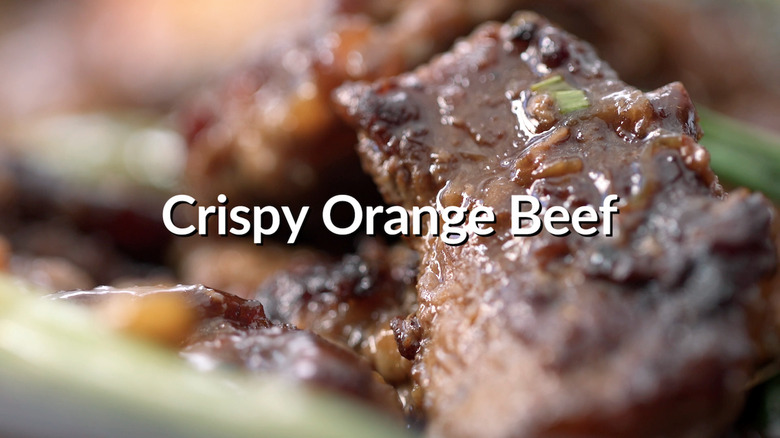 We may receive a commission on purchases made from links.
This recipe is part of Crispianity: a column devoted to all foods crispy and crunchy, two of the most underappreciated attributes of a great dish. Author Adeena Sussman is a food writer and recipe developer, pairing here with her photographer friend Evan Sung. Sussman's most recent cookbook, coauthored with Lee Brian Schrager, is America's Best Breakfasts: Favorite Local Recipes From Coast to Coast.
Between battered proteins, crunchy wok-fried veggies, and pan-crisped noodles (to name a few), Chinese food is a haven for those who, like me, insist on texture as a part of every meal. That's why crispy orange beef has always loomed large in the Chinese takeout canon. I've always loved the dish, but wanted something a little lighter and more citrus-intensive. I started by battering the protein using a technique I cribbed from one of my favorite Asian chefs, Dale Talde. A coating of egg whites, powdery cornstarch and seasonings primes the beef for pan-frying, resulting in deeply crispy meat. I swapped in tangerines for oranges — I love their tangy sweetness — and included the thin-skinned rinds for a slightly bitter edge that cuts through the dish's richness. (Of course, feel free to revert to oranges if that's your preference). A classically tangy-spicy-sweet sauce lightly coats the crisped beef and veggies, resulting in a dish that'll take you off takeout for good.
Crispianity: Watch Us Make Crispy Orange Beef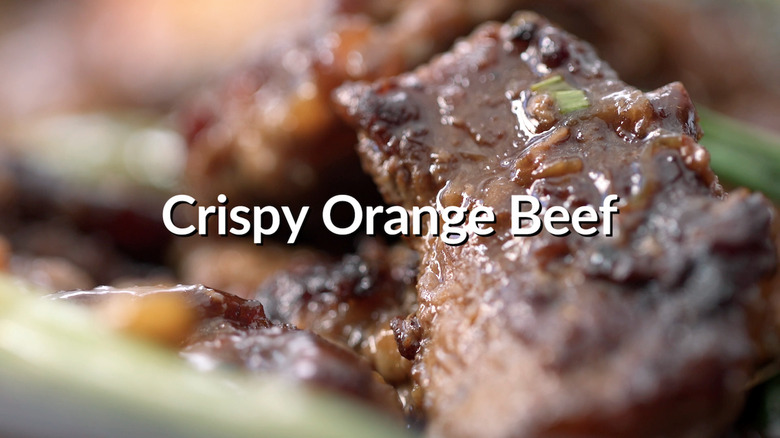 Ingredients
8 tablespoons soy sauce
2 teaspoons cornstarch
1 cup freshly squeezed (or bottled) tangerine (or orange) juice
4 tablespoons chianking or rice vinegar
3 tablespoons dark brown sugar
1 tablespoon hot sesame oil
1 1/4 pound boneless ribeye steak
1 egg white
2 teaspoons cornstarch
2 teaspoons soy sauce
1 teaspoon rice vinegar
2 tablespoons minced fresh ginger
2 tablespoons finely minced garlic
4 scallions
1 small clementine or tangerine
Cooked rice for serving
Directions
Wrap the beef in plastic wrap and freeze for 1 hour (this makes the meat easier to slice). While the meat is freezing, in a medium bowl whisk together the soy sauce and cornstarch, then whisk in the tangerine juice, vinegar, brown sugar and sesame oil. Set aside.
In a very large skillet, heat the oil over medium-high heat until very hot but not smoking. Add half the beef and cook until the underside is golden and crisped, 2 minutes. Using tongs, flip the meat, and cook an additional 2 minutes. Using a Chinese spider, remove the meat from the oil and drain on paper towels.
Repeat with the remaining oil and beef, leaving the oil in the pan. Add the garlic, ginger, scallion whites, and dried peppers to the skillet and cook until fragrant, 1-2 minutes.
Push the aromatics to the side, add the clementine slices and scallion greens, and cook until the underside of the citrus is caramelized and the scallion greens are charred, 2-3 minutes. Add the sauce to the pan and cook until it bubbles and thickens, 1-2 minutes. Return the beef to the pan and cook, stirring, until warmed through, 1-2 minutes. Serve with rice.