Crispianity: Crispy-Creamy Za'atar Pommes Soufflées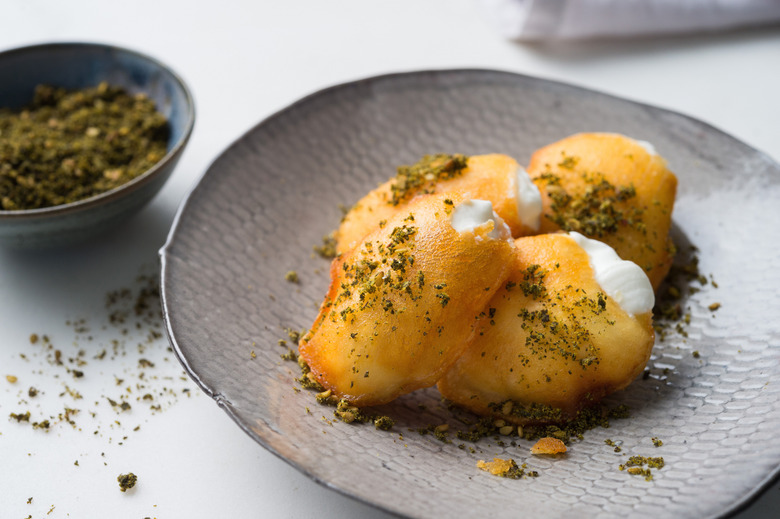 We may receive a commission on purchases made from links.
This recipe is part of Crispianity: a column devoted to all foods crispy and crunchy, two of the most underappreciated attributes of a great dish. Author Adeena Sussman is a food writer and recipe developer, pairing here with her photographer friend Evan Sung. Sussman's most recent cookbook, coauthored with Lee Brian Schrager, is America's Best Breakfasts: Favorite Local Recipes From Coast to Coast.
I first came across pommes soufflées in a video I found on the Interwebs. In said moving picture, Martha Stewart introduces Jacques Pepin and Julia Child, who proceed to make quick work of slicing, frying, and puffing up snowy white slices of potato into pneumatic spud balloons that somehow stay crispy on the outside and slightly creamy on the inside — just the sort of contrast this disciple of Crispianity loves. I came across them again at Momofuku Ko in New York City and decided it was time to make them for myself. The process involves more than a bit of fastidiousness, vigilance, a high level of tolerance for delayed gratification, and an awareness that, unlike in most other areas of life, a 25 percent success rate is a mark of achievement. But they're really fun to make, even if you fail miserably. I went ahead and piped mine with thick labneh yogurt and dusted them with za'atar, a spice blend I find endlessly versatile. Read ahead to find out more, and remember: If your pommes don't pony up, you can always make cottage fries (seriously).
Crispianity: Crispy-Creamy Za'atar Pommes Soufflées
Servings
4
as an appetizer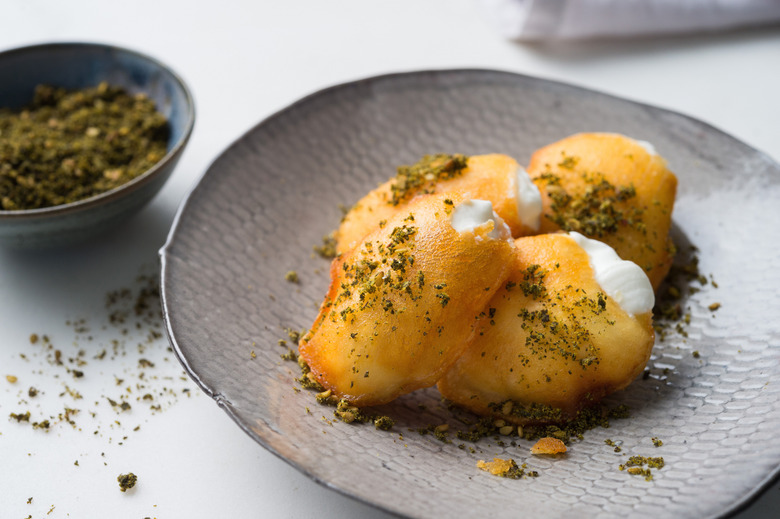 Ingredients
1 cup plain Labneh yogurt, Greek yogurt, or other thick, strained yogurt
3 Idaho potatoes (seek out smooth, unblemished potatoes)
canola oil or vegetable oil
Za'atar spice blend*
Directions
Fit a pastry piping bag with a ¼-inch tip and spoon the yogurt into the bag. Refrigerate until ready to use.
Peel the potatoes and place them in cold water. Using a mandoline slicer, cut the potatoes lengthwise into ¼-inch thick slices. Return the sliced potatoes to the cold water to prevent them from browning.
Fill a medium large pot just under halfway with oil and heat to about 275°F. Fill a second pot just under halfway with oil and heat to between 355 and 365°F. You're actually going to fry these twice, first to cook the potatoes, second to achieve that signature pommes soufflées puff. The thing is, only about ¼ of the potatoes are going to do what you want them to do on the second fry, and you need to be OK with that.
Remove the potato slices from the water and pat them dry between layers of paper towels. Make sure both oils are at their desired temperatures. Working in batches, fry the potatoes in the lower-temperature oil, swishing them around in the oil so they don't stick to any part of the pot (any sticking can lead to micro-tears in the potato slices, which in turn could prevent the potatoes from puffing properly). Cook the potatoes until they appear sort of glossy and cooked but with as little color as possible. You may see some raised blisters on the potatoes — this is great! It's a kind of a harbinger of potential puffery that tells you hot air will be able to get into this OK. Now for the fun part: Using a slotted spoon or spider, transfer the once-cooked potatoes, one at a time, to the higher-temperature oil, to test their puff potential. If the potato puffs up immediately, you can do one of two things: Finish the frying process until they are all round and shiny and browned, about 2-3 minutes total. Alternatively, if you see an initial but complete puff occurs in the potato, you can remove the potato from the oil immediately and store, chilled, between layers of wax paper for up to 12 hours, to fry right before serving. Oh, one more thing: If your potatoes fail to puff, just keep on frying them in the hotter of the two oils — you've got yourself some cottage fries!
Once they are finally fried and golden, drain them briefly on paper towels, then use a sharp scissor tip to trim off the top ½ inch of each puffed potato balloon. Pipe 1½ tablespoons of the yogurt into each potato puff and season with za'atar and salt. Serve immediately. *a Middle Eastern spice blend, za'atar typically contains some combination of dried hyssop, thyme, oregano, sumac, sesame seeds, and salt — but not necessarily all of these things. It's great on everything, especially fried things, where the tart sumac and salt cut oily richness, and with yogurt.