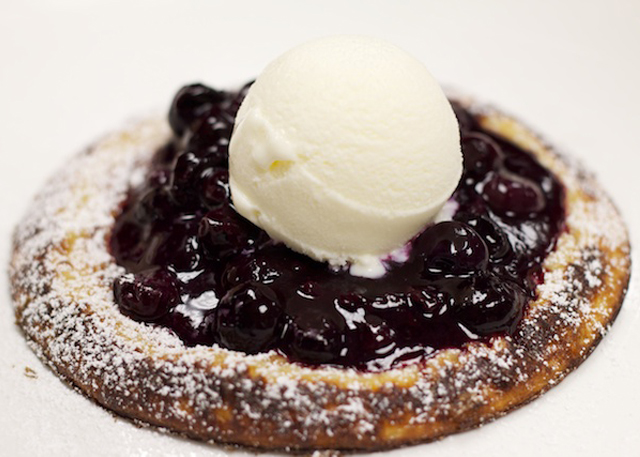 At the recently opened Bread & Tulips in NYC, Chef Benjamin Lambert specializes in Italian-inspired cuisine with an emphasis on sustainable, responsibly sourced ingredients. That extends to dessert, like this colorful, summer-y take on an Italian crepe (or crespelle), with ripe blueberries cooked into a delicious compote with champagne and ginger, which he shares with Food Republic. Top it off with a scoop of vanilla ice cream and all will seem right with the world.
Ingredients
Crespelle
3/4

cup

all purpose flour

2

large

eggs

3/4

cup

sugar

1

tablespoon

vanilla extract

1/2

teaspoon

salt

1/2

cup

buttermilk

2

tablespoons

butter
Blueberry Compote
1

pint

fresh blueberries

1/2

cup

Champagne

3

tablespoons

sugar

1

inch

piece ginger, peeled

juice of 1 lemon plus the zest
Directions
For the Crespelle:
Preheat oven 450.
Melt the butter.
Mix all the ingredients in a mixing bowl. Finish with the butter.
Coat an 8-inch nonstick saute pan with butter. Add the batter until it comes 2/3 of the way up the side of the pan and place in the oven. Bake for 15/20 minutes. It should resemble a pancake only a little softer.
When done flip out of the pan and serve with Blueberry Compote
For the Blueberry Compote:
Place the champagne, sugar, ginger, and zest half the lemon into a pot.
Cook the liquid into a syrup. Taste and adjust to your taste. Either add more sugar, lemon juice, or champagne.
Add the Blueberries and cook at a simmer for 1-2 minutes until the berries are tender.
Strain the juice from the berries and cool. Once cool combine the two back together.