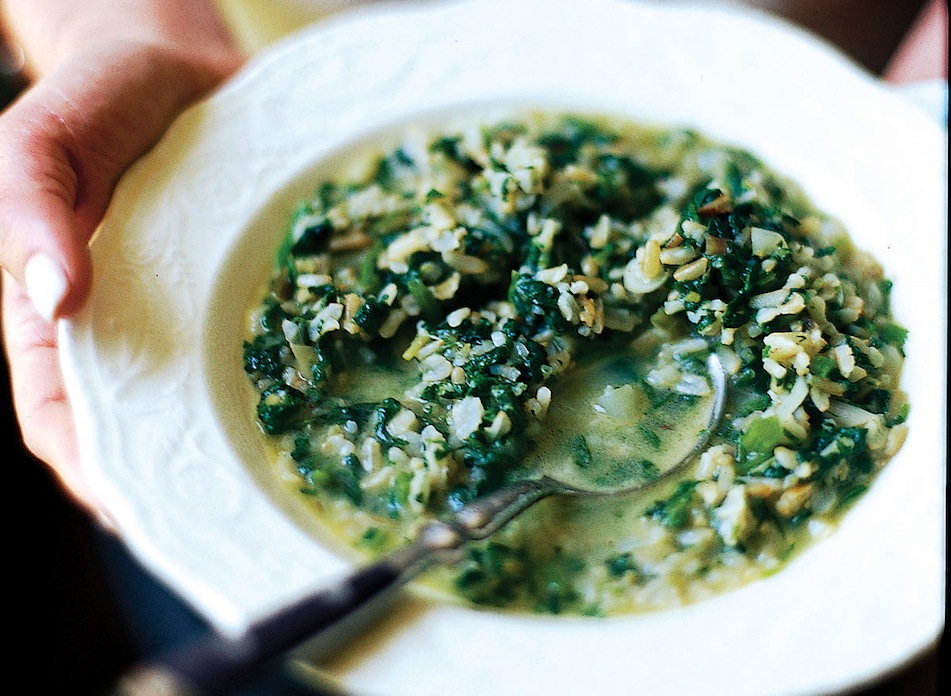 Whether you're vegetarian, eating light or observing Meatless Monday, a recipe by Peter Berley is guaranteed to satisfy. We've borrowed a few recipes from his award-winning cookbook, The Flexitarian Table, now available as an e-book so you have every reason to expand your healthy cooking repertoire. Load up on fiber and greens with this delicious vegetarian risotto.
If someone served me this rice with a crisp white Sancerre or Pouilly-Fumé and nothing else, I'd be thoroughly happy. The cooking water from the mixed greens imbues the rice with the fresh flavors of spring.
This risotto-style brown rice requires advance planning and makes good leftovers. You'll need to soak and cook the brown rice before starting the risotto. You can use this same approach with other grains too, such as miller, quinoa, barley or farro.
Ingredients
sea salt or kosher salt

12

ounces (about 12 cups)

mixed spring greens, such as tatsoi, baby mustard greens, lamb's quarters and arugula

1

tablespoon

extra virgin olive oil

1

large bunch

scallions or ramps (wild leeks), trimmed and thinly sliced (about 1 1/2 cups)

1

teaspoon

finely chopped peeled fresh ginger

1

teaspoon

finely chopped garlic

3 1/2

cups

cooked brown rice, preferably basmati (from 1 1/2 cups raw rice)

1

tablespoon

unsalted butter

2

ounces

Asiago cheese, finely grated (about 1/2 cup), plus additional for serving

freshly ground black pepper
Directions
Bring a large pot of salted water to a boil. Add the greens and cook until they are just wilted, about 1 minute. Use a mesh skimmer or slotted spoon to transfer the greens to a colander and let cool slightly; reserve the cooking water.
Press the greens to remove excess water, then transfer them to a board and coarsely chop.
In a large skillet, heat the olive oil over medium-high heat. Add the scallions or ramps with the ginger, garlic, and a pinch of salt and cook, stirring until softened, about 2 minutes.
Stir in the rice, chopped greens, butter and 1 1/2 cups of the reserved cooking water and cook, stirring, until the water is almost absorbed, 3 to 4 minutes. Stir in the cheese and season with salt and pepper. Serve, passing additional grated cheese at the table.
Tip: Cook the brown rice following the directions for your rice cooker, or cook it on the stovetop: First soak 1 1/2 cups rice in 2 1/4 cups water with a pinch of salt for 4 to 12 hours in the refrigerator. Then bring the whole thing to a boil, add another 1/2 teaspoon salt, reduce the heat, cover and simmer gently until the water is absorbed, 40 to 45 minutes.
Try out these risotto recipes on Food Republic: