Creamed Spinach And Leeks With Cheddar Recipe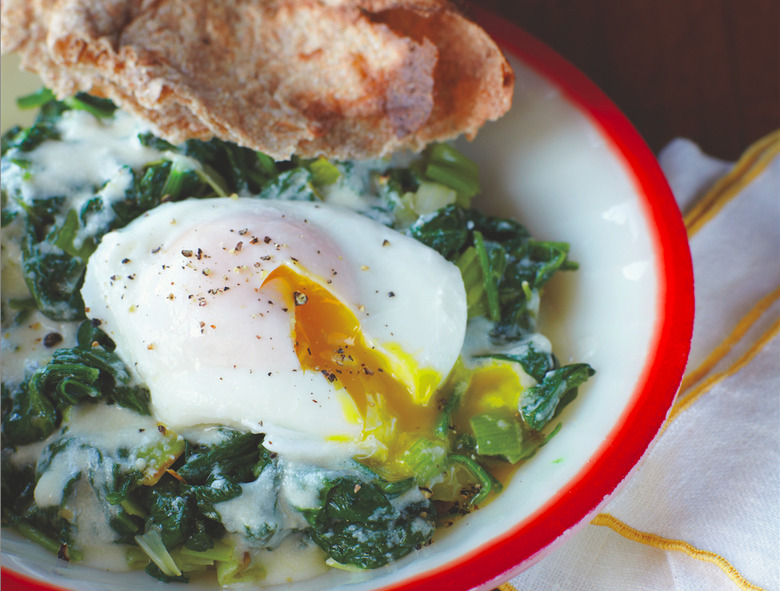 (Photo: Sara Remington
We may receive a commission on purchases made from links.
That's right, they're not just for toast anymore! Jam, marmalade and other fruit and vegetable preserves are a welcome addition in this new collection of recipes from James Beard-nominated Rachel Saunders, author of Blue Chair Jam Cookbook.
This is a beautiful way to enjoy spinach and leeks, and it makes a homey and satisfying lunch. The addition of mustard, white pepper and apple butter gives it a very British character. Serve this with an egg on top and toast on the side for an extra-special midday meal.
Related: How To Poach An Egg
Reprinted with permission from Blue Chair Cooks With Jam & Marmalade
Creamed Spinach And Leeks With Cheddar Recipe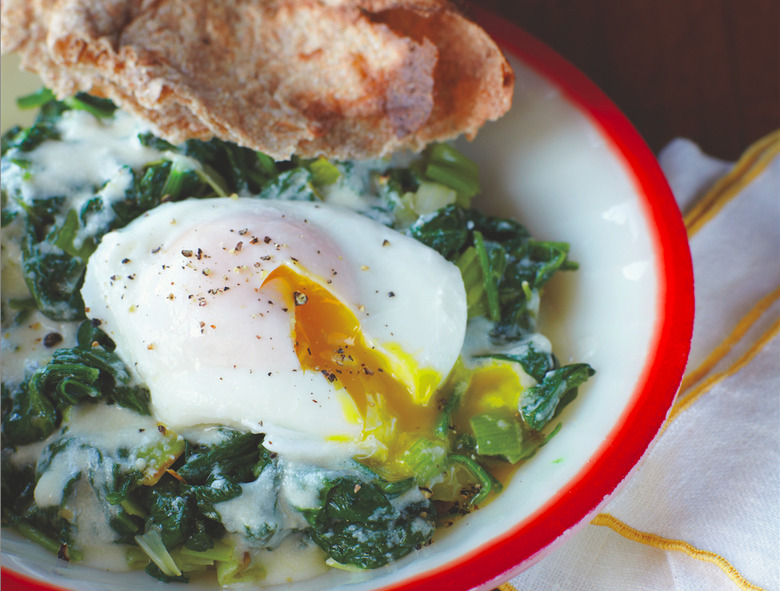 Ingredients
kosher salt
1 pound spinach leaves
4 tablespoons unsalted butter
2 tablespoons neutral-flavored olive oil
2 large leeks
3/4 teaspoon dry mustard
3/4 teaspoon plus a large pinch freshly ground white pepper
2 tablespoons Apple butter
1 tablespoon plus 1 1/2 teaspoons unbleached all purpose flour
1 3/4 cups whole milk
1 1/2 cups packed coarsely grated cheddar cheese
Directions
Bring a large pot of salted water to a boil.
Have a large bowl of ice water close at hand.
Immerse the spinach leaves briefly in the boiling water in batches to wilt and then transfer them swiftly to the ice water with a slotted spoon.
As soon as the spinach is cool, use your hands to squeeze as much moisture out of it as possible.
Chop the spinach and place it in a medium bowl.
In a 10-inch skillet, melt 2 tablespoons of the butter with the olive oil over low heat.
Add the leeks and sauté until the leeks are wilted and very tender, about 15 minutes.
Add 1/4 teaspoon salt, the mustard, 3/4 teaspoon white pepper and the apple butter, breaking up the apple butter as much as possible.
Remove from the heat.
Add the leek mixture to the spinach.
To make the cream sauce, melt the remaining 2 tablespoons butter in a small saucepan over low heat.
Add the flour and cook, whisking vigorously, for 1 minute.
Gradually whisk in the milk and 2 large pinches each of salt and white pepper.
Cook the mixture slowly over very low heat, stirring continuously and slowly with a heatproof rubber spatula, until thickened.
Whisk in the cheese and continue to cook, stirring, until the sauce is smooth.
Do not ever let the sauce boil.
When the sauce is done, pour it over the spinach and leeks, stirring well to combine.
Allow to cool for a couple of minutes, then taste for seasonings and serve warm.
Tahchin Time: Persian Spinach Upside-Down Rice Recipe
Yellow Mung Beans With Fresh Spinach Recipe
Barley Risotto With Blue Cheese And Spinach Recipe