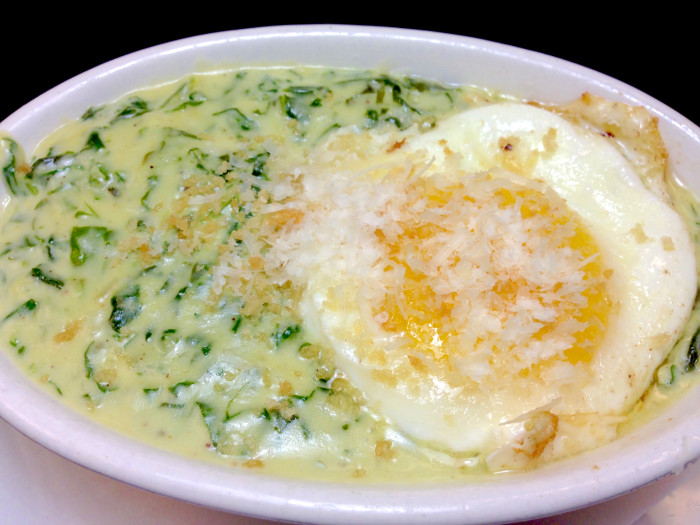 Chef Blaine Staniford has been a force in the kitchen since graduating from the Culinary Institute at age 19. With an armful of "best of" awards from around the country, he currently helms the kitchen at Fort Worth fine-dining hot spot Grace, where creamed spinach is simply not enough. 
"Grace is surrounded by three powerful steak houses in downtown Fort Worth, and because of that, we all share a lot of the same clientele," says the chef. "I wanted to make a side item that would go well with our steak program but also complement our other entrées. I love creamed spinach, but it's so overused, so I developed this recipe that adds baby kale, plus a touch of spice. A sunny-side up farm egg goes on top, and it's garnished with aged Parmesan and buttered panko bread crumbs. Guests love this new menu item so much, some even order it for their entrée!"
Try it for breakfast (or any time, clearly) with a thick slice of crusty bread. This recipe will serve a big crowd, so feel free to halve it.
Ingredients
1/2

pound

unsalted butter, diced

1

yellow onion, minced

2

cups

all-purpose flour

1

gallon

whole milk

1

quart

heavy cream

1 1/2

pounds

baby kale, chopped

2 1/2

pounds

baby spinach, chopped

2

cups

Parmesan cheese, grated

1

tablespoon

tabasco sauce

1 1/2

teaspoons

ground nutmeg

panko bread crumbs, toasted in butter (for garnish)

fresh farm eggs, cooked sunny-side up

Salt and pepper (as needed)
Directions
For the creamed spinach and kale
Heat a large sauté pan over medium heat.

Add butter and onions to pan and cook until onions are translucent.

Once onions are translucent, add flour and whisk until well combined. Continue to cook over medium heat for about 2 to 3 minutes.

Add milk and heavy cream to onion mixture and bring to a boil.

Reduce heat to low and add kale and spinach.

Continue to cook spinach and kale mixture until slightly thickened.

Remove from heat and add Parmesan cheese, Tabasco and nutmeg. Mix until well combined.

Add salt and pepper to desired taste.

Top with sunny-side up egg and garnish with toasted panko bread crumbs.

Serve immediately.