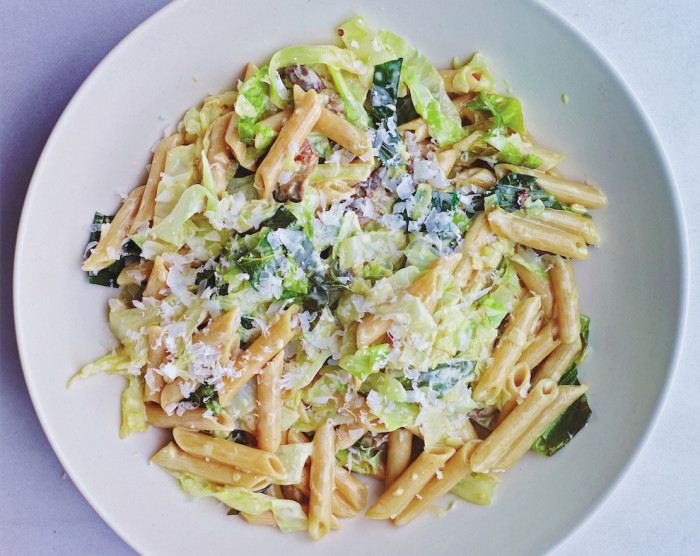 Root to Leaf is one of our favorite vegetarian cookbooks of the year. If you're a fan of celebrated chefs who use every bit of their raw materials, please welcome to your kitchen James Beard-nominated chef Steven Satterfield. His award-winning Atlanta restaurant, Miller Union, serves simple, upscale, imaginative vegetable dishes that you can easily re-create at home. This hearty pasta stars tender cabbage and mushrooms in an elegant cream sauce. 
Like the little ridges in penne rigate that are designed to soak up sauce, the crinkly leaves of savoy cabbage catch every creamy, earthy drop as well. Cabbage, often regarded as poor people's food, feels luxurious in this mushroom-laden entrée. Here I like to use a combination of shiitake, oyster and cremini mushrooms, but almost any fresh mushroom will work fine.
Ingredients
2

ounces

dried porcini or other dried mushrooms

Kosher

salt

4

tablespoons (1/2 stick)

unsalted butter

1

pound

fresh mushrooms, trimmed and thickly sliced

1

shallot, finely diced

2

cloves

garlic, minced

1

small

yellow onion, diced

Freshly

ground black pepper

1

small head

Savoy cabbage, quartered, core removed and cut into 1/4-inch strips

1

pound

buckwheat penne rigate

1/4

cup

heavy cream

1

teaspoon

fresh thyme leaves

Freshly

grated Parmigiano-Reggiano for garnish
Directions
Cover the dried porcini mushrooms with 1 cup of boiling water and steep for 15 to 20 minutes.
Remove the rehydrated mushrooms and set aside.
Pour the remaining liquid through a fine-mesh sieve set over a bowl to catch any sand or dirt, and reserve the liquid.
Finely dice the rehydrated mushrooms and set aside again.
Set a large saucepan of water seasoned with 2 to 3 tablespoons salt over high heat.
Meanwhile, in a large skillet over medium-high heat, melt the butter until foamy.
Add the dried and fresh mushrooms to the skillet and sauté until browned.
Add the shallot, garlic and onion and season with salt and pepper.
Cook until the onion is translucent, about 5 minutes, stirring occasionally.
Add the dried mushroom broth and the cabbage to the pan and season lightly.
Reduce the heat to low, cover the skillet and cook until the cabbage is tender, 7 to 8 minutes.
Meanwhile, add the pasta to the boiling water and cook until al dente, 7 to 8 minutes.
Place a colander in the sink and drain the pasta.
Toss several times to cool, then set aside.
While the pasta cools, add the cream and thyme to the cabbage mixture, and cook until the liquid is reduced in volume and slightly thickened.
Add the cooked pasta to the skillet and toss until well coated.
Transfer to serving bowls and garnish with Parmigiano-Reggiano.
Find more vegetarian pasta on Food Republic: