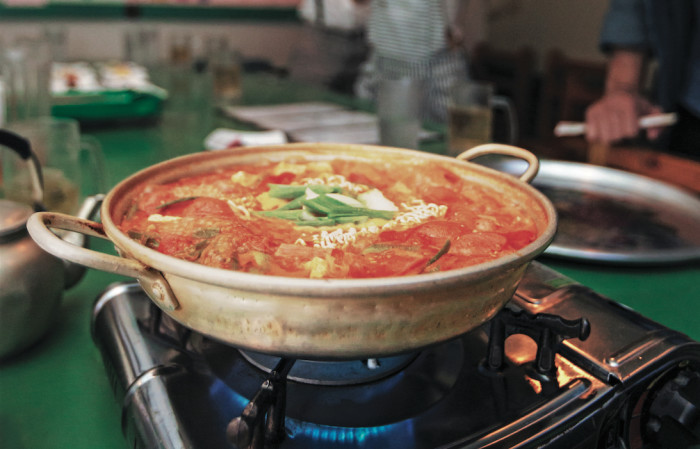 Korean-food aficionado and former Food Republic editor Matt Rodbard has partnered with NYC chef Deuki Hong to release the best Korean cookbook you'll find this side of the Hangang (that's a river in Seoul). Dive into America's famed Koreatowns with these two experts and find yourself in the kitchen with a hot wok, a lot of sesame oil and plenty of kimchi.  
Often referred to as "army-base stew," budae jjigae is a story of desperation and ingenuity born out of necessity during the Korean War. During that tumultuous time, impoverished Koreans were forced to use leftover U.S. army rations for sustenance, sometimes even foraging through trash piles in the process. Ever since, and in far happier times, this spicy stew bobbing with Uncle Sam's finest — Spam, hot dogs and processed American cheese—has remained in Korea's culinary orbit.
Today, budae jjigae is popular among young Koreans for another reason: its party-prolonging powers late at night. Head to Koreatown restaurants like Chunju Han-il Kwan in Los Angeles or Pocha 32 in New York City, and chances are you'll spot pots of jjigae (or a larger, more elaborate pot of jeongol) stationed at every other table. It's delicious and dead easy to prepare: Just throw everything in a pot and let it bubble away. American cheese marrying with chile and ramen noodles with hunks of processed meat? You know that's going to work well.
Ingredients
6 1/2

cups

Anchovy stock

1/4

cup plus 3 tablespoons

gochugaru

5

garlic cloves, minced

1/4

cup

mirin

3

tablespoons

soy sauce

2

tablespoons

sugar

1/2

can

Spam, cut into large dice

1/2

cup

thinly sliced onions

Kosher salt and black pepper to taste

1

package

Shin Ramyun Noodle Soup, or other instant noodle (noodles only)

2

slices

American cheese

1

scallion, sliced, for garnish

2

beef hot dogs, thinly sliced

3/4

cup

frozen rice cakes, cut diagonally

1

cup

medium-dice extra-fermented Napa Cabbage Kimchi

8

ounces

soft tofu, sliced 1/2-inch thick

1

cup

bean sprouts

1

cup

enoki mushrooms

3

strips

smoked thick-cut bacon, cut into small dice
Anchovy stock (makes 1 quart)
1

quart

water

25

dried anchovies

1/4

cup

roughly chopped daikon

1

bunch of

scallions, trimmed and cut into thirds

2

2-x-2-inch squares of

kombu (aka dashima)

2

jalapeño peppers or Anaheim chilies, halved lengthwise
Kimchi (makes about 2 quarts)
12

cups

water

1

cup

coarse sea salt

1

large napa cabbage (2 to 3 pounds)

2

tablespoons

sweet rice flour

1

cup

water

1

small onion, roughly chopped

1/2

cup

roughly chopped, peeled Asian pear

2-inch

knob of

ginger, roughly chopped

6

garlic cloves, minced

4

Korean red chili peppers, trimmed and cut in half

1/4

cup

water

1/2

cup

salted fermented shrimp

1/4

cup

sugar

1/2

cup

rice flour paste

1

cup

coarsely ground gochugaru

1

bunch

scallions, green parts only, thinly sliced

1

cup

carrot, grated

1/2

cup

peeled and grated daikon radish
Directions
For the kimchi
BRINE THE CABBAGE: In a large container, combine 12 cups of cold water and the sea salt. Cut the napa cabbage head lengthwise, then into quarters. Place in the salt water and brine for 6 hours at room temperature. The brining step both adds flavor and opens the cabbage's pores, allowing the marinade to soak in. Rinse in cold water and have a little bite. If you would prefer it saltier, brine for another 6 hours to overnight; it's a matter of personal preference.

MAKE THE RICE FLOUR PASTE: Once the cabbage is brined, make the rice flour paste. In a small saucepan over medium-high heat, continually whisk the sweet rice flour and 1 cup water until it reaches a boil. Keep whisking for 2 minutes until it reaches a pudding-like consistency. Remove from heat, transfer to a container and refrigerate until cool.

MAKE THE MARINADE: Combine the onion, Asian pear, ginger, garlic, chile peppers and ¼ cup water in a food processor and run until smooth, then transfer to a large bowl. Add the shrimp, sugar, rice flour paste, gochugaru, scallion greens, carrot and daikon and combine well.

Drain the brined cabbage, rinse each piece well in cold water and place them in a very large bowl. While wearing plastic gloves, toss the cabbage with the marinade, coating well. Transfer to clean, large glass jars or clean plastic containers with lids that fit snugly. You can cut the cabbage to fit if you want, or keep the leaves whole and pack them tightly in the jars. Affix the lids, though not too tightly, and place the jars in a cool, dark, dry space and allow to ferment for 1 day. Heads up: The fermentation process may cause some kimchi juice to bubble over, so place the jars in a plastic bag. When done, refrigerate for 5 to 7 days, or until the kimchi has reached your desired level of funk. It will keep up to a month in the refrigerator to enjoy eaten directly from the container, or longer for use in further cooking, like in Kimchi Jeon and Kimchi Jjigae.
For the stock
In a medium saucepan, combine 1 quart water, anchovies, daikon, scallions, kombu and chilies. Bring to a gentle simmer over medium-high heat, then lower heat to maintain a simmer for 15 minutes.

Strain the mixture into a medium container using a mesh strainer and discard the solids. The broth should have a cloudy, light caramel color with a deep sea taste and a slight kick from the chile peppers. Use the stock immediately, cool and refrigerate for a couple days or freeze for up to 2 months.
For the stew
In a large, shallow pot, whisk together ¼ cup anchovy stock with the gochugaru, garlic, mirin, soy sauce and sugar.

To the pot, add the Spam, hot dogs, rice cakes, kimchi, tofu, bean sprouts, mushrooms, bacon and onion. Pour 6 cups anchovy stock into the pot and bring to a boil over high heat. Reduce the heat to medium and simmer until the rice cakes are soft but maintain some bite, about 20 minutes. Season with salt and pepper to taste.

Add the ramyun noodles on top of the stew and cook for another 3 minutes. Top with the cheese slices and garnish with the scallion.