Craving Chicken-Fried Quail? Here's How To Fry It Up At Home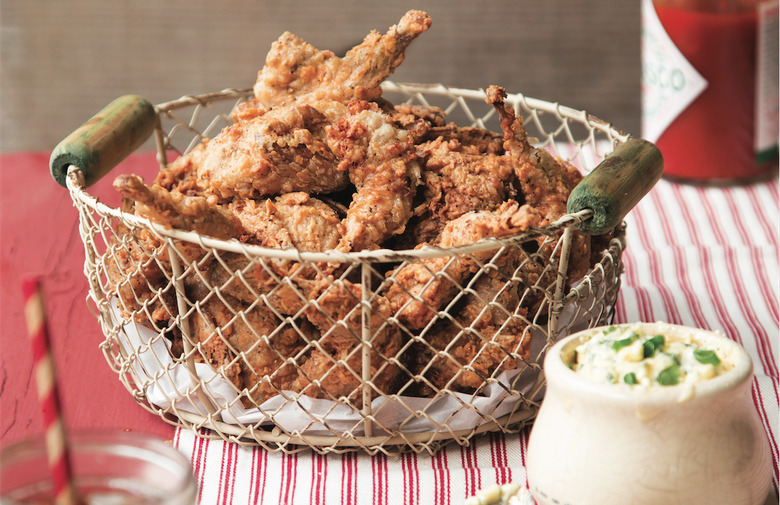 We may receive a commission on purchases made from links.
Don't say "farm to table" unless you really mean it! For those who practice the age-old survival methods of foraging and hunting (now vastly more fun as a hobby than as a matter of life and death), there is food writer Susan L. Ebert's new cookbook. If you're looking to discover your inner outdoorsy side, pick a recipe and a gun, rod or sturdy pair of gardening gloves, and get ready to cook from scratch. 
You just can't go wrong with Texas-style chicken-fried quail, especially if hungry men are around.
Craving Chicken-Fried Quail? Here's How To Fry It Up At Home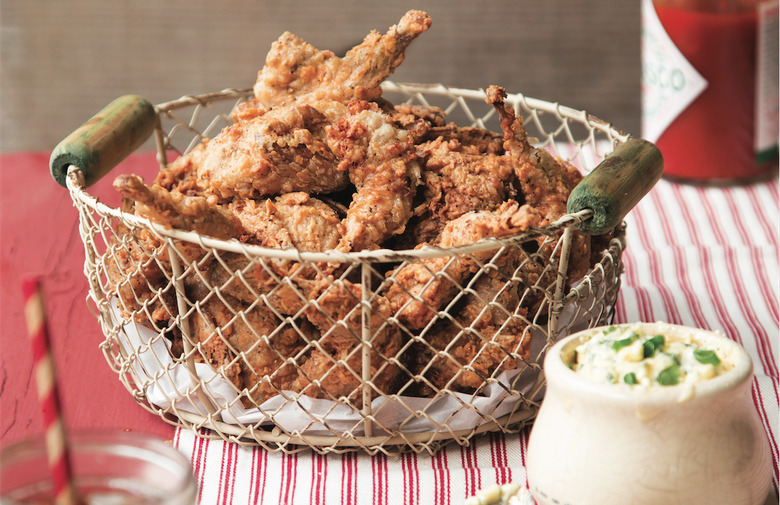 Ingredients
8 semi-boneless quail
2 cups buttermilk
2 tablespoons Vidalia onion or other sweet onion
1 tablespoon tabasco sauce
1 teaspoon minced fresh thyme
1 teaspoon minced fresh oregano
1 teaspoon minced fresh garlic
1 teaspoon ground cayenne
1 teaspoon smoked hot paprika
1 teaspoon sea salt
1 teaspoon freshly ground black pepper
1 egg
1 teaspoon minced garlic
1 teaspoon fresh lemon juice
1 teaspoon Dijon mustard
1 teaspoon salt
3/4 cup safflower oil
1/4 cup chopped green onion
2 tablespoons chopped fresh cilantro
1/2 cup crumbled cotija cheese
2 cups organic all-purpose flour
2 teaspoons sea salt
2 teaspoons freshly ground black pepper
peanut oil
Directions
:::quail:::
Using game shears, cut along either side of the backbone from the rear cavity to the neck opening. Remove the backbone. Press the quail flat, breast down, then use a sharp heavy knife to halve down through the breastbone. Cut between the thigh/leg section and the breast piece on each half. Rinse, and pat dry with paper towels.
:::marinade:::
Combine all of the ingredients in a nonmetallic bowl, then toss with the quail quarters to coat. Cover the bowl and refrigerate overnight.
:::cilantro dipping sauce:::
Place the egg, garlic, lemon juice, mustard, and salt in a blender, cover, and blend on high speed until smooth. Remove the lid insert and slowly drizzle in the oil with the motor running. Presto! You've just made mayonnaise.
Scrape the contents into a small bowl, add the green onion, cilantro, and cheese; cover and refrigerate until serving time or up to 2 days. Yields about 1 cup.
:::frying:::
Combine the flour, salt, and pepper in a medium bowl and toss to blend.
Remove the quail pieces one at a time from the marinade, toss gently in the flour mixture to coat evenly, and place on a wire rack.
Pour the peanut oil to a depth of 4 inches in a deep fat fryer or Dutch oven, and bring to 350° Fahrenheit over medium-high heat; maintain close to this temperature throughout the batch-frying process. Fry the quail a few pieces at a time until golden brown, turning just once. Using a spider or slotted spoon, remove the quail from the hot oil and transfer to a clean wire rack placed on a baking sheet. Serve hot with the dipping sauce.