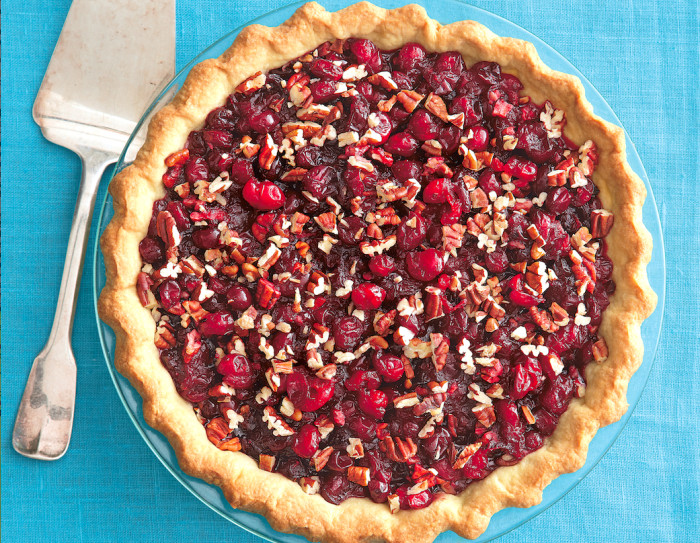 Baking isn't always as easy as pie, which James Beard Award-winning pastry chef Nick Malgieri addresses in his latest cookbook, Nick Malgieri's Pastry. With more than a hundred recipes for baking with sweet and savory dough, there's a culinary project in here for you whether you're a beginner or a seasoned pro. Bring this cranberry pie to Thanksgiving and watch people take photos of it. 
Warning: this pie has a tart and tangy filling that might not be sweet enough for some people. That said, I love the tangy quality of this filling and wouldn't want it to be any other way. By the way, since the filling is cooked before the pie is baked, you can taste it and add a little more sugar if you want. My late friend Joseph Viggiani shared this recipe years ago; I have no idea where he might have found it.
Ingredients
1

(9-inch)

pie crust

6

cups (about 1 1/2 pounds)

fresh cranberries, rinsed, picked over and drained

1/3

cup

granulated sugar

2/3

cup

turbinado or light brown sugar

1

tablespoon

fresh ginger, peeled and finely grated

finely grated zest of 1 large orange

1/2

cup

fresh orange juice, strained before measuring

4

tablespoons

unsalted butter, cut into 5 or 6 pieces

1/2

teaspoon

ground cinnamon

1/4

teaspoon

ground ginger

1

cup

pecan pieces, coarsely chopped, divided
Directions
Combine the cranberries with the rest of the ingredients except the pecans in a large nonreactive saucepan.
Bring the mixture to a simmer, stirring often, and cook at an active simmer until slightly thickened, about 5 minutes. Don't overcook, or the filling will be hard after the pie is baked. Let cool.
Set a rack at the lowest level in the oven and preheat to 375°F.
Stir half of the pecans into the filling and pour it into the prepared pie crust.
Smooth the surface and scatter the remaining pecans on top.
Place the pan in the oven and decrease the temperature to 350°F.
Bake until the crust is baked through and the pecans are toasted, 35 to 40 minutes.
Cool the pie on a rack and serve it at room temperature.
Find more pies on Food Republic: