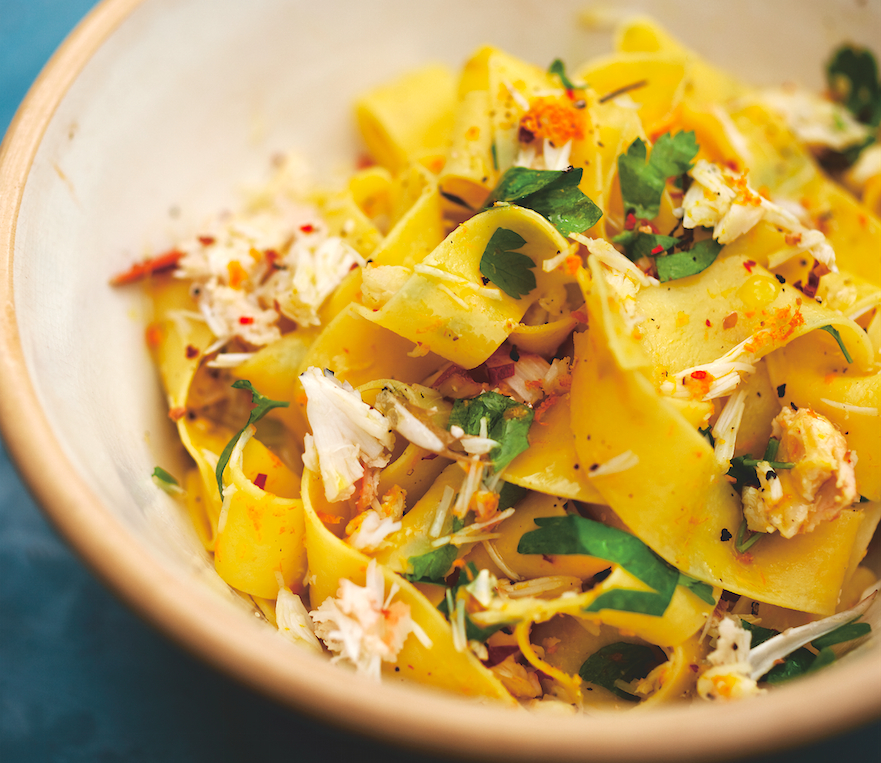 Food writer and cookbook author Belinda Harley is an authority when it comes to the food of the Ionian Islands off Greece's eastern coast. Her new book, Roast Lamb In The Olive Groves, is a contender for our favorite cookbook of the year with stunning photography of fresh Greek dishes we'll definitely be adding to our repertoire. You'll never look at a can of jumbo lump crabmeat again. According to Harley: "The chef Miltos Armenis introduced me to this combination in Paxos; his genuis for cooking fish has been an inspiration."
Reprinted with permission from Roast Lamb In The Olive Groves
Ingredients
7

ounces

pappardelle

light olive oil

2

bird's eye chilies, seeded and finely diced

6

tablespoons

white crab meat, freshly cooked

7

tablespoons

white wine

juice and zest of 1 orange

1 1/2

tablespoons

fresh flat-leaf parsley, roughly chopped

extra virgin olive oil to garnish

sea salt and black pepper
Directions
Add the pappardelle to a large pot of boiling, salted water.
Cook for around four minutes or until al dente.
While the pasta boils, place a frying pan on medium heat, add a splash of olive oil and cook the chilies.
Add the crab meat and cook for a minute.
Finally, stir in the white wine and orange juice.
When the pasta is ready, drain it thoroughly and add it to the pan and heat slightly.
Add orange zest and remove the pan from the heat. Toss the pasta in a large, warm bowl.
Dress with chopped parlsey, salt, black pepper and droplets of extra virgin olive oil.
Find more crab recipes on Food Republic: