How To Make Country Fried Bacon With Sausage And Onion Gravy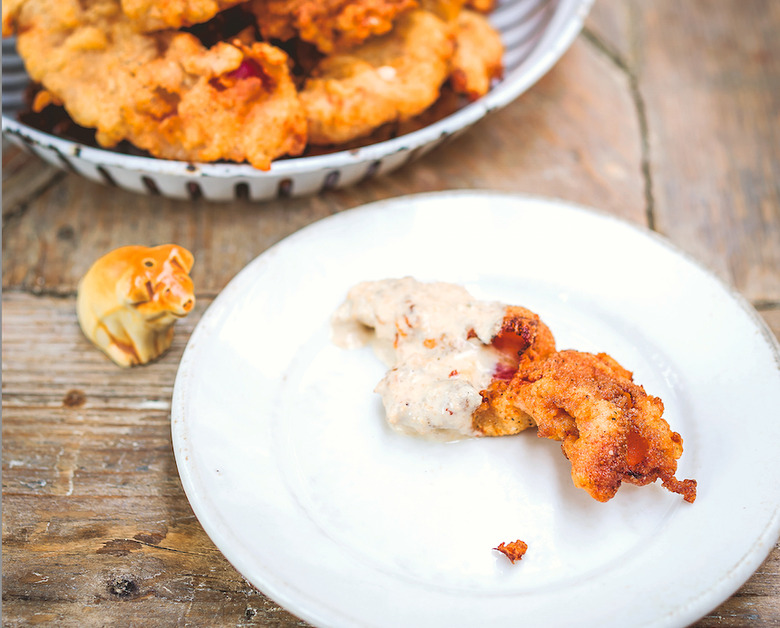 We may receive a commission on purchases made from links.
Chef Richard H. Turner is truly a master of meat. From his renowned London outposts (including the heralded Pitt Cue Co.) to cofounding the great annual carnivorous festival that is Meatopia, you can count on Turner for the very best "from snout to squeak." His new cookbook, Hog, is a hefty volume of all things pig. If you're a fan of this mighty animal, you're going to need this book.
There's no small amount of "country" or "Southern" fried in this book, mostly because I'm an avid consumer of anything fried, particularly this way. I recommend this stuff for breakfast any day of the week, as here with sausage gravy, but also with pancakes and maple syrup.
How To Make Country Fried Bacon With Sausage And Onion Gravy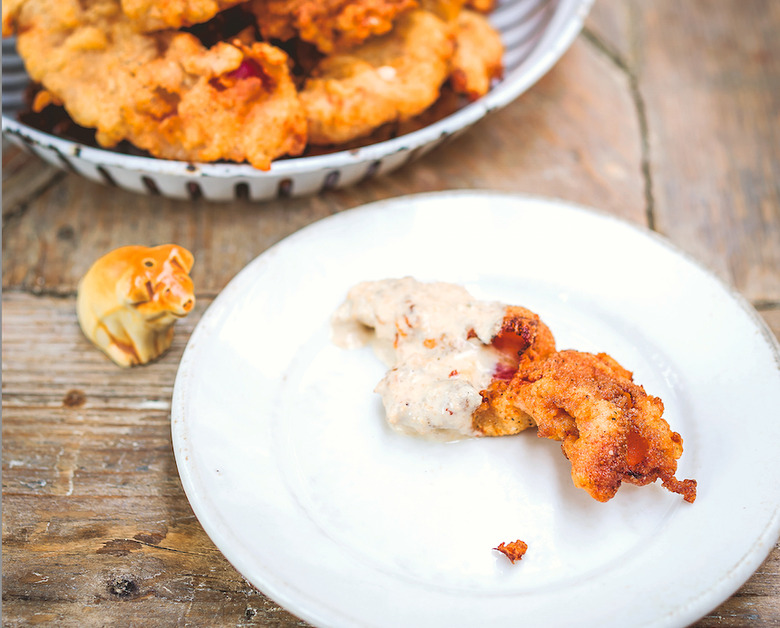 Ingredients
2 2/3 cups onions
2 teaspoons butter
Scant 1 cup Hard Cider
10 1/2 ounces pork sausage
2 cups pork stock
Scant 1 cup heavy cream
1 free-range egg
1 cup buttermilk
10 strips Smoked Bacon
1 cup all-purpose flour
a pinch of dried oregano
a pinch of dried sage
a pinch of dried basil
a pinch of dried marjoram
a pinch of chili powder
a pinch of freshly ground black pepper
1/4 teaspoon smoked paprika
1/4 teaspoon dried garlic
1/4 teaspoon dried onion
a pinch of salt
vegetable oil
Directions
Put the onions in a large saucepan over low heat and let sweat in the butter for about 20 minutes, or until caramelized and golden in color.
Add half the hard cider and continue to sweat until the onions start to darken a little more, then add the remaining cider and reduce down.
Add the sausage meat to the pan and continue sweating down. Add the pork broth and continue to cook until reduced by half.
Add the heavy cream and cook at a bare simmer for 10 minutes. Remove from the heat but keep warm until needed.
Combine the egg and buttermilk in a large bowl. Soak the bacon in this mixture.
Blend the flour with all the herbs and spices and flavorings to a fine sandy mixture.
Remove the bacon from the buttermilk and roll in the seasoned flour until completely covered.
Heat the oil to 400°F in a deep-fat fryer or a large heavy saucepan.
Use tongs to carefully lower 5 pieces of the bacon into the hot oil, then fry for 5 minutes until golden brown and thoroughly cooked. Transfer the bacon to a plate lined with paper towels.
Repeat with the remaining 5 pieces of bacon. Serve with the gravy on the side for dipping.