Cottage Pie With Leek And Cauliflower Mash Recipe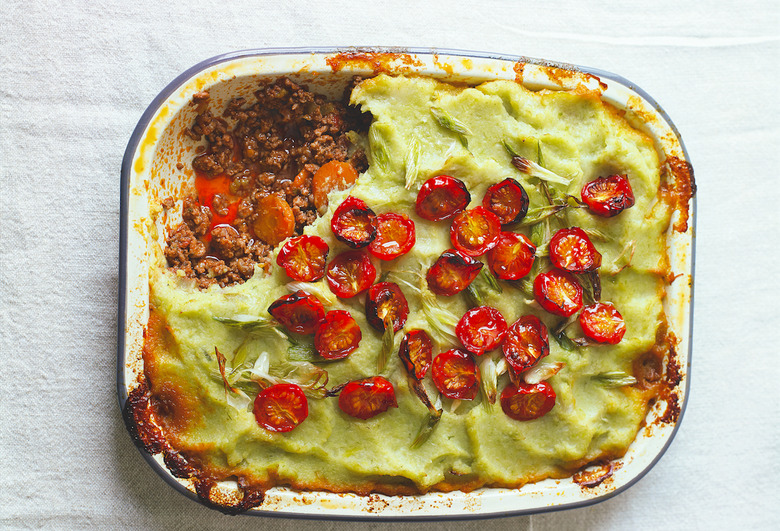 We may receive a commission on purchases made from links.
We're a big fan of prolific food writer/cookbook author Annie Bell's beautifully photographed, meticulously tested recipes. Have you seen her Brooklyn Blackout Cake, for instance? Oh man. Her latest collection, Low Carb Revolution, is one of those books that makes an otherwise less-than-appealing diet sound as good as hearty shepherd's pie on a cold winter evening. We thought you'd be on board. 
This delicate, pale green mash has that wholesome silky texture that is exclusive to leek soups and purees. Smothered with cherry tomatoes and scallions before being baked, the pie is every bit as lavish as the original. Don't worry too much about the ratio of leeks to cauliflower—you want more or less 2 1/2 pounds in total but it doesn't matter too much how you get there.
Cottage Pie With Leek And Cauliflower Mash Recipe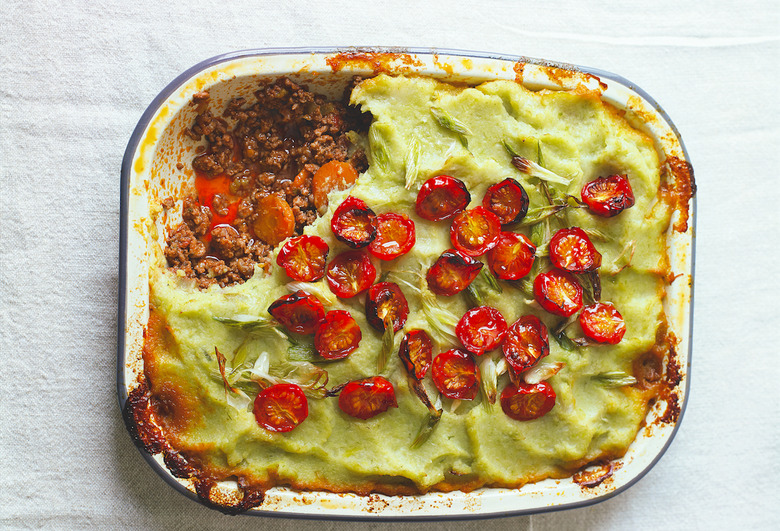 Ingredients
3 tablespoons unsalted butter
3 tablespoons extra virgin olive oil
2 slim carrots
2 ribs celery heart
1 onion
2 tablespoons fresh oregano or marjoram leaves
2 1/4 pounds lean ground beef
3/4 cup red wine
1 (14-ounce) can chopped tomatoes
2 tablespoons tomato paste
2 teaspoons worcestershire sauce
sea salt and freshly ground black pepper
6 cups leeks
6 cups small cauliflower florets
freshly grated nutmeg
a bunch of slim scallions
1 cup plus 2 tablespoons small cherry tomatoes
Directions
Heat half the butter and a tablespoon of olive oil in a medium saucepan over medium heat, add the sliced and chopped vegetables and herbs, and cook for 5-8 minutes, stirring occasionally, until softened and lightly colored.
Add the meat, turn up the heat and cook, stirring occasionally, until it changes color.
Add the red wine, chopped tomatoes and paste, Worcestershire sauce and some seasoning.
Bring to a simmer then cook over very low heat for 50-60 minutes, stirring occasionally, until nearly all the juices have been absorbed.
Keep a careful eye on it toward the end to prevent it from burning.
Tilt the pan and skim off any surface fat, then taste for seasoning.
While the meat cooks, start making the mash.
Place the leeks and cauliflower in a large saucepan with 2/3 cup water, dot with the remaining butter and add a tablespoon of olive oil and some salt.
Bring the liquid to a simmer, then cover and cook over low heat for 15-25 minutes, stirring halfway through, until very tender.
Transfer the contents of the pan into a food processor and reduce to a puree, seasoning it with nutmeg and more salt if necessary. You tend to get the best results if you do this in a couple of batches. 
Transfer the meat to a shallow ovenproof dish or roasting pan (about 8 x 12 inches), pressing down to level the surface.
Spread the mash on top.
You can make the pie in advance, in which case leave to cool, cover and chill.
Preheat the oven to 400°F.
Toss the scallions and cherry tomatoes with the remaining tablespoon of oil and spread over the surface.
Bake for 40-45 minutes until the vegetables on top are golden.
Go Greens! Italian Kale Pie Recipe
Chunky Pork And Fennel Pie Recipe
Chinese Duck & Five-Spice Pies Recipe