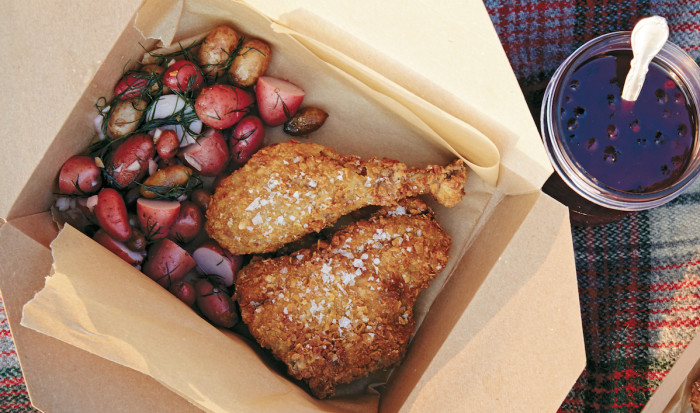 If renowned Maine chef and food writer Erin French isn't yet on your radar, get acquainted with her now! Her recent cookbook, named for her storied restaurant, is packed with the recipes that made her famous. You don't need fine dining to eat phenomenal food — just check out her perfect cornflake fried chicken and see for yourself. 
Sometimes it's best not to mess with a classic — though I do love adding an unconventional sweet-and-sour dipping sauce. Eat this chicken hot out of the fryer or pack it up for a picnic and have it cold.
I never buy cheap ingredients, but trust me, the key to this recipe is the cheap-o cornflakes. Save the fancy organic ones for eating at breakfast with a drizzle of honey and raw milk. Do not use them here.
Ingredients
1

chicken (3 to 4 pounds), cut into 10 parts

4

cups

all-purpose flour

4

cups

cornflakes

vegetable oil, for frying

2

cups

buttermilk

salt
Basic Brine
1/3

cup

kosher salt

1/3

cup

sugar

1/4

cup

juniper berries

2

tablespoons

black peppercorns

4

bay leaves
Blueberry Sweet & Sour Sauce
1 1/2

cups

sugar

2/3

cup

seasoned rice wine vinegar

2

tablespoons

ketchup

1/4

cup

cornstarch

1

cup

blueberries or other fruit such as blackberries or chopped peaches
Potato Salad
3

pounds

baby potatoes

Salt and pepper

1/4

cup

Macerated Shallot Vinaigrette

1

bunch

fresh dill, chopped

1/4

cup

olive oil, or more to taste
Macerated Shallot Vinaigrette
1

shallot, finely diced

2

tablespons

seasoned rice wine vinegar, or enough to just cover the shallots

1/4

cup

olive oil

A couple

twists

pepper
Directions
For the vinaigrette
Combine the shallots and rice vinegar and allow to macerate for at least 20 minutes or up to overnight. Whisk in the olive oil and pepper. You could store this in your fridge for up to a week, but you'll get the freshest, brightest flavor if you use it within 24 hours.
For the potato salad
Put the potatoes in a large pot, add just enough cold water to cover, season well with salt, and bring to a boil. Reduce the heat and simmer until the potatoes are just tender when pierced with a knife. Cooking time will depend on the size of the potatoes, so don't go too far from the stove, and check them frequently. Drain the potatoes and let them cool to room temperature.

Halve or quarter the potatoes into bite-sized pieces. If you're really lucky, you'll find potatoes so small they don't need to be cut up. Toss the potatoes with the shallots, dill, and olive oil, adding more oil if needed — you want a nice, moist salad. Season with salt and pepper to taste.
For the sweet & sour sauce
Combine the sugar, vinegar, ketchup, and cornstarch in a small saucepan with 1¹⁄³ cups water and bring to a boil over medium heat. Cook, stirring constantly, until bubbly and thick, about 5 minutes. Stir in the fruit and set aside to cool. Cover and refrigerate for up to 1 week.
For the brine
Combine 4 cups water, the salt, sugar, juniper berries, peppercorns, and bay leaves in a pot and bring to a boil. Stir until the salt and sugar dissolve, then remove from the heat and allow to cool completely before using. It will keep in the fridge for up to 2 weeks.
For the fried chicken
Combine the chicken and cooled brine in a large pot and refrigerate overnight.

Bring the chicken in the brine to a simmer over medium heat and cook until the chicken is just cooked through, about 20 minutes. Remove the chicken from the brine and allow to cool. Discard the brine. Make the batter by combining 2 cups of the flour and the cereal in a gallon-sized plastic bag. Seal the bag and use your hands to crush the flakes and mix them with the flour.

Heat oil in a deep fryer to 375°F or, alternatively, heat 2 inches of oil in a heavy-bottomed pan to the same temperature.

Put the remaining 2 cups flour in a shallow baking dish. Pour the buttermilk into a second shallow baking dish. Pour the cornflake mixture into a third baking dish. Dredge each piece of chicken in the flour, then the buttermilk, and finally the cornflake mixture to coat well. Working in batches, drop into the oil and fry until golden brown, turning as needed, 5 to 6 minutes. Take care not to overcrowd the pan or fryer; cook only 3 or 4 pieces at a time.

Remove the chicken from the oil, blot on paper towels, and sprinkle with salt. Serve with the blueberry sauce and potato salad.