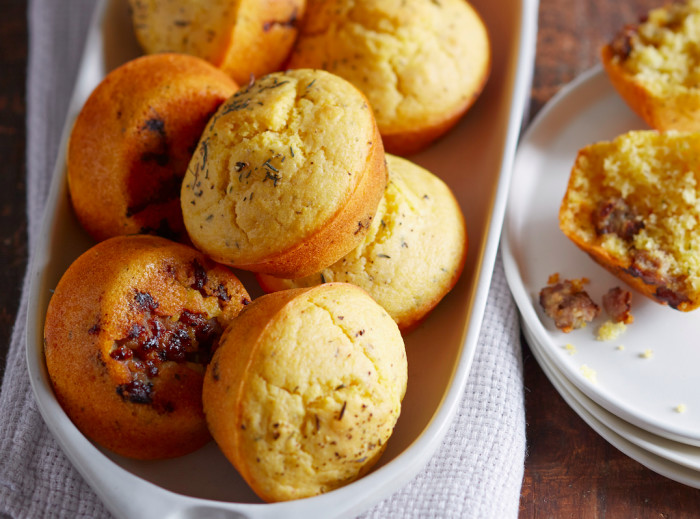 Are you mad for muffins? Don't be, muffins are a happy thing, which is why we're baking our way through cookbook maven Jean Anderson's latest work: Mad For Muffins. This collection of classic, updated and downright creative sweet and savory muffins is a must-have for the avid cold weather baker. Corn muffins studded with savory country sausage? Sign us right up.
Southerners dote upon country sausage as much as they do corn muffins so I thought, why not combine the two in a single recipe? But where should the sausage go? Inside the muffins, on top, or on the bottom? Layering the sausage with the batter might mean soggy muffins, spooning it on top might mean overbrowned muffins. So I divided the browned, crumbled sausage among the empty muffin cups, then added the batter (made with granular cornmeal to keep the muffins from going soggy), and it worked just as I hoped it would — the batter held the sausage in place as the muffins baked, even as they were removed from their pans.
Note: You need bulk sausage meat for this recipe or, failing that, link sausages removed from their casings. Down South, one-pound packages of Neese's bulk sausage meat are widely available in three flavors — original, sage and hot (any one of them a good choice here).
Ingredients
1/2

pound

bulk sausage meat

1

cup

sifted all purpose flour

1

cup

yellow cornmeal (not stone-ground)

1

tablespoon

baking powder

1/2

teaspoon

salt

1/2

teaspoon

dried thyme leaves, crumbled

1/4

teaspoon

freshly ground black pepper

1

cup

milk or evaporated milk (not low fat or fat free)

1

large

egg

1/4

cup

vegetable oil or sausage drippings plus enough to total 1/4 cup
Directions
Preheat oven to 400°F.
Lightly grease 12 standard-size muffin pan cups or spritz with nonstick cooking spray. Set pans aside.
Crumble sausage meat into a medium skillet set over moderately high heat and cook, stirring often, until uniformly brown, about 10 minutes.
Drain sausage on several thicknesses of paper toweling and set aside. Reserve drippings, if you like, and use in lieu of some of the vegetable oil.
Combine next six ingredients (flour through black pepper) in medium mixing bowl, make well in center of dry ingredients, and set aside.
Whisk milk with egg and oil in small bowl until frothy, pour into well in dry ingredients, and stir only enough to combine — there should be lumps in the batter and specks of flour clearly visible.
Spoon cooked sausage meat into muffin pan cups, dividing total amount evenly — approximately a rounded tablespoon per muffin pan cup.
Spoon batter into muffin pans, again dividing amount equally — each muffin pan cup will be about two-thirds full, though occasionally a bit more or a bit less.
Slide onto middle oven shelf and bake 20 to 25 minutes until muffins have risen and their tops are nicely rounded and evenly browned.
Serve at once with or without unsalted butter.
Find more muffins on Food Republic: