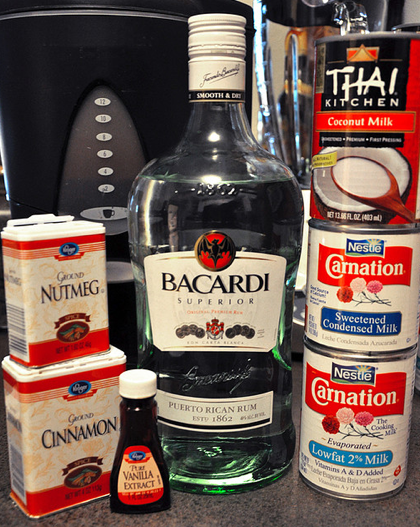 In certain parts of the country – like, Spanish Harlem in New York – eggnog is forgone in favor of Coquito, a cinammony Puerto Rican take on the Christmas cocktail. The recipe doesn't require you to risk your digestive health by ingesting raw egg yolks. Instead, Coquito gets its creaminess from coconut milk, evaporated milk and sweetened condensed milk.
Lynnette Marrero is president of LUPEC (Ladies United for the Preservation of Endangered Cocktails) and consultant for Drinksat6, shares her recipe for it here.
Ingredients
Cinnamon Syrup
1/4

cup

crushed cinnamon bark or 10 cinnamon sticks (use an intense cinnamon

1

cup

water

1

cup

raw sugar

1/2

vanilla bean or 1 teaspoon vanilla extract
Coquito
1

12-ounce can

coconut milk

1

12-ounce can

evaporated milk

1

12-ounce can

sweetened condensed milk

2

cups

rum (1 cup white rum and 1 cup aged rum
Garnish
1

tablespoon

freshly grated nutmeg
Directions
Cinnamon Syrup:
In a medium saucepan, bring the water and sugar to a boil to make a simple syrup.
Add the cinnamon and vanilla in the water. Let it boil for 2 minutes, then sit for 1 hour, and strain.
Coquito:
In batches, combine the coconut, evaporated and condensed milks, slowly adding the cinnamon syrup. Add the rums and mix well.
Transfer the mixture to a large plastic container and refrigerate overnight.
Prior to serving, use a blender to blend the coquito. Serve chilled with freshly grated nutmeg.