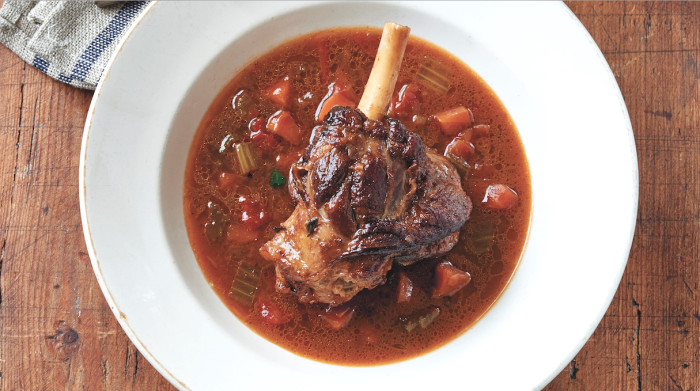 Great beer deserves great food, so longtime food and beer writer (and author of The World Atlas of Beer) Stephen Beaumont took on the great and important task of gathering the greatest pairings around the world and publishing them in one convenient place: a beautifully photographed cookbook. Pick up a superb craft six-pack, bomber or growler and a copy of  The Beer and Food Companion and prepare to leave the wineglasses where they are. 
Back in the mid-1990s, this recipe from chef Leslie Dillon, then with the Pyramid Alehouse in Seattle, Washington, was enough to convince me in perpetuity of the wisdom of braising in beer.
Recommended beer: When I first published this recipe, I recommended serving a "strong, malty ale" alongside the dish, without specifying the style. I believe I was thinking of something along the lines of an old ale or perhaps a Scotch ale, and I think I was right.
Ingredients
3

tablespoons

olive oil

4

lamb shanks

Salt and pepper

2

teaspoons

minced garlic

1

cup

onion, chopped

Heaping 1/2

cup

carrot, finely chopped

Heaping 1/2

cup

celery, chopped

Heaping 1/2

cup

tomato, seeded and finely chopped

3/4

cup

porter

2

bay leaves

1 1/4

cups

beef stock

1

teaspoon

salt

1

tablespoon

fresh thyme, minced
Directions
For the shanks
In a pan with a lid large enough to hold all four shanks, heat the olive oil on medium. Season the meat with salt and pepper and brown in the oil on all sides. Remove and set aside.

Add the onion, carrot and celery and sauté until the onion is translucent, about 3-4 minutes. Add the tomato and garlic and stir well. Use the porter to deglaze the pan, scraping up all the bits of stuck lamb, and then add the beef stock, bay leaves, salt and thyme and stir well. Return the shanks to the pan and bring the liquid to a boil.

Once boiling, reduce to a simmer and let braise until the lamb is tender, about 2-2½ hours, adding water or more beer if the liquid seems to be getting low.